Hanover Theatre, 2 Southbridge Street
On view March 19 through July 10, 2019
Opening Reception: Tuesday, April 2, 6:00-8:00 PM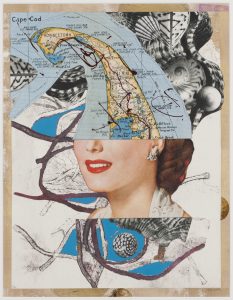 In Variations in Blue, Amy Klausmeyer's medium of choice is paper. Using monotype, ephemera, altered images, and handmade papers, she creates mixed media assemblages and collages. Klausmeyer juxtaposes her modern techniques with vintage images to create pieces that provoke personal reaction and understanding.
A native of the Boston area, Amy Klausmeyer earned a BFA in painting/printmaking and has taken classes at the Worcester Art Museum. In addition to ArtsWorcester, she is also a member of the Blackstone Print Studio at the Sprinkler Factory. She has exhibited at locations throughout Central Massachusetts including ArtsWorcester, the Fitchburg Art Museum, Worcester Center for Crafts, and the Sprinkler Factory.
An opening reception will take place Tuesday, April 2, 2019 from 6-8 PM. The artist will give a talk that night at 6:30 PM.
The artist's reception is open and free to all. Parking for the opening and viewing appointments is available in the City's Federal Square lot, across Main Street from the Hanover Theatre.
After the reception, free viewings are by appointment through July 10, 2019. To make an appointment, please contact ArtsWorcester at info@artsworcester.org or 508.755.5142.


image: Place of Dreams, mixed media collage, 16″ x 20″.