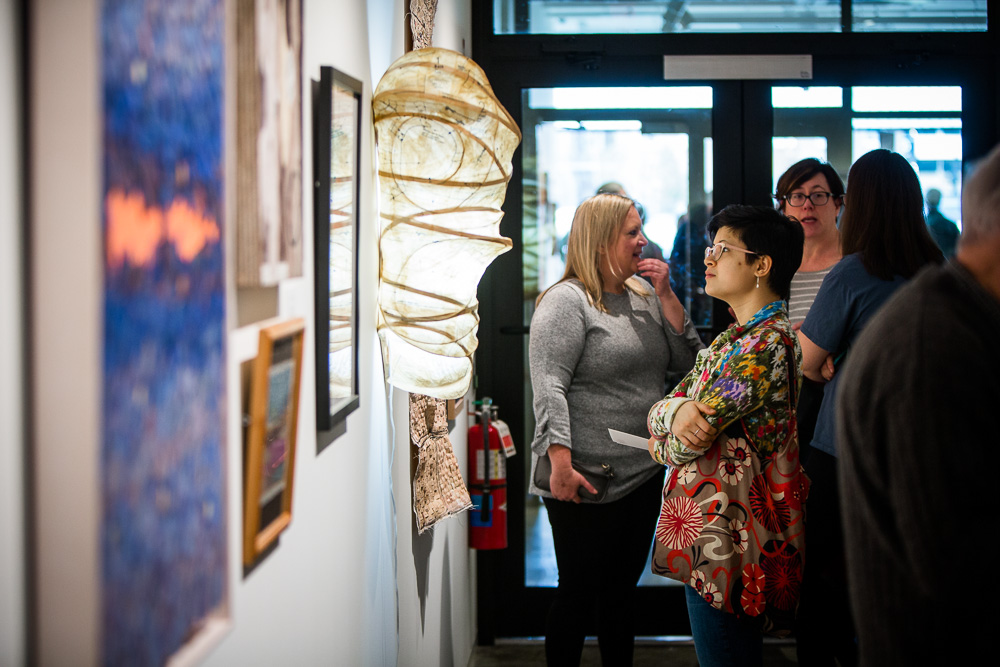 Before ArtsWorcester, I had little to no contact with other area artists and the dream of seeing my work on a gallery wall was a distant one. All that changed immediately when I joined.
—J., India ink artist
Membership is Open to All
If you are an emerging artist, ArtsWorcester is where you begin to exhibit, meet fellow artists, improve your work, and learn more about the local art scene. If you are an established artist, we offer continued exhibition and sales opportunities, including solo shows in gallery and corporate settings. Join as a Supporting Member to keep local artists working here, and to ensure that art can be open and free to the public. We depend on our audiences, and their support.
Exhibiting Artist $55
New! Artists Under 30 $25
If you need financial assistance with your membership, please contact ArtsWorcester's Executive Director to learn about applying for Pay It Forward Funds. If you are able, please consider adding $5 to your membership to support other artists in need.
Inclusion in three non-juried, members-only exhibitions in our galleries on Portland Street. These galleries are a state-of-the-art exhibition venue, including complete physical accessibility, professional installation, museum-quality lighting and labeling, custom-built moveable walls and pedestals, audio-visual capacity, ceiling anchors, and sound mitigation.
Eligibility to submit proposals for juried, solo, or small group shows for the East Gallery, West Gallery, partnership galleries at The Hanover Theatre and the Davis Art Gallery, and for corporate art venues
Free participation in our Artist Business Skills Workshops
Individual page promoting your work on our website
Eligibility to apply for a Material Needs Grant
Discounts at C.C. Lowell on art supplies and custom framing
Sixty-percent commission from sales through our galleries
Support, advice, and promotion of your work
Invitation cards to ArtsWorcester openings and exhibitions

Artists under 30: in the "special instructions" section, please give us the month and year of your birth.

Local college students: if you are enrolled full-time at Anna Maria College, Assumption College, Becker College, Clark University, College of the Holy Cross, Massachusetts College of Pharmacy and Health Services, Quinsigamond Community College, Worcester Polytechnic Institute, and Worcester State University, get your complimentary membership by e-mailing info@artsworcester.org.
ArtsWorcester participates in the EBT Card to Culture, a collaboration between the Mass Cultural Council and the Executive Office of Health and Human Services' Department of Transitional Assistance.
Memberships are tax-deductible to the extent allowed by law.
Exhibiting Artist $55
Artists Under 30 $25
Give the gift of membership! The recipient of a gift membership enjoys full artist privileges at ArtsWorcester:
Inclusion in three non-juried, members-only exhibitions in our galleries on Portland Street. These galleries are a state-of-the-art exhibition venue, including complete physical accessibility, professional installation, museum-quality lighting and labeling, custom-built moveable walls and pedestals, audio-visual capacity, ceiling anchors, and sound mitigation.
Eligibility to submit proposals for juried, solo, or small group shows for the East Gallery, West Gallery, partnership galleries at The Hanover Theatre and the Davis Art Gallery, and for corporate art venues
Free participation in our Artist Business Skills Workshops
Individual page promoting their work on our website
Eligibility to apply for a Material Needs Grant
Discounts at C.C. Lowell on art supplies and custom framing
Sixty-percent commission from sales through our galleries
Support, advice, and promotion of their work
Invitation cards to ArtsWorcester openings and exhibitions
If you would like to purchase a membership as a gift, please provide the name and address of your gift recipient, and we'll send them a letter that recognizes you as the giver.
If you wish your gift to remain anonymous, please call 508-755-5142 or send an email and let us know.
ArtsWorcester participates in the EBT Card to Culture, a collaboration between the Mass Cultural Council and the Executive Office of Health and Human Services' Department of Transitional Assistance.
Memberships are tax-deductible to the extent allowed by law.
By giving to ArtsWorcester, you advance contemporary art in our city, cultivate excellence in regional artists, and guarantee that high quality art remains open and free to all.
Supporting Member $50
member previews
invitation cards to ArtsWorcester's openings and events
Friend $100 – $249
The benefits above, and
invitations to private gallery tours and receptions
local discounts on framing, art supplies, and gifts
Patron $250 – $499
The benefits above, and
annual recognition on gallery signage
an exhibiting artist membership to use or give
Contemporary Circle $500 – $999
The benefits above, and
invitations to Contemporary Circle events
admission for two for ticketed special events
Avant Garde $1,000 and above
The benefits above, and
admission for 4 to ticketed special events
10% discount on private rental of the galleries
We value donors at all levels who are deeply committed to our galleries and the work within them. Supporters of five or more consecutive years are recognized and rewarded as Patrons.
Thank you for your generosity.
ArtsWorcester has galvanized our community more greatly, in depth, than any other organization, and mentors emerging and established artists. It has become our home.
—S. R., photographer
Anonymous
Robert H. Abel
Evelyn Absher
Janine Adamo
Cheryl Adams
Robert Adler
Benjamin Adwetewa-Badu
Ava Aguilar
Caitlin Aitchison
Aula Alayoubi
Chris Aldrich
Mehran Ali
Kimberly Allen
Brad Alicchio
Joshua Altobelli
Janet Albert
Parker Alderfer
Camilo Almarales
Samuel Aman
Jennifer Amenta
Francis & Amanda Amory
Navneet Anand
Keri Anderson
Lynn Andrews
Marie and Michael Angelini
Frank Armstrong
Robert Arnold
Susan Arnold
Mary Aroian
Luis Mendez-Arroyo
Frank Armstrong & Ellen Dunlap
Hildegard & Bob Armstrong
Bayda Asbridge
Maya Asbridge
Kristian Asfoura
Joan Avato
Zia Ayub
Elizabeth & Ned Bacon
Rezvan Romouzi Bagherjani
Kristin and Joseph Bafaro
Sarah Baker
Amanda Baldi
John and Rona Balco
Rosemary Banfield
Erica Baptiste
Tess Barbato
James Barnhill & Georgia Barnhill
Robert Barresi
Ann Barrett Hick
Gregory Barry
Trisha Barry
Lisa Barthelson & Robert Cox
Amanda Halsdorff Bastien
Dan Battat
Kira Beaudoin
Helen Beaumont
Scott Beauregard
Laurie Bebick
Olivia Becker
Natalie Beittel
Mari Jae Benning
Jay T. Benotti
Robert Bent
Caroline Bercier
Eugenie Berg
Margareta Berg
Amy Berger
Stephen Bergeron
Sandra Berggren
Wendy & Morris Bergman
Andy and Janice Beschle
Peter Beves
Michelle Beyers
Ed Bielejec
Sande Bishop
Susan Black & Walter Barnie
Crystal & Ron Blanchflower
Susan Blatt
Veda Bleau
Carol Bloomfield
Madison Boardman
Maggie Boatwright-McEvoy
Gregory Bober
Scott Boilard
Lisa Borchetta
Mark Borenstein
Jean M. Borgatti
Francisco Borges-Rivera
Melissa Borges
Michele Boshar
Jeremy Bouchard
Theresa Bourassa
Sarah Ann Bowditch
Kathleen Galat Bowers
Elizabeth Bowles
Cassandra Bradbury
Chelsea Bradway-Francis
Blake Brasher
Jamie Brelsford
Debra & Daeg Brenner
Dan Brenton
Colette Bresilla
Shannon Briden
Alexa Briggs
Michael Briggs
Barry Brigham
Evelyn and Scott Britz-Cunningham
Aaron Brodeur
Elizabeth Brooks
Samantha Brower
Sheryl Brower
Eli Brown
Elizabeth Brown
Hanna Brown
Linda Brown
Lora Brueck
Sarah Brueck
Tracy Brusa
Madeline Buchman
Elizabeth Buck
Adrianna Buduski
Catherine Bulikowski
Matthew Burgos
Marion Buricatu
Jeff Burk & Dale Lepage
Dan Burke Pérez
Jennessa Burks
Jill Burkholder
Jill Burns
Nancy Burns
Mishael Coggeshall-Burr
Christine Butkewich
David & Lynn Butler
Douglas Butler
Marcia Butzel
James Buxton
Laura Cahalane
Luke Cai
Frank Callahan
John Cameron
Suzanne Campbell-Lambert & Scott Lambert
Maureen & Ralph Caouette
Emmanuel Carboo
Marisol Cardenas
Kevin Cardoso
Jennifer D. Carey
Deborah & Charles Cary
Bob & Patty Carnegie
Julie Carpino
Beverly and Robert Carraher
Gloria Carter
McKayla Carville
Candace Casey
Keenan Cassidy
Kelly Castell
Callan Catron
Douglas Caves, Sr.
Laura Cevak
Vasken Chagaian
Rachel Chambers
William Chambers
Susan Champeny & Chris Benders
Raymond Charles
Evan Charney
Iris and Micah Chase, in memory of Terri Priest
Mark Chester
Boo Chon
Olivia Christy
Stephanie Chubbuck
Donna Church
Glenn Church
Brock Clark
Judith Freeman Clark
Will Clark
Brigita & John Clementi
Linda Clicquennoi
Alison Clish
Scott Coffrin
Bruce Cohen
Keren Cohen
Naama Cohen
Domenico Colace
Rani Colbert
Susan Colby
Susan Coley
Cristi Collari
Don Collette
Suzy Collette
J. Christopher and Catherine Collins
Deanna Collins
James Collins
Jim Collins
John Collins
Ted Conna
Clifford Connell
Barry Connolly
Faith Connor
Doreen Connors
Rona Conti
Wendy Converse
Christian Copeley
Tatumn Coraccio
Erin Corrales-Diaz
Maria Corrigan
Susan Cote
Aimee Cotnoir
William Couture
McKenzie Cox
Tim Cox
Mike Coyle
Carolyn Crane
Tracy Crane
Jose Criollo
Elli Crocker
Katie Crommett
Kristi Cromwell
Christine Cross
Christine Croteau
Julie Crowley
Eric Cruze
Ariana Cruz-Rivera
Nayda Cuevas
Jean Cummiskey
Destinie Curran
James Curran
Jane Curran
Stacey Cushner
Adam Cutler
Bruce & Kim Cutler
Elizabeth Cutler
Robin Cutler

Caroline Dacey
Linda Dagnello
Maria Daigle
John Daly
Maureen D'Amico
Zabelle D'Amico
Darcy Dangremond
Ruth Daniels
Bryan Davagian
Ryan David
Kristina Davidson
Davis Family Charitable Trust
Tess Davis
Jennifer Day
Robert Dec
Deanna Degon
Patricia Dehls
Jeanelle Demers
Jessica DeHaemer
Lawrence DeJong
Pamela DeJong
Derric Dell'Olio
Gabrielle DeLo
Ella Delyanis
Jessica Dempsey
Mauro DePasquale
Fabio Deponte
Don Deprez
Jeffrey Derose
Eileen Desantels
Suzanne DesRosiers
Judith DeSoto Vega
Louis Despres
Christine Destrempes
Kalinna Dibb
Jim DiBonaventura
John Dick
Trang Diem
Phong Diep
Tracy Dill
Jamie Lynne Dillon
Samantha DiMauro
Jason DiNicola
Sue Dion
Donna & Stephen DiRado
Robert DiRubio
Gregory Dolnikowski
David Doddrige
Leslie Dodson
Eric & Ellen Donaldson
Mary Dondero
Elisabeth Donker
Carol and Jim Donnelly
Timothy Doyle
Jane and Robert Dore, Jr.
Robert Dreyer
Andrea Driscoll
Kim Driscoll
Angela Drosidis
Savannah Dube
Gregory Dubuisson
Jasmine Duerk
Katherine Dufault
Rebecca Duffy
Mary Dunn
Joe Dunn
Felicia Dupras
Janet Dupuis
Samantha Durfee
Alicia Dwyer
James Dye
Katie Dye
Jane and Russ Dye
Christine Dylewicz
Patricia Eagleton
Charlotte Eckler
Lois and Bernard Edinberg
Norman Eggert
Kathryn Egnaczak
Lucille Ela
Jeff Ellis
Laurie Ellsworth
Margaret Emerson
Nancy Engberg
Michael Eressy
Margarita Erkina
Matthew Erskine
Sidra Esa
Barbara Eskin
Matthew Essig
David Etedgee
Catherine & John Evans
Joanne Evans
Robert Evans
Tim Evans
Madge Evers
Kristen Falso-Capaldi
Farnaz Farmani
Pam & Sean Farren
Christian Farren
Peter Faulkner
Cindy-Lee Fedeli
Alisa Feldman
Jane & Robert Feibel
Juliet Feibel & Ken MacLean
Laurel Feinberg
Kayla Feist
Anne Ferreira
Ralph Ferro
Jean Field
Jason Fiering
Renée A. Finlay
Karen Finnegan
Althea Fiore
Adam Fish
Susan Fisher
Nathan Fiske
Colleen Fitzgerald
Carol Flagg
Terren Flanders
Patricia M. Flannery
Allen Fletcher
Mary & Warner Fletcher
Nina Fletcher
Lauren Flinner
Brooklyn Flores
J.Shannon Floyd
Isaac Fontaine
Meridith Foote
Romina Sarreal Ford and Bill Ford
Elizabeth Fortin
Emmanuelle Fortin
Lisa Foster
Haleh Fotowat
Shari Fox
Giorgio Frat'Antonio
Bonnie J. Frederico
Kathy Freeburn
Jane Freed
Sharon Freed
Joan and Richard Freedman
Elizabeth & Aubyn Freed
Marita Froimson
John Fronczek
Mark Fuller
Joan Paulson Gage
Milisa Galazzi
Jack Gallagher
Mary Ann Gallaher
Matthew Gamber
Diane Gannon
Timothy Gannon
Kelly Garabadian
Alice Gardner
Ixander Garfinkel
Russ Garre
John Garton
Bryan Gaskins
Sara T. Gately
Denise Gearan
Charles Geiger
Bronson Gengheza
Danica Germain
Leonard Gerwick
Amanda Gibson
Caroline Gilbody
Robert Gilfoy
Ginny Gillen
Eamon Gillen
Jeri Gillen
Jacob Ginga
Paul Gingras
Francine & John Gintoff
Christina Giza
Jon Glabus
Adam & Michelle Glass
Elizabeth Glixman
Kyle Godin
Melinda Goodhue
Aynsley Goodness
Gloria Goguen
Gennaro Gonzalez
Gina Gonzalez-Roundey
Margery Gordon
Yasmin Goris
Theresa Gorman-Kahler
Gabriele Goszcz
John & Geraldine Graham
Tom Grady
Kate Grady
Robert Grady
Ben Gragen
Lise Graham
Leslie Graff
Tim and Cynthia Gray
Maureen Gray
Alexandra Gray
Anne Greene
Miranda Greenhalgh
Carol Greenwood
Cale Griffith
Lee Gruber
Barbara Guertin
Conrad and Susan Guertin
Laura Guertin
John Guida
Lukas Guimaraes
Kim Gulino
Xinxin Guo
Matthew Haberstroh
Michael Hachey
Ryan Hacker
Linda & Abraham Haddad
Deborah Hall
Sharon Hall
Barbara Haller
Greg Hamilton
Elisa Hamilton
Joseph Hamilton
George Hancin
Roger Hankins
Ann Hanscom
Barry & Marian Hanshaw
Meaghan Hardy-Lavoie
Garry Harley
Samuel Harnois
Phyllis Harrington
Ajayi Harris & Ellen Foley
Linda Harris
Lynn Harrison, Jr.
Maggie Hart
Dena & Don Hartmann
Alexis Harvey
Alicia Haskins
Irene Hastings
Kathleen Hastings
Gillian Haven
Lisa Hayden
Jesse Haynes
John Hayes-Nikas & Brenda Nikas-Hayes
Catherine Haynes
James Haynes
Tess Hazen
Maureen Hebert
Martha Heller
Patricia and Roy Hegedus
James Henderson
Emely Henriquez
Polly Hensel
Elena Hernandez
Eileen Hernandez-Cole
Helen Herold
Mary Clare Hersey
Amanda Herzog
Honee Hess & Philip Magnusson
Robert Hesse
Kathryn Heyd
Casey Hickey
Brian & Jane Higgins
Pamela Hines
Van Hoang
Scarlett V. Hoey
Eva Hogan
James Hogan
Danielle Holden
Mary Hollingsworth
David Holmes
Jessica Holmes Loomis
Susan Hong-Sammons
Wayne Hopkins
Robert Hopps
Gail Hormats
Alison Horvitz
Jane Moore Houghton
Robert Houghton
Kira Houston
Pamela Howard
Sandra Howard
Brianna Howe
Luke Hoyt
Christian Hubert
Sarah Hudson
Chelsea LeBeau Hueter
Rob Hummel
David Hummon
Alyssa Humrich
Clifton Hunt
James Hunt
Wilson Hunt Jr.
Nadine Huseby
Sophia Huseby
Nancy Huynh
John Hyden
Jennifer Ingham
Karen Israel
Frances & Howard Jacobson
Wayne Jacques
Parijata Jain
Belinda James
Allison Jane
Frank Jansen
Stefanie Jasper
Lisa Jedeoun
Laurie Jenal
Chelsea Jenkins
Cassie Johnson
Douglas Johnson
Dwight Johnson & Jeanice Sherman
Elijah Johnson
Lynne Johnson
Robert M. Johnson
Timothy Johnson
Howard Johnson
Jamie Johnston
Darren Jones
Kathee and David Jordan
Kirsten Joyner
Katherine Judd
Catherine Judge
David Judkins
Alli Jutras
Siddharth Jyoti
Barbara Kahn
Gina Kalenderian
Mark Kantor
David Kaphammer
Anna Karas
Darya Karuna
Seth Kates & Mary Jane Rein
Marshall Katzen & Bari Boyer
Madeline Kearin
Mary Keefe
Jordan Kegler
Elizabeth Keithline
Alison Keller
Victoria Kelley
Angela Kelly
Patricia Kelly
Sean Kelly
Mary Kenny
John W. Kennedy
Wendi Kennedy
John L. Keough
Morgan Kerchner
Alyssa Kerr
Malcolm Ketchum
Rachel & Brian Keyo
Uday Khambadkone
Aretha Kharashqah
Stefanie Khoda
Colleen Kiely
Christina Kilday
Ryan Killoran
Katherine Kim
Jennifer Kindl
Carolyn Kinloch-Winkler
Christopher King
David King
Jean King
Tia Kinsman
Amy Klausmeyer
Robert B. Knight
Janelle Knight
Jesse M. Knott II
Barbara Kohin
Murray Kohn
Edward Koistinen
Ethan Kolwaite
Howard & Taina P. Kong
Rachel Korn
Jeanne Kowal
Kara Kowalczyk
Kara Krantz
Asta Kraskouskas
Tracy Kraus
Robert Krause
Richard Kravitz
Joyce and Steven Kressler
Robert Kroll
Shufeng Kuang
Thomas Kuehne
Deirdre Kunar
Darya Kuruna
Maxfield Kuruna
Clara LaBoy
Nicolas Labrie
Teresa Lamacchia
Yang Lan
Donna Scolaign Lange
Rosemary Lano
Richard Lapierre
Janet LaPointe
John LaPrade
Doreen LaScola
Christine Latini
Nastasia Lawton-Sticklor
Susan Leader
Deanna Leamon & Davis Baird
Timmary Leary
Rosemary & William LeBeau
David Leblanc
Julie Leighton
Michele LeMaitre
Frances LeMieux
Sarah & Charles Lenis
John Lepard
Adam Lessard
Carolyn Letvin
Anya Leveille
Christine & Dana Levenson
Mara Levin
Allen Levine
Syd Lewin
Nathan Lewis
Zhim Li
Edward Lilley
Madeline Lindfors
Beth Lindstedt
Jessica Lipton
Jennifer Lish
Ann Lisi & Joel Greene
Leah Litin
Lao Liu
Javier Lizardo
Jurgen Lobert
Jillian Lombardi
Vincent Lombardi
Anita Loomis
Kayli Lopriore
Lea Lopriore
Madeleine Lord
Konnie Lukes
Elizabeth Lynch
Kevin Lynch
Kristine MacBrian
Susan and Rob Mack
Gloria MacKoul
Richard MacKoul
Agnes Macksoud
Dylan MacLeod
Sandy MacLeod
Ashley MacLure
Natalie MacKnight
Valerie and Richard MacKoul
Michael Madden
Kourosh Mahboubian
The Mahaney Family
Kendal Mahoney
Virginia Mahoney
Eileen Mahowald
Chaya Mallavaram
Michaela Mann
Lisa Maillet
Robert and Minh Mailloux
Dominic Malizia
Susan Mampre
Shannon Manassa
James Mancuso
Heather Mangione
Celine Manneville
Emily Manning-Mingle
Katie Mansfield
Sharon Mansfield
Heather March
Haley Marchant
Nery Marcos
Lucy & Dominick Marcigliano
Sarah Margolin
Jongeun Lee Marques
Cedric Marsh
Philip and Brenda Marshall
Caitlyn Marsh
Julianne Martin
Danielle Martin
Katya Martin
Deb Martin & Dan Shertzer
Danielle Martinelli
Audrey Martinez
Jose Martinez
Stephanie Martiros
David Martsolf
Albert Mathes
Darrell Mastsumoto
Sophie Matyas
Kathryn May
Michelle May
Alyce Mayo
Nancy McBride
B. Eugene McCarthy
Lisa & Rick McCarthy
Kimberly McClintock
Mike & Elaine McCool
Maxine McDonald
Samantha McDonald & Ossian Cooney
Tiffany McDonald
Jean McDonough
Joseph McEvoy
Philomene Gilman McGourty
Sean McGrail
Donna McGrath
Victoria McGinness
Angela McHale
Noel McKenna
Megan McNaught
Anne Diamond McNevin and Barnes McNevin
Nina Medard
Carrie Megan
Elizabeth Mercedes
Amy Merritt
Gloria Merritt
Katie Messina
Dani Michau
MaryJane Michaud
Katharine & Henry Michie
Michael Milligan
Isabel Miranda
Corey Mitchell
Filipe Miguel
Carlotta Miller
Maggie Miller
Amanda Millis
Elaine Milosz
Tessa Mina
Joe Mogel
Renette Mogel
Jane Molina
Ann Molloy & Kenneth Stillman
Charles Monahan
Lisa Montanaro
Donna Montesanti
Kelly Momberger
Danielle Montgomery
Abigail Moon
Colleen Moore
Kaitlyn Moran
Loretta Morelle
Barrett & Mahroo Morgan
Kathleen Morgan
Peter Moriarty
Edward Morin
Jayme Morin
Marc Morin
Roland Morin
Erin Morth
Judith Morton
Rozsi Moser
Jamila Mouradian
Teresa Mowery
Lydia and Michele Mozzone
Hannah Muggeo
Callie Mulcahy
Oisin Muldowney
Elizabeth Mullaney
Mags Munroe
Donald Munson
Patrice Murphy
Kathy Murray
Emily Mutkoski
Abu Mwenye
Nancy Mygatt
Lynn Nafey
Amanda Nardone
Erik Nasinnyk
Nicholas Nassar
Jenna Nastri
Ginger Navickas
Dawn Naylor
Cookie Nelson
Linda Nelson
Nicole Nelson
Amie Nemes
Meredith Neuman
Linh Nguyen-Ng
Eric Nichols
Scott Niemi
Carrie Nixon
Abigail Nohai
Peter Nohrnberg
Kim Noonan
Andrew Noone
Kathy Noran
Johanna Novak
Jennifer Novelline
Lisa Nugent
Haley Nunes
Karen Nunley
Mike Nyman
Mike Oates
John O'Brien
Rebecca O'Brien
Alicia O'Connell
Christopher O'Connor
John O'Connor
Kat O'Connor
Kathleen O'Connor & Thomas Ritacco
Ashley O'Handley
Jane O'Hara
Anne O'Malley
Linda O'Reilly
Rosalie Olds
Andrea Olmstead
Phillip Olson
Lillian Ortiz
Diana Ostiguy
Forest Otter
David Ots
Kayla Otten
Richard Ovian
Barbara Owen
Victor Pacheco
Susan Paciello
Deborah Packard
Linda Packard
John Pagano
Abigail Paley
Matthew Panagiotu
Sheila Papetti
Monique Pappas
Beverly Paradis
Marina Parella
James Parella
Melissa Parent
Irina Parfenova
Stacey Parker
Jane Parsons
Michelle Parsons
Gedas Paskauskas
Laina Pauker
Philip A. Parsneau
Kara Patrowicz
Stephen Paulson
Jacqueline Pawlak
Patricia Paxson
Matthew J. Peake
Colleen Pearce
Mark Peck
Judith Pederson
Alyssa Pelletier
Jaclyn Penny
Juliana Pepper
Yesenia Perez
Helen Perham
Matthew Perreault
Beth Perry
Marlene and David Persky
Kayla Peterson
Ian Petrie
Joseph Petty
David Phoenix
Alia Pialtos
Allison Picone
Geraldine Pierre
Anju Pillai
Stephen and Cynthia Pitcher
Rashmi Pitre
Carole Plante
Phyllis Pollack and Peter Metz
Sisa Poemape
Marcelle Pope
Linda Poras
Suzanne Poirier
Alix Porras
Samuel Posner
Allison Power
Ryley Powers
Aaron Powers
Dominique Pratt
Joshua Primmer
A. Laurie Pibble
Ann Price
Isabella Price
Catherine Quick Spingler
Alejandro Quiñones
Carolyn Quirk
Kendra Rafferty
Ann Rainey
Camilo Ramirez
Jovietthe Ramos
Mary Randolph
Ann-Catherine Rapp
Kate Rasche
Joseph & Danielle Ray
Michael Raymond
Janice Rayner
Erin Reid
Karen Reid
Sheila & Donald Reid
Michele Reid
Christopher Peter Reinhardt
Lionel Reinford
Robin Reynolds
Jonathan Rezidor
Corinne Rhodes
R. Douglass Rice
Amy Richter & Jim Eber
Leona & Donald Ricklin
Danielle Rieder
Vanessa Rife
Matthew Riffelmacher
Denise Riggs
Heather Riggs
Heather Rigney
Eve Rifkah
Tiede Riley-McNary
John Risko
Mary Ritter
Barbara & Arthur Roberts
Emma Rose Roche
Mary Roche
Bill Rock
Tess Rock
Shelley & Todd Rodman
Cesar Rodrigues
Camilo Posoda Rodriguez
Demi A. Rodriguez
Leah Rodriguez
Dan Roe
Jain Rohit
Alice Rojko
Rebecca Rolke
Judith Romatelli
Patricia Romeo
Maggie Rooney
Terry Rooney
Ann Rosebrooks
Cheryl Rosen
Ron Rosenstock
Charles Rosenberg
Elizabeth Ross
Jacqueline Ross
Miriam Ross
Audrey Rossow
Karen Rothman
Julia & Steve Rothschild
David Rourke
Gianna Rousseau
Jonathan Route
John & Darcy Rowell
Donna Rudek
Joshua Ruder
Alicja & Piotr Rudnicka
Joanne Russavage
Gerald and Neall Russell
Kent dur Russell and Aisling Gaughn
Elizabeth Ryan
Joan Ryan
Stuart Sadick
Jessica Sadlier
Joshua Sadri
Ahsan Saeed Khan
Pamella Saffer
Praveen Sahay
Tomoko Sakai
Mark Saldana
Peter Saloom
Piya Samant
George Sampson
Emily & Robb Sandagata
Erik Sandberg-Diment
Maureen Sanderson
Karen Sanford
Debra Sandstrom
Carlos Santiago
Gordon Saperia
Carol Sarkisian
Michelle Sarkisian
David Saul
Pamela Savage
Sandy Savageau
John and Ellen Savickas
Michael Savoie
Melike Sayoglu
Kristen Momoko Schafer
Amanda Kidd Schall
Marsha Scharf
Stephanie Schechter
Laurie Schlatter
Peter & Anne Schneider
Donalyn & Tom Schofield
Leslie Schomp
Alison Schroeer
Judith Schutzman
Gretchen Schultz-Ellison
Darcy Schwartz
Fred Schwartz
Janet Schwartz
Paul & Zelda Schwartz
John Schwind
William Scully
Carol Seager
David Sebastian
Mari Seder
Sue Seder
Susan Sedgwick
Helen Segil
Cheryl Seide
Cynthia Sellers
George Sermuksnis
Herman Servatius
Brittany Severance
Rachel Shabani
Kate Shaffer
Shannon Shamaly
Nancy Shaw
Jacyln Shenian
Cory Blake Shepherd
Ann Marie Shea
Lisa Shea
Randi Shenkman
Dan Shertzer & Deb Martin
Gerald Shertzer
David Shilale
Richard Shilale
Ananya Sikand
Jack Sikes
Kayt Silvers & TJ Bynes
Patricia Sims
Brynalee Simmons
Helen Obermeyer Simmons
Lynn Simmons
Janet and Travis Simpkins
Amaryllis Siniossoglou
Arlene Sjosten
Lyn Slade
Carol & Michael Sleeper
Susan Slepetz
Leslie Sleywion
Justin Sliwoski
Allan Small
John Wesley Small
Caitlyn Smith
Catherine Smith
Celia Smith
Christena Smith
Edwin Smith
Elijah Smith
Ferol Smith
Halie Smith
Michael Smith
Rebecca Smith
Sharon Smith Viles
Elaine Smollin
Linda Snay
Britton Snyder
Robert Sorrenti & Lynda Young
Lesia Sochor
Ann Souza
Charles Spada
Tracy Spadafora
Pamela Spielberg
Catherine Quick Spingler
Cherish Springer
Jeanette Staley
Tom Stanford
Gerard Stanley
Matt Staten
Patrick Steele
Debbie and Dan Steigman
Laura Evonne Steinmam
Howard and Carolyn Stempler
Michael Stepien
Michelle Stevens
Cassie-Leigh Stock
Thomas Stocker
Pamela Stolz
Chelsea Stone
Susan Stoops
Joanne Stowell
Jill Strait
Danielle Strandson
Victoria Stratton
Lawrence Strauss
Susan Stuart
Ariela Sturgis
Bill and Tina Sullivan
Jamie Sullivan
Richard and Judith Sullivan
Richard Suls
Deborah Sundquist
Madison Suniga
Support Our Fine Arts (SOFA)
Hope Sutton
Virginia Swain
Joshua Swalec
Elisa Sweig
Susan & Louis Swinand
Kaitlin J. Switzer
Veena Syed
Caroline Szcesuil
Anna Szemiot
John Szlyk
Jaimee Taborda
Neil Talbott
Donna Hamil Talman
Nickie Tadgell
Jaime Tamborda
Morgan Tartakoff
Kate Tattan
Matthias Waschek & Steve Taviner
Dick Taylor
Catherine Taylor
Pamela Vezina Taylor
Ange Tehoue
Sheila & George Tetler
Rebecca Tenen
Ted Theodore
Rachel Thern
Jean Theurkauf
Lynn Thibault
Sharon Thomas
Sree Kasturi Thonangi
Chloe Tibets
Tony Tilton
Lisa Tingue
Mary Tinti
Teranie Tirado
Anne Tisdell
Robert Tobin
Sam Tomasiello
Abigail Toomey-Fisk
Saul Torres
Michael Tortora
Robin Tost
Simon Tozer
Polly Traina
Richard Tranfaglia
Timothy Tran V
Ian Trask
Christine Trifari
Carol Tripp Martens
John Trobaugh
Huck Truesdell
Todd Truex
Rebecca Tuck
Jay Turner
Mary Turner
Sophy Tuttle
Terrasa Ulm & David Gates
Miranda Updike
Karina Urquhart
Suzan & Wayne Ushman
Pamela Vaccari
Laura Valencia
Carissa Valeri
Jeffrey Van Amburgh
Sylvia Vander Sluis
Jennifer VanDusen
Tyler Vance
Diane Vankevich
Alexandra Vatis
Anthony Vaver and Martha Heller
Dolly Vazquez
Lynn Viamari
Maryjean Viano Crowe
Madeline Vitale
Truong Vo
Hank VonHellion
Jeffrey Voss
Chloe Vescio
Nancy von Hone

Erika & Wyatt Wade

Julia & Julian Wade

Mary Wager-Stienstra

Mary Wakefield

William Wallace

Francis Warner

Mihoko Wakabayashi

Corinne Walker

Hailey Walker

Jessica Walsh

Lauren Walsh

Mary Walter

Tess Wani

Mary & Phil Warbasse

Paige Ward

Zack Ward

Cheryl Wareck

Francis Warner

Philip Warren

Matthias Wascheck

Kristin Waters

Jill Watts

Catherine Waung

Cathy Weaver

Nicole Webster Clark

Kellie Weeks

Al Weems

Emery Wegner

Rebecca Weiner

Christine Weinrobe

Naomi Weintraub

Marnie Weir

Charles Weiss & Gayle Flanders Weiss

Mary Welch

James Welu

Ruth Westheimer

Lynn Whalen

Linda Wheeler

Jamie Wheelock

Phyllis & Richard Whitten

Janet White

Stephen Wicks

Catherine Wilcox-Titus

Margaret Wild

Neil Wilkins

Sherra Wilkins

Erin Williams

Jasmine Williams

Linda Williams

Sarah Williams

Erica Willis

Charles Willough

Hailey Wilmot

Demetrius Wilson

Drew Wilson

Kristina Wilson & David Geist

Martha Wilson

Peter Wilson

Richard Wilson

Robert Wilson

Susan Wilson

Cliff Wilson & Framed in Tatnuck

Peter Wise

Patricia Woods

Sarah Wormann

Matt Wright & Katherine Judd

Agnes Wyant

Kim Wykes

Melissa Wyner

Cathy Wysocki


Kristi Xhelili
Celina Xiong

Xuejan Yan
Brenda and Bob Yates
Linda Yates
Amy Yeager
Alan and Johanna Yoffie
Dennis Yost

Leslie Zelamsky
Timothy Zelesky
Therese Zemlin
Marla Zeneski
Zhaoman Zeng
Tianci Zhang
Polly Zheng
Xuewu Zheng
Melanie Zibit
John Zirpolo
Melody Lin Ziyun
Tina Zlody
Emily Zraunig
Saqib Zulfiqar

ArtsWorcester is a member of the Worcester Cultural Coalition.