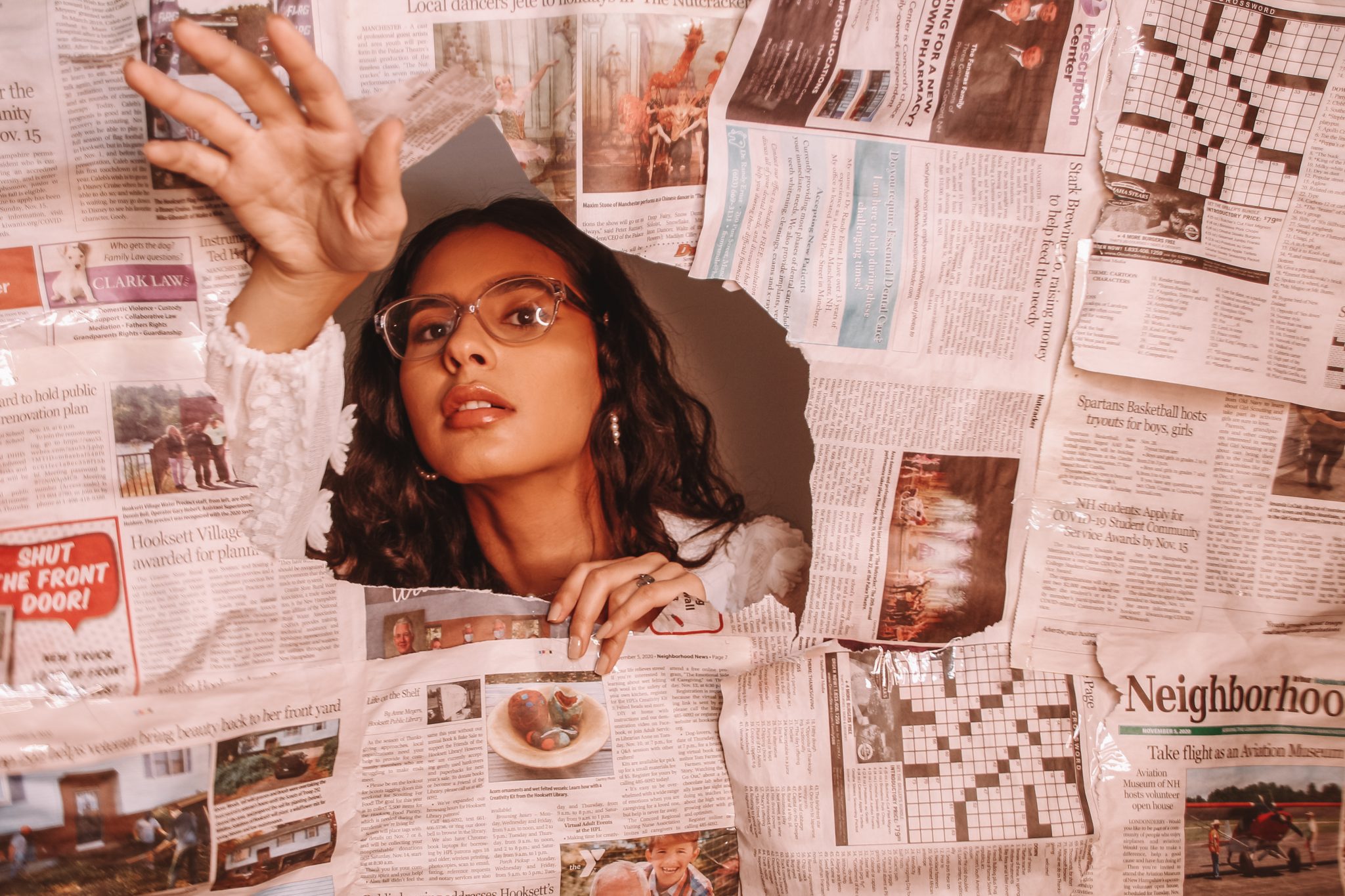 coming soon | online-only
The 17th Annual College Show
on view online only beginning January 28, 2021
This annual exhibition goes on view online-only this year, featuring a selection of work created by students throughout the greater Worcester area. This year's juror is Aprile Gallant, Associate Director of Curatorial Affairs and Senior Curator of Prints, Drawings, and Photographs at the Smith College Museum of Art. From over one hundred and eighty submissions, Gallant selected 51 works in traditional and new media, including film, printmaking, photography, paint, and digital art. Awards, which come with cash prizes, will be announced when the exhibition goes on view.
Alsina Nelselly (College of the Holy Cross, "21), Breaking News, photograph featuring news clippings, 12.3" x 8.5", 2020, NFS.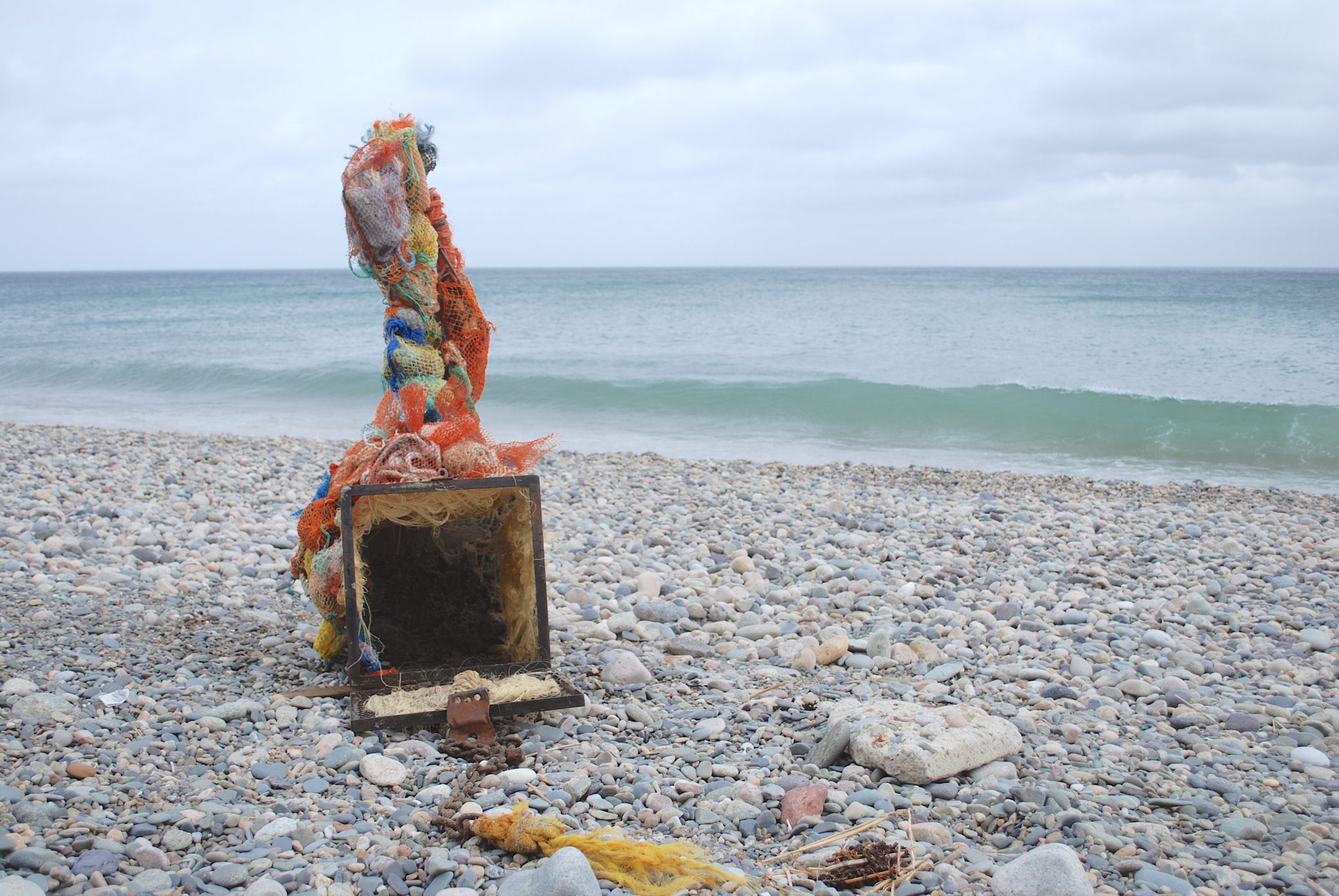 on view now
Present Tense Prize Winner
Rebecca McGee Tuck: Along the Wrack Line
December 3, 2020 through February 14, 2021
In person and online
Rebecca McGee Tuck weaves a sculptural narrative using sea debris she collects along the Massachusetts shoreline. The Present Tense Prize, awarding a solo exhibition and a $1,000 award, recognizes an artist whose work exemplifies new practices, artistic risk-taking, and excellence in execution. We thank the individuals who generously support the Present Tense Prize.
Rebecca McGee Tuck, Prowess Reimagined, sea debris, steel, wood, wire, 57″ x 24″ x 48″, 2019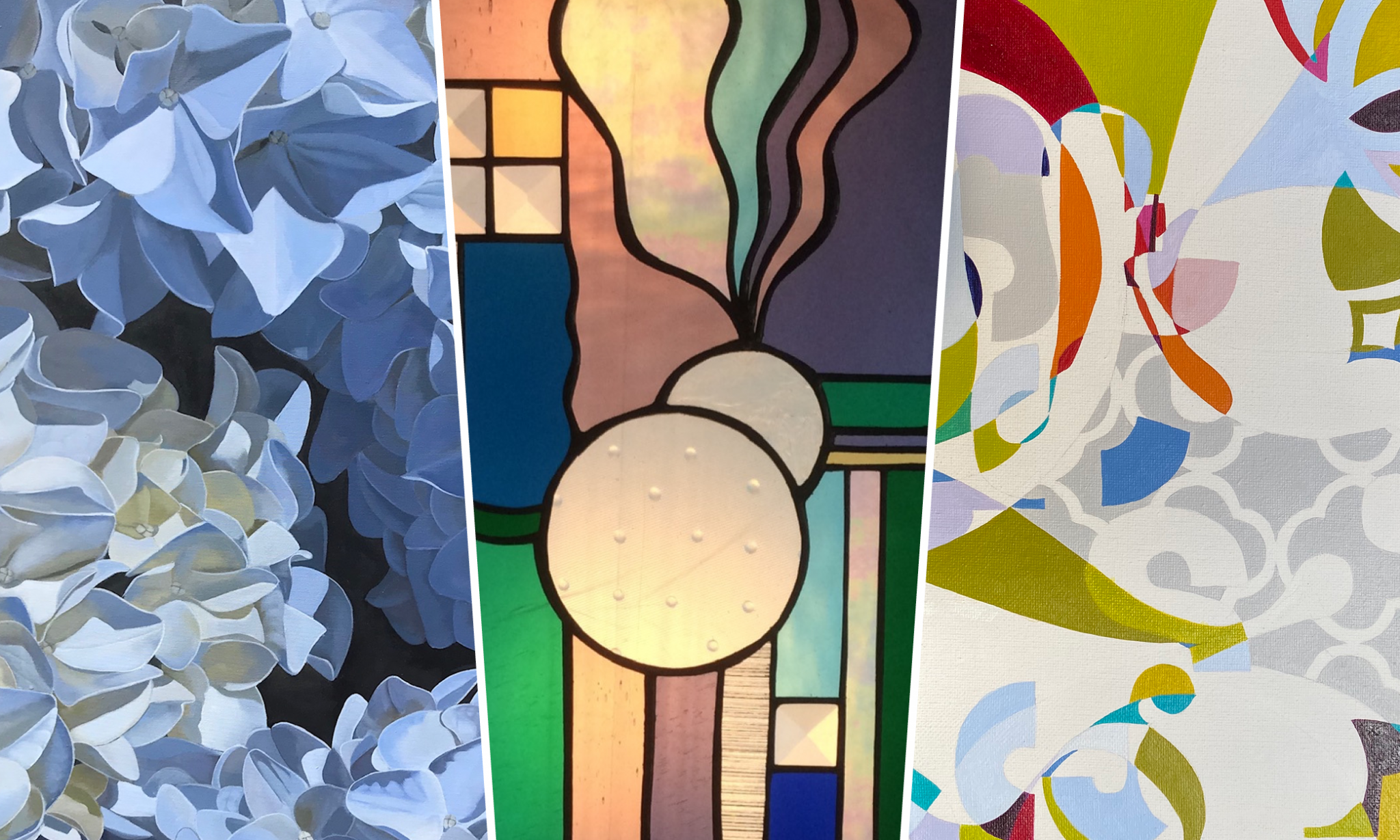 on view now
State of Being: Works by Worcester Public Schools Visual Arts Faculty
December 3, 2020 through February 14, 2021
In person and online
Part of ArtsWorcester's partnership with the Worcester Public Schools, State of Being showcases the diverse studio practices of the artists who also teach this city's students.
Timmary Leary, Excelsior, acrylic on board, 12″ x 12″, 2019; Joe DiGregorio, Radishes on the Moon, stained glass, 9″ x 24″, 2020; Laurie Atchue, Coming Together, acrylic on canvas, 36″ x 36″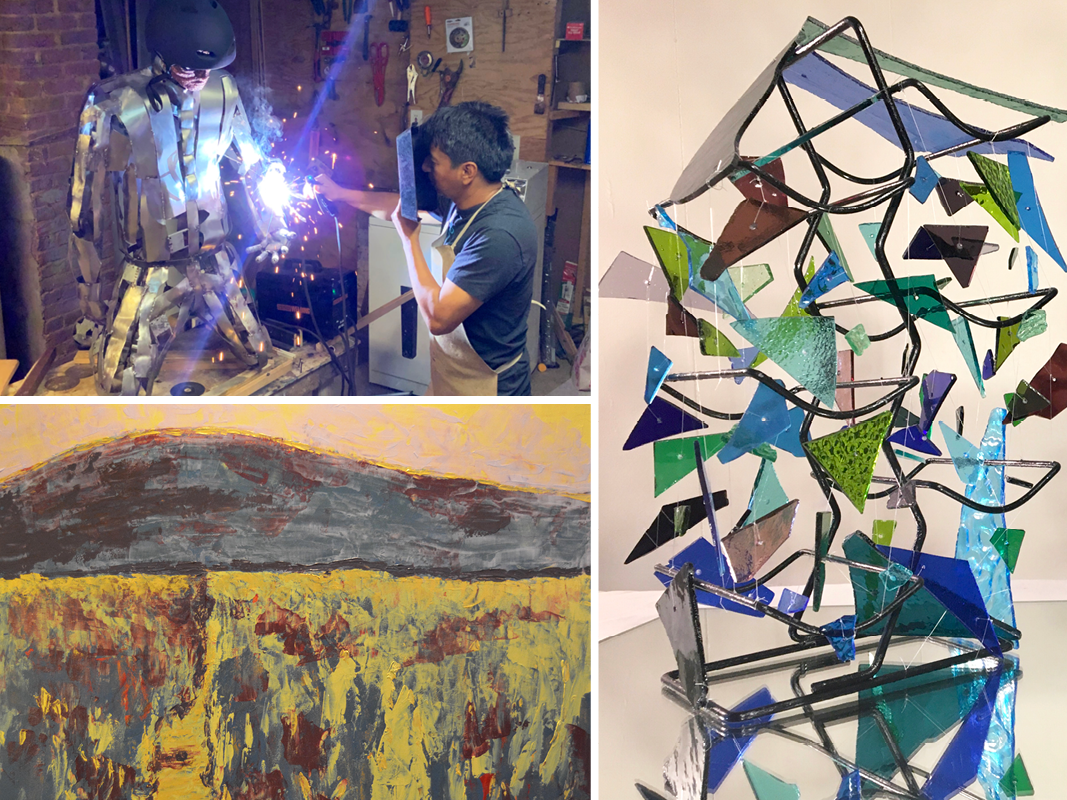 online only
Material Needs 2020
Eugenie Lewalski Berg | José Criollo | Christine Croteau | Rebecca Duffy | Maureen Hebert | Clifton Hunt | Amanda Kidd Schall | Donalyn Schofield | Joanne Stowell
beginning October 15, 2020
Material Needs Grants fund the cost of the supplies required to make new artwork. Awards range from $500 to $1,500, and are supported by a single anonymous donor. This year's exhibition showcases new work created in Worcester County by the 2019-2020 cohort of Material Needs Grant recipients.
(Clockwise from top left): José Criollo welds The Hunter, metal, paper, foam, 4' x 2' x 2' 5", 2020; Christine Croteau, Three Deckers, glass and wire, 3' x 1' x 2', 2019; Rebecca Duffy, Fields of Gold, acrylic on panel, 24" x 24", 2019.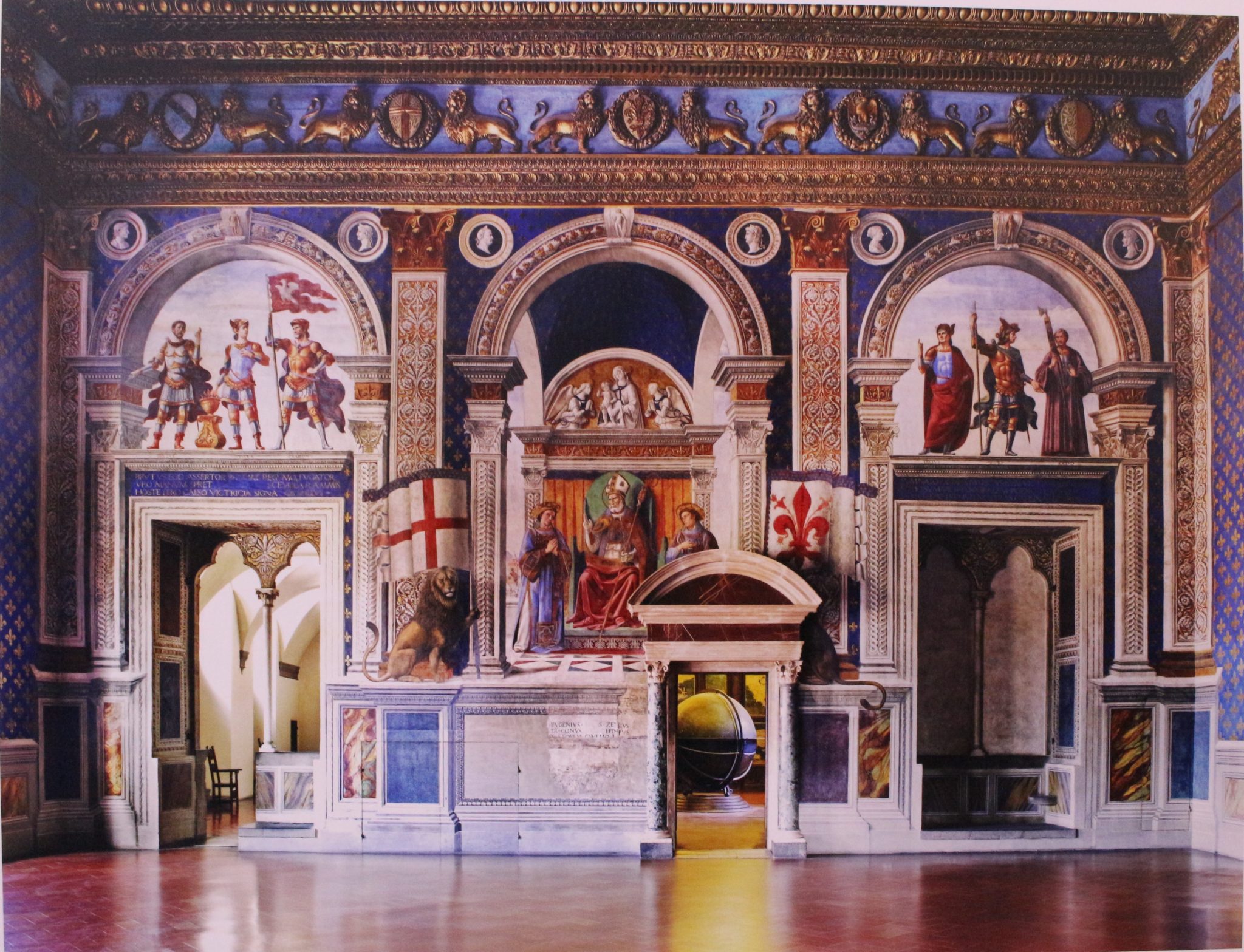 opening March 18, 2021
Inside Voices: A Members' Exhibition in partnership with the Fitchburg Art Museum
March 18 through May 2, 2021
In person and online
Our ninth "Call and Response" collaboration with the Fitchburg Art Museum, an important center for contemporary art in New England. Inside Voices prompts artists to consider a wide range of interiors, including domestic environments, psychological subjectivity, bodies, architecture, and sculptural containment. These spaces reveal symbolic weight, mental and emotional states, fantasy worlds, gender roles, and personal memories. View the call for art here.
Candida Höfer, Blue and Gold and Other Colors, 2009, chromogenic print, 20" x 24", 2018.80.3. Image courtesy of the Fitchburg Art Museum.