call for art
Now in Technicolor
a juried members' exhibition
Submission Deadline: Thursday, July 1, 2021
Notifications: by July 23, 2021
Drop off period: Thursday, August 5 - Sunday August 8, 2021
Exhibition run: August 19 - September 19, 2021
Juried by: Joshua Croke, Founder, Action By Design; Stephen DiRado, artist and professor; Birgit Straehle, Associate Painting Conservator, Worcester Art Museum and Creative Consultant, Sprinkler Factory Art Gallery.
Color is important to every artwork, but for this show, it's everything. For this juried exhibition, ArtsWorcester is looking for your brightest, boldest, and most explosive artworks. Turn up the heat this summer with blazing vermillion, vivid cobalt, radioactive yellow, or the color(s) of your choice: bold is the way to go.
Go abstract or approach a familiar subject with a bold palette--just make sure it's vibrant with color. Artworks may feature a spectrum of colors, or have one dominant color. All media are welcome, including but not limited to: traditional media, fine craft, sculpture, new media.
Five hundred dollars in prizes, funded by Marlene and David Persky and the Artist Prize Fund, will be awarded by the panel of jurors. Click here to meet the panel.
This is a juried exhibition, meaning that the panel of three jurors will consider all eligible submissions and select certain artworks to be shown at ArtsWorcester. All Artist Members may submit up to two pieces for consideration.
Please contact alice@artsworcester.org with any questions about the call or submission requirements.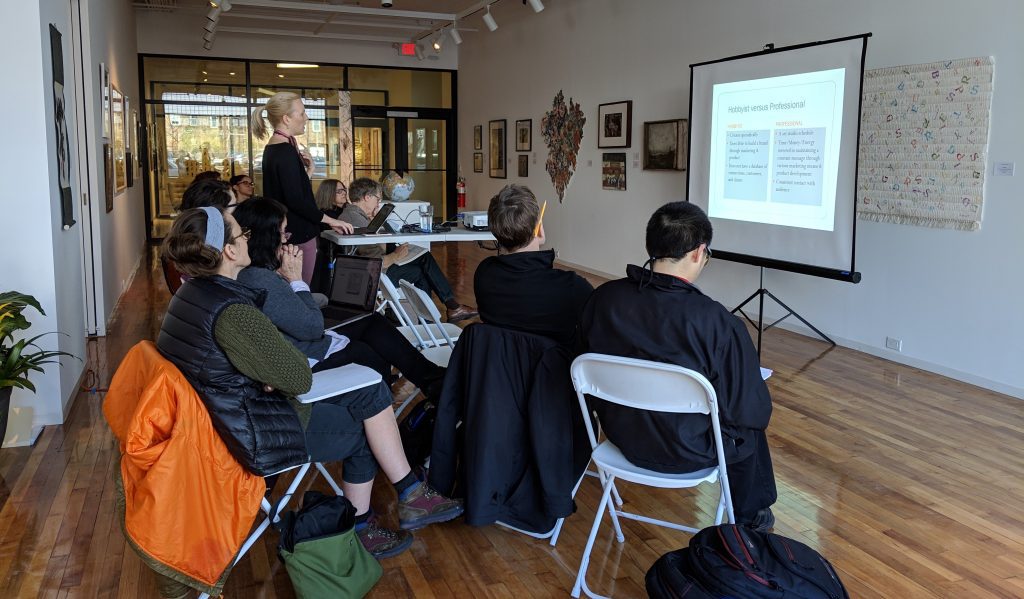 Our annual series of Artist Business Skills Workshops provide artists with the basic skills and knowledge they need to advance their professional careers. Previous topics have included workshops on What to Expect from a Portfolio Review; Writing An Artist Statement with Toby Sisson; Photographing Your Artwork with Stephen DiRado; Presenting Works on Paper with Tim Johnson; Intellectual Property with Greg Kanaan; and Pricing Your Artwork and Accounting For Artists with Anna Koon, founder of The Focusing Series for artists.

Coming up next:
More Artist Business Skills Workshops are on the way! Sign up for our email list to receive the latest news.
---
Artist Business Skills Workshops are free to current ArtsWorcester members, but limited in number of participants. If you have questions about your membership status, please call the gallery at 508-755-5142.
Thank you to the Melvin S. Cutler Charitable Foundation for supporting the Artist Business Skills Workshops.
More opportunities are on the way!
Join our mailing list to stay up-to-date on calls for art, new exhibitions, and more.