call for art
The Little One
a members' exhibition
Details and call for art coming soon!
Exhibition run: November 18 through December 19, 2021
We're bringing our biggest exhibition down to scale. For the ninth iteration of ArtsWorcester's "One," all artist members are invited to exhibit one small-scale artwork.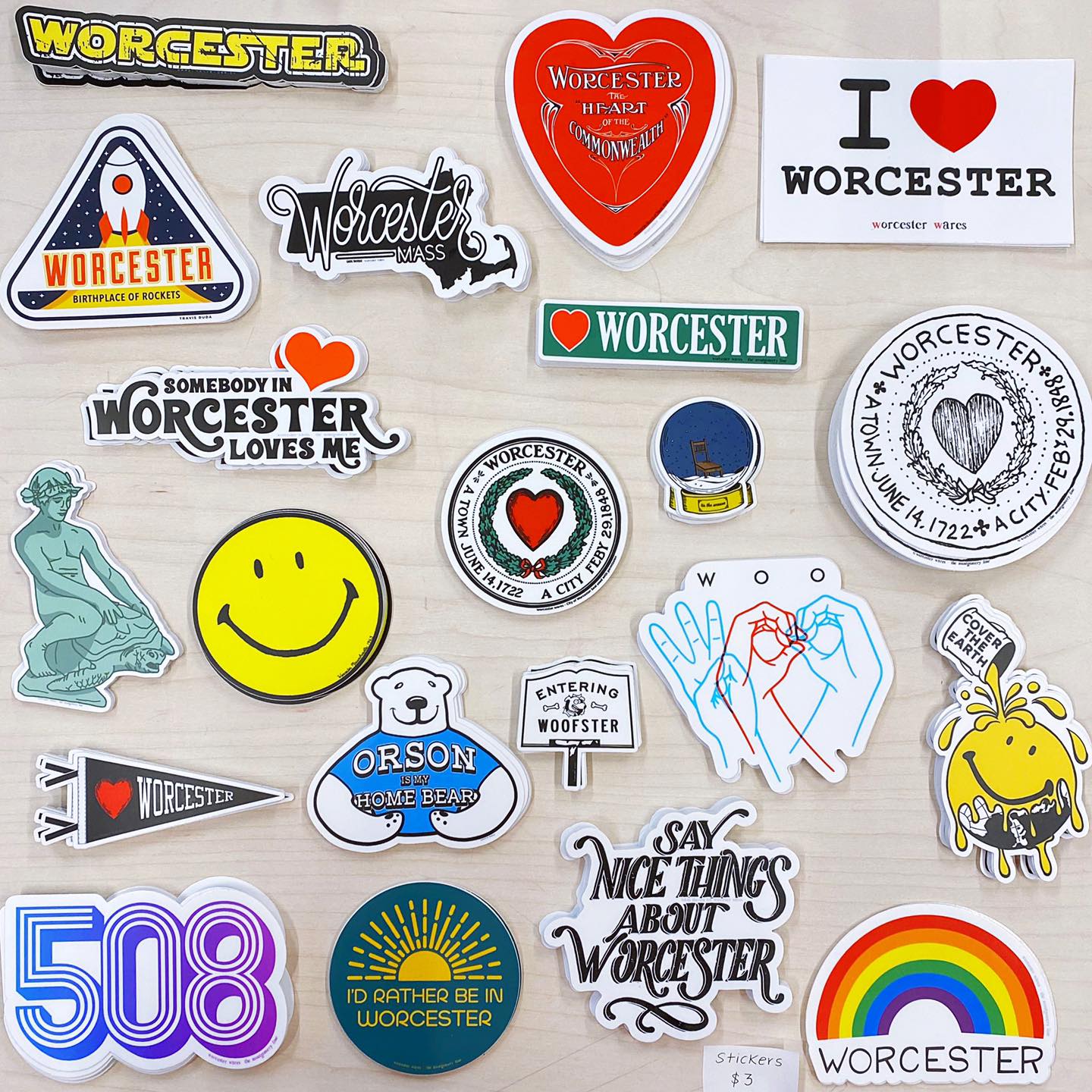 #opencall
ArtsWorcester Design Competition
in partnership with Worcester Wares
Submission period opens August 3!
Calling all artists and designers!
Deadline: Friday, September 17, 2021
ArtsWorcester is holding a design competition for limited editions of die-cut stickers and tote bags to be sold at Worcester Wares. We seek an original design that involves one or more of these ideas, or your interpretation or combination of them:
/// the 300th anniversary of the City of Worcester,
/// future Worcester,
/// your view of Worcester, or a view of Worcester.
The winning design will be:
/// original, and not a treatment of any existing logo or design
/// legible at different scales and distances,
/// full of positive energy, happy anticipation, and/or hope
/// enjoyable and appealing for all ages
One design will be selected and the artist will receive $250. Stickers and bags displaying the winning design will bear the artist's name, signature, or Instagram, as desired. The competition and the winning designer will also be featured in regional press releases, and the designer will be the subject of an interview and feature article on ArtsWorcester's publicity platforms. Two honorable mentions will receive $50.
ArtsWorcester membership or previous professional design experience is not required.
The items bearing the winning design will be available Thanksgiving 2021 through Valentine's Day, 2022, or until supplies are gone.
Designs should be submitted as a .jpeg file by Friday, September 17, 2021. Designs should fit within either a 2:3 (or 3:2) or 1:1 (square) aspect ratio, but are not constrained by a specific shape.
Questions? Email Allie at allie@artsworcester.org or call 508-755-5142.
---
¡Llamando a todos los artistas y diseñadores!
Fecha límite: viernes 17 de septiembre de 2021
ArtsWorcester está organizando un concurso de diseño para ediciones limitadas de pegatinas y bolsas de mano que se venderán en Worcester Wares.
Buscamos un diseño original que involucre una o más de estas siguiente ideas, o su interpretación o combinación de ellas:
/// el 300 aniversario de la ciudad de Worcester
/// futuro Worcester
/// Su vista de Worcester, o una vista de Worcester
El diseño ganador será:
/// Original, y no un tratamiento de ningún logotipo o diseño existente
/// Legible a diferentes escalas y distancias
/// Lleno de energía positiva, feliz anticipación y / o esperanza
/// Agradable y atractivo para todas las edades
Se seleccionará un diseño y el artista recibirá $250. Las pegatinas y bolsas que muestren el diseño ganador llevarán el nombre, la firma o Instagram del artista, según se desee. El concurso y el diseñador ganador también aparecerán en comunicados de prensa regionales, y el diseñador será objeto de una entrevista y un artículo destacado en las plataformas publicitarias de ArtsWorcester. Dos menciones honoríficas recibirán $50.
No se requiere membresía de ArtsWorcester o experiencia previa en diseño profesional.
Los artículos con el diseño ganador estarán disponibles desde el Día de Acción de Gracias de 2021 hasta el Día de San Valentín de 2022 o hasta que se agoten los suministros.
Los diseños deben enviarse como un archivo .jpeg antes de la fecha límite. Los diseños deben ajustarse a una relación de aspecto de 2:3 (o 3:2) o 1:1 (cuadrado), pero no están limitados por una forma específica.
¿Preguntas? Envíe un correo electrónico a Allie a allie@artsworcester.org o llame al 508-755-5142.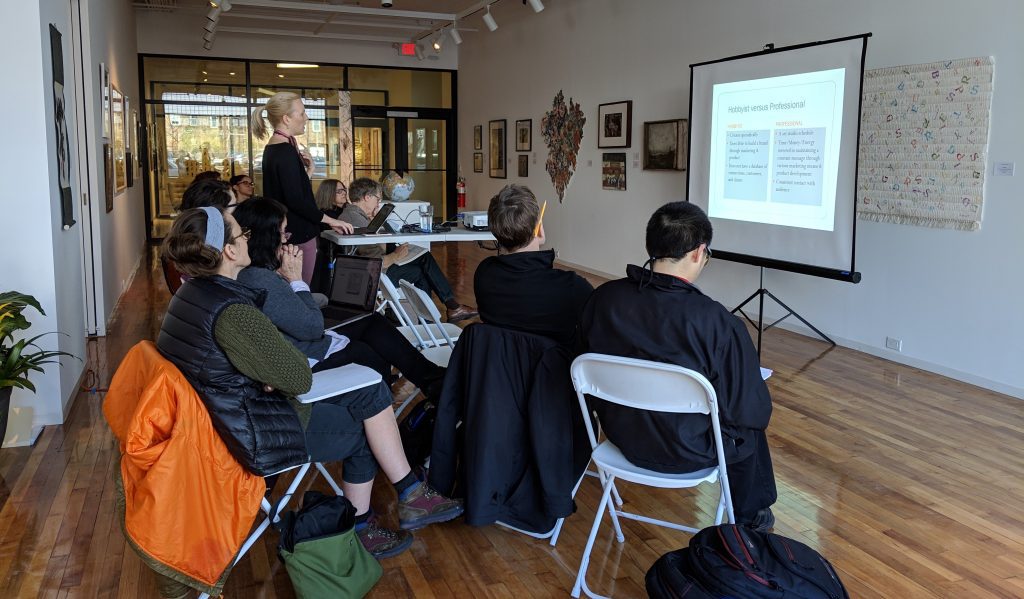 Our annual series of Artist Business Skills Workshops provide artists with the basic skills and knowledge they need to advance their professional careers. Previous topics have included workshops on What to Expect from a Portfolio Review; Writing An Artist Statement with Toby Sisson; Photographing Your Artwork with Stephen DiRado; Presenting Works on Paper with Tim Johnson; Intellectual Property with Greg Kanaan; and Pricing Your Artwork and Accounting For Artists with Anna Koon, founder of The Focusing Series for artists.

Coming up next:
More Artist Business Skills Workshops are on the way! Sign up for our email list to receive the latest news.
---
Artist Business Skills Workshops are free to current ArtsWorcester members, but limited in number of participants. If you have questions about your membership status, please call the gallery at 508-755-5142.
Thank you to the Melvin S. Cutler Charitable Foundation for supporting the Artist Business Skills Workshops.
More opportunities are on the way!
Join our mailing list to stay up-to-date on calls for art, new exhibitions, and more.