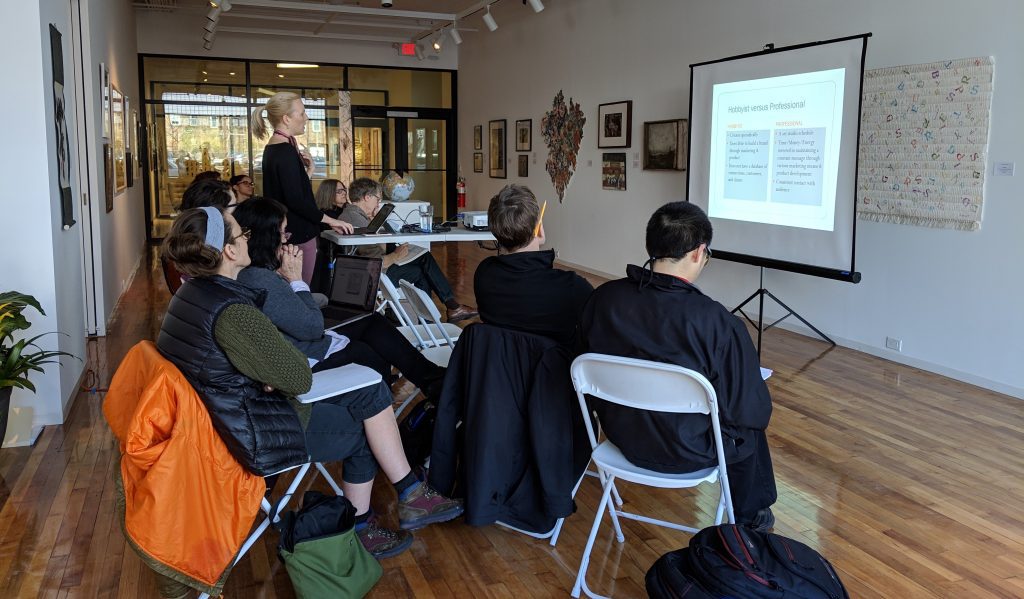 Our annual series of Artist Business Skills Workshops provide artists with the basic skills and knowledge they need to advance their professional careers. Previous topics have included workshops on What to Expect from a Portfolio Review; Writing An Artist Statement with Toby Sisson; Photographing Your Artwork with Stephen DiRado; Presenting Works on Paper with Tim Johnson; Intellectual Property with Greg Kanaan; and Pricing Your Artwork and Accounting For Artists with Anna Koon, founder of The Focusing Series for artists.

Coming up next:
Stay tuned for spring workshops!
Artist Business Skills Workshops are free to current ArtsWorcester members, but limited in number of participants. If you have questions about your membership status, please call the gallery at 508-755-5142.
Thank you to the Melvin S. Cutler Charitable Foundation for supporting the Artist Business Skills Workshops.

Gravity/Levity: A Juried Members' Exhibition
Call for Art
Deadline: Monday, February 3, 2020
Notifications: By February 17, 2020
*Please note, our call for a June exhibition is placed now to enable artists to plan ahead for the many overlapping summer sculpture opportunities. Please do not submit work if you cannot guarantee its availability for our exhibition dates.
Sculpture may be perceived as having significant weight, but often the finished work contradicts the medium. A buoyant image can be formed from the heaviest material, while a deeper narrative might be constructed of light paper. ArtsWorcester invites submissions of sculpture that interact with ideas of weight and/or weightlessness, both conceptually and materially. Sculpture in any media is eligible for consideration.
Lisa Crossman, PhD, Curator at the Fitchburg Art Museum, will serve as juror. Five hundred dollars in prizes will also be awarded, and winners will be announced at the opening.
Selected works will be exhibited in our state-of-the-art galleries from June through August, 2020. The space offers complete physical accessibility, nearly 2,000 square feet of exhibition space, professional installation, museum-quality lighting and labeling, ceiling anchors, and plywood blocking in all walls. A stationary loading dock is available for load-in.
All members of ArtsWorcester are eligible to submit work. Submission is free and each artist may enter two pieces for consideration.
Work must be submitted online by Monday, February 3, 2020.
Submission requirements:
Current ArtsWorcester membership is required to submit.
Each artist may submit two works of art for consideration and work must be registered online using this Submittable form. Email and hardcopy submissions will not be accepted.
All work must be original, created within the last ten years, and not previously exhibited at ArtsWorcester.
One image is required for each submission. Artists may also choose to include up to two additional detail images or alternate views for each submission.
All works must be able to fit through a doorway 58″ wide by 84″ tall.
All works must be able to handle a rigid loading dock (3 feet tall). Artists with exceptionally large or heavy pieces must provide a crew to load the work into the gallery.
No single element of any artwork hanging from the walls or ceiling may exceed 50 pounds. All hanging systems must be tested prior to submission to ensure safe and successful installation.
All work must be exhibition ready at time of delivery.
ArtsWorcester provides pedestals, but artists may bring their own if they wish. All pedestals will be painted white to match the gallery.
Above image: Madeleine Lord, Follow the Leader, welded scrap steel

In Transition: A Members' Exhibition in collaboration with the Fitchburg Art Museum
Call for Art
Registration deadline: Thursday, March 5, 2020
Exhibition dates: March 20 – April 18, 2020
In Transition is the eighth "Call and Response" collaboration between ArtsWorcester and the Fitchburg Art Museum, an important center for contemporary New England art. This exhibition will be the first "Call and Response" to take place at ArtsWorcester's new location at 44 Portland Street. To mark this exciting change and inspired by a selection of artworks from FAM's permanent collection, we invite artists to consider ways in which art can explore the concept of transition.
Artworks might engage transition through the perspective of a person, place, or thing experiencing a significant period of change and transformation. Artworks could examine stages of physical and mental transformation, regarding changes in age, gender, or status. They could also explore architecture, geography, culture, or other subject matter in a state of transition.
Formally, transitions in artworks can be depicted in shifts in tonality, scale, depth, and form (i.e., from light to dark, small to large, foreground to background, or shifts in color and shape). These formal considerations of transition may illustrate a process of evolution, and incorporate artworks in which we see the medium itself changing from one thing or state to another (for example, ceramics in which the marks of firing are visible).
The Fitchburg Art Museum's curatorial staff will select ten works from In Transition to be exhibited at FAM with the selected works from the Museum's collection.
All artist members are eligible to register one artwork for this exhibition.
View the ten works on loan from FAM here.
We thank our friends and partners at the Fitchburg Art Museum for sharing their collection so generously with our artists.

Submission Guidelines
*Please read all submission guidelines thoroughly. Due to the number of works we receive for this exhibition, any work that does not meet submission requirements will not be accepted.
Current ArtsWorcester membership is required to submit.
Each artist may submit one work of art for consideration.
All work must be original, created within the last ten years, and not previously exhibited at ArtsWorcester.
Two-dimensional artworks must not exceed 48" in any direction, including frame.
Three-dimensional artworks are limited to 90" in height, and no single element can exceed 50 pounds.
Artworks suspended from the ceiling are limited to 50 pounds.
Works must be exhibition ready with framing and wire as appropriate. Alternative hanging methods (suspended from the ceiling, installed with magnets, etc.) must be tested prior to submission to ensure successful installation, and required hardware must be provided.
Artists receive sixty percent of each sale made through our galleries.
Please contact the gallery with any questions at info@artsworcester.org or (508) 755-5142.
After submission you will be directed to a confirmation page and receive a confirmation email from ArtsWorcester. If you do not receive this email, please check your spam folder first before contacting the gallery to ensure receipt of your submission.
Register your art online here.
Above images: Above images: Bart Parker, Untitled, 1968, gelatin silver print, 17″ x 14″ (unframed), Jude Peterson Collection; Angela Strassheim, Untitled (Waiting Room), 2006, chromogenic print, ed. 3 of 8, 29 1/4″ x 37″, gift of Dr. Anthony Terrana