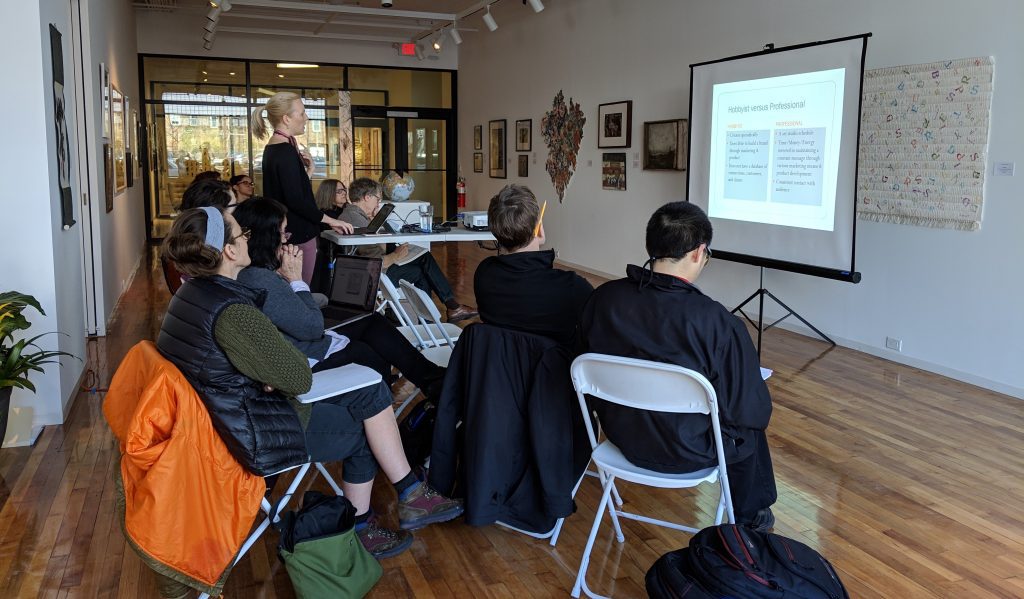 Our annual series of Artist Business Skills Workshops provide artists with the basic skills and knowledge they need to advance their professional careers. Previous topics have included workshops on What to Expect from a Portfolio Review; Writing An Artist Statement with Toby Sisson; Photographing Your Artwork with Stephen DiRado; Presenting Works on Paper with Tim Johnson; Intellectual Property with Greg Kanaan; and Pricing Your Artwork and Accounting For Artists with Anna Koon, founder of The Focusing Series for artists.

Coming up next:
Fall 2020 Business Skills Workshops will be announced shortly.
Artist Business Skills Workshops are free to current ArtsWorcester members, but limited in number of participants. If you have questions about your membership status, please call the gallery at 508-755-5142.
Thank you to the Melvin S. Cutler Charitable Foundation for supporting the Artist Business Skills Workshops.

2020 Call for Exhibition Proposals for Solo and Group Shows
This year's submission period is closed.
ArtsWorcester invites proposals for solo, group, and member-curated shows for our 2020-2021 gallery season and corporate art program. Proposals are evaluated by a panel of seven volunteers, all with extensive experience as curators, educators, collectors, and/or artists. All proposals are viewed anonymously.
Exhibitions may be placed in our galleries in the Printers Building, our partner spaces at the Davis Art Gallery or the Hanover Theatre, or in our corporate art program. Multiple exhibitions may be produced in the same gallery space (for example, two solo exhibitions simultaneously in the West Gallery).
New and traditional media, fine craft, and site-specific installations are all welcome. Proposals should be specific regarding presentation and installation plans. During installations of selected exhibitions, artists have the opportunity to work with and learn from our exhibit designer. All installations take place during the work week during normal business hours.
Current ArtsWorcester membership is required for all artists at the time of submission.
Please review the submission guidelines for solo & group shows here.
Learn more about our exhibition venues.
Meet this year's Exhibitions Panel.
After submitting your proposal you will receive a confirmation email. If you do not receive an email please contact the gallery to confirm receipt: kate@artsworcester.org or (508) 755-5142.
ArtsWorcester exhibitions are sustained in part by the generous support of the C. Jean and Myles McDonough Charitable Foundation.
Above image: Kat O'Connor: This Fluid Report of Motion, summer 2019