The mission of ArtsWorcester is beautifully simple:
to exhibit and promote local contemporary artists, free of charge to the public. But I'm also proud of how we act as a kind of artistic democracy, in which all may participate, and to which all are welcome.
It is unusual for artist organizations like us to have an exhibiting membership that is open to everyone, regardless of experience. A sculptor displaying art for the very first time in public, a photographer hoping for inclusion in a juried exhibit, and a more established painter embarking on a solo exhibit, all find value in exhibiting here.
ArtsWorcester is known for its solo, small group, and juried exhibits of excellent local art. But we also produce three to four "open-member" exhibits each year, group shows in which every artist member is entitled to include a work. These open exhibits, unpredictable in content and size, showcase new talent, diverse approaches, and striking juxtapositions of media, theme, and form. Artists at all levels of their career come to these openings, celebrate their colleagues, welcome newcomers, and take inspiration from what others are making.
For audiences and collectors, ArtsWorcester provides a unique public good.  Our gallery exhibits and openings have always been free and open to all. The wide range of prices set by our artists means that owning original works of art is within reach of most budgets. As access to art becomes more difficult to afford and maintain, we serve an increasingly important role to those who value it. Outside of our democratic virtues, I'm proud to work in such a joyous and creative place. Few places in the art world demonstrate such a warm welcome, and such a lack of pretension, as I see in this community. Visit, join, or just ask about the artists at work in this region. You are welcome here.
ArtsWorcester is a breath of fresh air and a light into what is means to be community.
–S.G., gallery visitor
Staff & Volunteers
Juliet Feibel, Executive Director
A native of St. Louis, Missouri, Juliet Feibel has worked across the fields of nonprofit management, membership organizations, the arts, and higher education. She has served as Director of Education for the Ann Arbor Arts Center, as Associate Director of Imagining America, a national arts and humanities project, as a social media consultant to the Museum of Russian Icons, and worked for non-governmental organizations in Vietnam and Thailand. She holds a BA in English and Art History from Northwestern University, a PhD in English Literature from the University of Michigan, and studied theatre and art at Interlochen. She lives in Worcester with her husband Ken MacLean, an anthropologist at Clark University, and her two children.
juliet "at" artsworcester.org
Scarlett Hoey, Program Administrator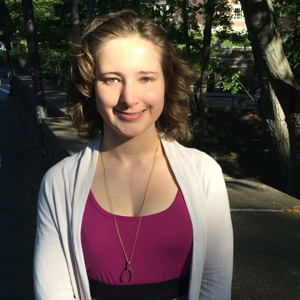 Born in Brisbane, Australia, and raised in the Boston area, Scarlett Hoey holds a BFA in Art History and Photography from Massachusetts College of Art and Design. She is an artist who is actively involved in arts development in Worcester. Her past work experience includes Boston's Old South Meeting House and Newstead House, Brisbane's oldest (1846) European residency.
scarlett "at" artsworcester.org
Tim Johnson, Art Preparator
Tim Johnson is a freelance preparator, providing art installation services to museums, galleries and individuals in New England. In addition to ArtsWorcester, he regularly installs exhibitions at the Cantor Art Gallery at the College of the Holy Cross and the Clark Art Institute.
Clark University Student Workers
Kate Grady, Alex Gray, and Demi Rodriguez

Social Media Assistant
Kate Rasche
Member Pages Coordinator
Sharon Freed
Volunteers
Amanda Bastien, Vanessa Calixto, Pam Farren, Sharon Freed, David Habercom, Samantha McDonald, Oisin Muldowney, Ginger Navickas, Michelle Temple-Frizzell, John Hayes-Nikas, Ken MacLean, Brenda Nikas-Hayes, Jenny Pacillo, Corinne Rhodes, Susan Sedgwick, and the Worcester Polytechnic Institute (Omicron Iota) chapter of Alpha Phi Omega
Board of Directors
Board of Directors
Francis "Tuck" Amory
Maggie Boatwright-McEvoy
Suzanne Campbell-Lambert, Clerk
Louis Despres
Romina Sarreal Ford, Vice President
Adam Glass, Treasurer
Robert Mack
Heather Mangione
Ann K. Molloy
Anne Diamond McNevin
Alicia O'Connell
Jon Seydl
Kristina Wilson, President
Patrick Winn
ArtsWorcester's Advisory Committee
Brigita Clementi
John E. Graham
Sarah Callahan Lenis
Jane Molina
Erika Davis Wade
History and Mission

ArtsWorcester exhibits the works of new and established artists, offers professional development for members, and cultivates audiences and collectors. We celebrate contemporary local art through free gallery exhibits and openings.
ArtsWorcester is now in its 38th year of exhibiting and promoting local artists. Despite all economic and organizational odds, and with a budget that even in the best of times has never exceeded $150,000, we are one of the last art galleries, non-profit or for-profit, that remains in operation in Worcester County. We were founded as the Cultural Assembly of Greater Worcester, and renamed ArtsWorcester in 1992. Locations have changed: we have operated out of the homes of volunteers, out of temporary loans of vacant downtown real estate, and, for the past fourteen years, from the premises of a former luxury hotel. Our role has changed, too, evolving with time and the needs of the local arts community. Jazz concerts, poetry readings, and musical afternoons in private homes have all taken place under our auspices.
Exhibiting visual artists, however, has always been a core activity, and remains our primary mission to this day. Over the years, local artists have kept this organization going. The richness and variety of the art they exhibit here continues to bring in visitors and buyers. In addition to their art, they share their time. Artists volunteer to mind the gallery, crunch the budget, stuff the envelopes, and determine the exhibition calendar. Their contributions and service, alongside those of art lovers and collectors, keep ArtsWorcester a vibrant artistic presence.
To a city with deep historical roots, ArtsWorcester now contributes its own traditions. The annual College Show marks its thirteenth anniversary this year, and the Biennial has run uninterrupted for three decades. We are proud to be part of Worcester's diverse arts community, and to have helped it thrive. Thank you to the artists and supporters who founded us in 1979, and to those who keep us going today.
The Aurora Hotel, pictured here in 1939, now houses our main galleries and offices.
Image courtesy of the Worcester Historical Museum.