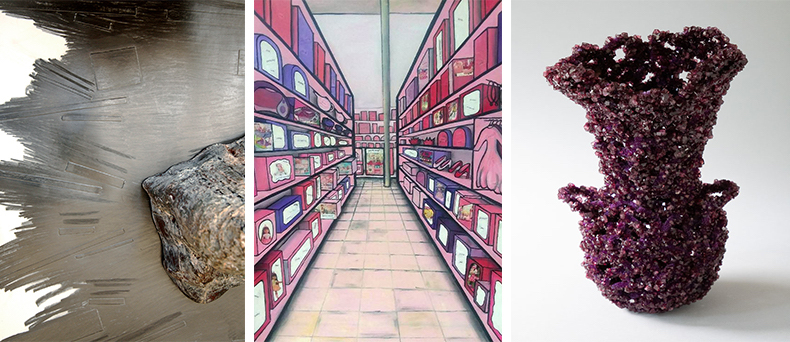 We congratulate the recipients of the 2019-20 Materials Needs Grants. These grants, generously funded by an anonymous donor, support the materials and equipment needed to make new art in Worcester County.
Eugenie Lewalski Berg, $1,500 for thermoplastic sheets, Japanese print-making paper, and a ball-bearing baren for a series of interrelated two- and three-dimensional works.
José Criollo, $1,250 for metal sheets, welding supplies, paint and screws to create a life-sized figure sculpture.
Christine Croteau, $1,500 for stained glass, monofilament, and swivels, for a site-specific installation inspired by open-water swimming.
Rebecca Duffy, $750 for acrylic paints and cradled panels for small-scale landscape paintings.
Maureen Hebert, $1,000 for borax, dyes, sculptural substrates, and miscellaneous equipment for an experimental series of crystallized vessels.
Clifton Hunt, $1,000 for oil paints, lights, panels, and canvases for still-life paintings.
Carlotta Miller, $1,000, for paper, inks, and plexiglass sheets for monoprints, drawings, and handmade books.
Amanda Kidd Schall, $750, for solar plates, aquatint screens, and printmaking paper.
Donalyn Schofield, $1,000 for translucent substrates, fixatives, and pencils for large-scale drawings of endangered species.
Joanne Stowell, $1,000 for canvases and oil paints for a series of paintings inspired by post-partum bodies.
The work produced with their grants will be exhibited at ArtsWorcester during the 2020-21 exhibition season.
Fifty-two artists have had their practice advanced through these grants to date. We thank the donor, and the Material Needs Grants committee for its difficult work in selecting the awardees.
Above images: Eugenie Lewalski Berg, Butte (in progress), mixed media; Joanne Stowell, The Girl Aisle, paint on canvas; Maureen Hebert, Purple Vessel, borax crystal.