The Central Massachusetts Portfolio Review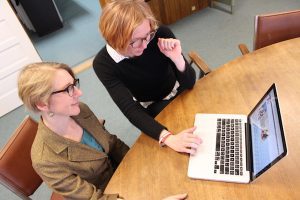 May 5, 2018, 10:00 am to 3:00 pm
Fitchburg Art Museum
185 Elm Street, Fitchburg
Registration deadline: April 20, 2018
The Central Massachusetts Portfolio Review, a partnership between the Fitchburg Art Museum and ArtsWorcester, is an opportunity to have your portfolio or in-process series viewed and critiqued by area professionals and curators. Receive focused, informed feedback on your work, learn what's working and what's not, and advance your career in a serious and  supportive environment.
How it Works:
All artists must register online before April 20, 2018. 
Artists register for either one or three 20-minute review sessions, and should be prepared to speak to reviewers about their work with examples pre-loaded onto a fully charged laptop, iPad, or tablet.
Artists may indicate preferred reviewers on the registration form, but this does not guarantee their selection.
Artists will be contacted after submission to confirm time slots, reviewers, and payment.
What it Costs:
All payments are due by May 1, 2018. Members of ArtsWorcester and FAM are encouraged to participate at a discounted rate.
Members:
One 20-minute session: $60
Three 20-minute sessions: $150
Not-Yet Members:
One 20-minute session: $80
Three 20-minute sessions: $200
Not a member yet? Click here to join ArtsWorcester and/or FAM. 
Learn More:
This year's reviewers are:
Tamar Russell Brown, Gallery Sitka West
Lisa Crossman, Curator, Fitchburg Art Museum
Leslie Ferrin, Director, Ferrin Contemporary
Katherine French, Gallery Director, Catamount Arts
Roger Hankins, Gallery Director, Iris and B. Gerald Cantor Art Gallery, College of the Holy Cross
Leah Triplett Harrington, Director of Programs & Exhibitions, Fort Point Arts Community and Senior Editor of Big Red & Shiny
Randi Hopkins, Director, Visual Arts at the Boston Center for the Arts
Stephen Jareckie, Consulting Curator of Photography, Fitchburg Art Museum
Jessica Roscio, Curator, Danforth Art
Samuel Toabe, Gallery Curator, University of Massachusetts Boston
Ellen Wineberg, Co-Curator and Co-Director, ROOM 83 Spring
Thank you to the reviewers, and to our hosts and partners at FAM.