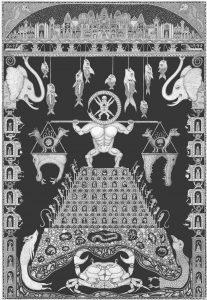 It was only last spring that James Dye won the Sally Bishop Prize at our 2017 Biennial, granting him a solo exhibition at the Worcester Art Museum. That exhibition, Exploring the Myths of James Dye, opens April 7, and features 21 dip pen, India ink drawings by the artist, whose meticulously rendered works blend themes from ancient myths with iconography that refers to alchemy, cosmology and the Apocalypse.
James originally trained as a printmaker but turned to ink drawings after earning a BFA in 2005 from the Art Institute of Boston at Lesley University. An avid reader all of his life, he draws heavily on his rich knowledge of oral and written mythologies—from Fenrir, the Norse wolf, to the Greek demigod Hercules, to the land-beast Behemoth in the Old Testament.  While Dye's references to literary myth and fable are broad, his iconography shows a distinct tendency toward dystopic visions and fantastic beasts.
Exploring the Myths of James Dye is co-curated by Nancy Kathryn Burns, the Worcester Art Museum's associate curator of prints, drawings, and photographs, and Rachael Kane, Moggio Fellow for Diversity in Fine Arts. Over 25 prints from the Museum's collection will be exhibited alongside James's drawings, chosen in concert with the artist.
James's career began like many others when he joined ArtsWorcester in 2014 and first put a work into a members' exhibition. His drawings, however, began immediately to attract critical attention. Homonculus was selected for exhibition at the Fitchburg Art Museum for Model Behavior, FAM and ArtsWorcester's 2015 "call and response" exhibition, a success he enjoyed again two years later in Off The Grid. He earned a juror's award from curator Susan Stoops during the 2015 ArtsWorcester Biennial, and gained entry to the last three years of FAM's Regional Exhibitions. Exploring the Myths of James Dye is his first solo museum exhibition.
James credits ArtsWorcester with some of his success, noting how important it is to be part of a community of artists. "Exposure to the exceptional work being created by local artists motivated me to push the limits of my own, and access to their advice and critiques allowed me to raise my art to a new level," he says. "Joining Arts Worcester was the best decision of my career, and my only regret is that I didn't do it sooner."
The Worcester Art Museum's contributions to regional artists went beyond this single exhibition. WAM provided complimentary memberships to each of the 156 artists who submitted work to the Biennial, regardless of whether the juror accepted it or not, and nearly one hundred of them redeemed those memberships and are now visiting the galleries.
An opening reception for James will take place on Thursday, April 19, from 5:30pm to 8:00pm. The reception will be free to WAM members. Otherwise, it is included with regular admission for non-members.
On Thursday, April 12, from 9:30am to 4:00pm, James will hold an Artist Workshop, including a private tour with the artist through the gallery, a demonstration of dip ink drawing, and the chance to try India ink drawings. The day-long event is $75 and 10% off for members ($67.50). ArtsWorcester members will be extended the member rate. In order to receive the discount, please reserve in-person in the Higgins Education wing at WAM or by phone at 508-793-4333.
On June 3, between 2:00pm and 3:00pm, James will give a private gallery tour for ArtsWorcester members. Participation is limited to the first twenty-five members who register on-line, and admission to the tour and to the museum will be free for them. Register for the tour online here.
The exhibition remains on view through September 2, 2018.
The Worcester Art Museum, located at 55 Salisbury Street in Worcester, MA, is open Wednesday Sunday from 10 a.m. to 4 p.m. and every third Thursday from 10 a.m. to 8 p.m. Admission is $16 for adults, $6 for children 4-17, $14 for seniors 65+, and $14 for college students with ID. Members and children under four are free. Museum parking is free on a first-come, first-served basis; street parking is also available.