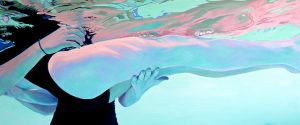 Material Needs Grants, funded by an anonymous donor, support the expenses of supplies and materials for the creation of new art in Worcester County. With this gift, we are able to distribute grants to artists between $500 and $1,500. We generally exhibit the work produced in the following exhibition season (awards made in early spring of 2019 will fund the works shown in the fall of 2020).
To apply for a Material Needs Grant, you must reside in Worcester County and have been a member of ArtsWorcester for one calendar year prior to application. If you have received a Material Needs Grant previously, you must wait three years before applying again.
The deadline to submit for 2019 Material Needs Grants is Saturday, January 5, 2019. 
Download guidelines and application checklist.
Please contact the gallery with any questions. Thank you for your submissions, and good luck!
Image: Kat O'Connor, Hold, oil on panel (detail), 32″x43″.