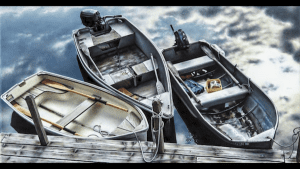 This last summer exhibition at 660 Main Street will also be the last One! We love the format, but the greater opportunities for members' exhibitions we will have at the Printers Building suggest it's time to bring this summer tradition to a happy close.
So be part of this very last One! Register the single piece you want to exhibit most, regardless of medium or theme. The usual size and weight limitations apply (available on the registration page).
Thanks to the generosity of individual donors, five hundred dollars in prizes will be awarded to artists exhibiting in One. The awardees will be selected by Lauren Riviello, Executive Director of the Brookline Arts Center.
The opening reception, on Friday, June 15, runs from 6:00 to 9:00 PM, with music from Jose Castillo and refreshments from our friends at Lock50.

Please register your artwork online by May 30. We appreciate preparing your paperwork in advance.
Online registration ends May 30, 2018.
Delivery of artwork: May 31, June 1, and June 2, from 12:00-4:00 PM, and by appointment
Exhibition viewing: June 16 through July 15, 2018 (extended run! closed the week of July 4)
Collection of unsold artwork: July 18, 19, 20 and 21, from 12:00 to 4:00 PM and by appointment
Time to renew or join? Call us, or renew or join online.
Pictured above: Chelsea LeBeau-Hueter, Docked, oil on canvas, 12″ x 20″ framed