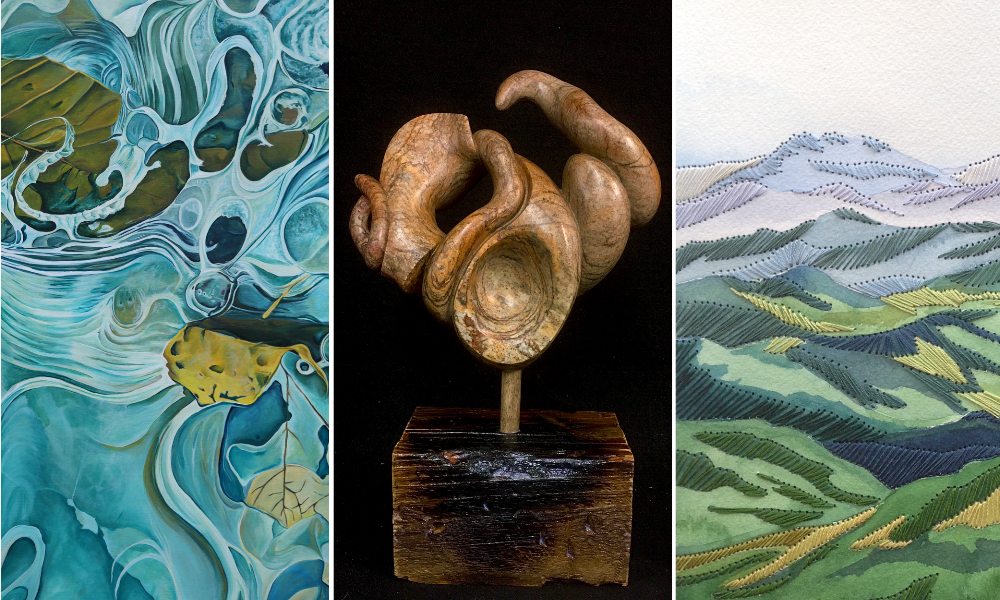 The Seventh Annual One
On view December 6, 2019 through January 11, 2020
Opening reception: Friday, December 6, 2019, 6:00-9:00 PM
After a one-year hiatus, ArtsWorcester's largest exhibition returns this winter! Featuring over 200 artists, this exhibition is non-juried, non-themed, and allows any active artist member to display one work in the ArtsWorcester main galleries at 44 Portland Street. An opening reception will take place on Friday, December 6, from 6:00 to 9:00 PM.
Thanks to the generosity of individual donors, five hundred dollars in prizes will be awarded to artists exhibiting in The Seventh Annual One. Prize winners will be selected by Erin Corrales-Diaz, Assistant Curator of American Art at the Worcester Art Museum, and will be announced at the opening reception.
The opening reception and gallery hours are free and open to the public. This exhibit will be on view in the East and West Galleries through Saturday, January 11, 2020.
Artist pick-up dates: Tuesday, January 14 through Thursday, January 16, 12:00 to 5:00 PM; Friday, January 17, and Saturday, January 18, 10:00 AM to 7:00 PM.
Featured artists:
Camilo Almarales
Samuel Aman
George Annan Jr.
Frank Armstrong
Susan Arnold
Robert Arnold
Beck Arruda
Bayda Asbridge
Rosemary Banfield
Tess Barbato
Ann Barrett Hicks
Amanda Bastien
Eugenie Lewalski Berg
Susan Black
Gregory Bober
Melissa Borges
Sally Bowditch
Chelsea Bradway-Francis
Blake Brasher
Evelyn Britz-Cunningham
Aaron Brodeur
Lora Brueck
Matthew Burgos
Laura Cahalane
Rachel Chambers
Glenn Church
Mishael Coggeshall-Burr
Susan Donohue Colby
Jim Collins
Clifford Connell
Barry Connolly
Doreen Connors
Carrie Crane
Tracy Crane
Katie Crommett
Jean Cummiskey
Destinie Curran
Adam Cutler
Kristina Davidson
Robert Dec
Deanna Degon
Jessica DeHaemer
Lawrence DeJong
Pamela DeJong
Ella Delyanis
Don Deprez
Alice Dillon
Timothy Doyle
Robert Dreyer
Joseph Dunn
Trang Duong
Griselda Duran
Samantha Durfee
Charlotte Eckler
Kathryn Egnaczak
Lucille Ela
Laurie Ellsworth
David Etedgee
Tim Evans
Madge Evers
Ralph Ferro
Susan Fisher
Nathan Fiske
Elizabeth Fortin
Sharon Freed
John Fronczek
Timothy Gannon
Charles Geiger
David Geist
Anya Geist
Amanda Gibson
Robert Gilfoy
Francine Gintoff
Christina Giza
Elizabeth Glixman
Gloria Goguen
Margery Gordon
Yasmin Goris
Craig Graceffo
Robert Grady
Madelaine Hamilton
Joseph Hamilton
George Hancin
Linda Harris
Maggie Hart
Lisa Hayden
John Hayes-Nikas
Maureen Hebert
Allie Heimos
Scarlett Hoey
Susan Hong-Sammons
Kira Houston
Sandra Howard
Clifton Hunt
Sophia Huseby
Timothy Johnson
Howard Johnson
Lynne Johnson
Elijah Johnson
Jamie Johnston
David Kaphammer
Patricia Kelly Bernhard
Christopher King
Amy Klausmeyer
Robert Krause
Robert Kroll
Shufeng Kuang
Deirdre Kunar
Teresa Lamacchia
Yang Lan
Doreen LaScola
Christine Latini
J. Gina Lee
Zhim Li
Edward Lilley
Lao Liu
Madeleine Lord
Finn Lundy
Elizabeth Lynch
Natalie MacKnight
Richard MacKoul
Dylan MacLeod
Dominic Malizia
Susan Mampre
Emily Manning-Mingle
Cedric Marsh
David Martsolf
Mike McCool
Maxine McDonald
Donna McGrath
Carlotta  Miller
Michael Milligan
Colleen Moore
Kathleen Morgan
Hannah Muggeo
Lynn Nafey
Linda I. Nelson
Linh Nguyen-Ng
Scott Niemi
Carrie Nixon
Jennifer Novelline
Karen Nunley
Kat O'Connor
Jane O'Hara
Donna O'Scolaign Lange
Andrea Olmstead
David Ots
Linda Packard
John Pagano
Stacey Parker
Gedas Paskauskas
Kara Patrowicz
Stephen Paulson
Beth Perry
Alix Porras
Carolyn Quirk
Joseph Ray
Karen Reid
Barbara Roberts
Tess Rock
Cesar Rodrigues
Ann Rosebrooks
Jacqueline Ross
David Rourke
Jessica Sadlier
Pamella Saffer
Sunanda Sahay
Piya Samant
George Sampson
Robb Sandagata
Maureen Sanderson
Pamela Savage
Peter Schneider
Donalyn Schofield
Leslie Schomp
Janet Schwartz
Susan Sedgwick
George Sermuksnis
Jingdong Shen
Randi Shenkman
Richard Shilale
Lynn Simmons
Amaryllis Siniossoglou
Lyn Slade
John Wesley Small
Edwin Smith
Catherine Smith
Halie Smith
Sharon Smith Viles
Linda Snay
Tracy  Spadafora
Matt Staten
Patrick Steele
Michelle Stevens
Richard Suls
Virginia Swain
Jaimee Taborda
Dick Taylor
Cathy Taylor
Pamela Vezina Taylor
Lynn Thibault
Anne Tisdell
Simon Tozer
Richard Tranfaglia
Francis Warner
Philip Warren
Jill Watts
Al Weems
Margaret Wild
Neil Wilkins
Sherra Wilkins
Peter Wise
Kristi Xhelili
Zhaoman Zeng
Xuemeng Zhang
Xuewu Zheng
John Zirpolo
images:Tess Rock, Perception of Motion II, acrylic on canvas, 30″ x 40″; Stacey Parker, Anfractuous, stone and wood, 13″ x 8″ x 3″; Linda Snay, Green Mountain View, watercolor and cotton hand embroidery on Arches paper, 8″ x 10″