Meet our Supporters: Ruth Westheimer

Ruth Susan Westheimer, M.D., in her 1935 Worcester house. Every square inch of its rooms, floors to ceilings, serve as display areas for her collection.
"I collect; therefore, I am."
The first piece in the craft collection of Ruth Susan Westheimer, M.D., a Worcester psychiatrist and patron of the arts, was an Inuit sculpture of a seal, purchased when she was twelve. That stone sculpture is now part of a remarkable group of objects collected in the seven decades since. She lives among all these objects, in a house that also serves as a museum of craft, surrounded by a sculpture garden.
The collection now includes over one hundred Inuit sculptures, and also a thousand other handmade objects: turned wood pieces, ceramics, glass, metalwork, jewelry, wearable art, Oriental rugs, and anything else that strikes her eye. "I wasn't focused on a particular medium or form," she says. "Purchasing craft gives me a sense of delight. I think, 'I collect; therefore, I am.'"
Over the years, she's learned to trust her intuition. "I do much better with the purchases that I didn't agonize over," she says. "Most of my best purchases have been spontaneous." She follows her father's advice, "When you see what you like, buy it."
The status of any individual artist does not motivate her purchases. "If I don't like it, I don't care if it was by Michelangelo," she said. It also doesn't matter to her if a work is an "important" or representative piece by an artist, or if it demonstrates the progress of that artist over time. "There are collectors who want to be able to show you the evolution of an artist," she notes. "I either like it or I don't."
Potential value of any object is also of no concern. "I'm not collecting as an investment," she says, "I've never bought something because I thought it would be worth more later. Most of the artists I've collected were essentially unknown at the time of my purchase, but are well-known now. Of course, I'm delighted when something of mine appreciates."
In her long history of buying craft, the only purchase she regrets is one in which she disregarded her own preferences. "There is one Inuit sculpture that I've hidden in the corner," she said. "It's interesting, but I wish I hadn't bought it." Likewise, she's not interested in objects that require a sophisticated taste to enjoy. "The things I like are easy on the eyes," she says. "You don't have to work to like what I like."
From a handmade wooden chair, surrounded by a small fraction of her collection, Ruth acknowledges the primary challenge to almost all collectors: space. "I'm just running out of room," she says. "There is not a square inch in this house for another object. You'd think that under these circumstances, I'd stop collecting, but no, I haven't." Nevertheless, she insists on wanting to be able to see all of her collection at once. "If I can't display it," she says, "I won't buy it."
Over the years she's been collecting, Ruth has supported countless artists with her purchases and commissions. She says, "There is real pleasure in acquiring work, but also in contributing to an artist's sense of accomplishment."
The Ruth Susan Westheimer Prize is a different way to champion artists. The monetary prize will support each winner financially, but it's primarily intended to advance their career. "It should make the artist proud," she says. "I would like it to be a feather in somebody's cap. It should make a difference in their standing in the craft world."
The winner of the inaugural Westheimer Prize is Suzanne Stumpf, a ceramic artist from Natick, MA, for her sculpture Rock My Galaxy. In a wonderful coincidence, Ruth's collection already held works by Stumpf–and Ruth promptly acquired this one, too. We congratulate and thank patron and artist alike.
Suzanne Stumpf, Rock My Galaxy, sculpture (porcelain), 18" x 4.5" x 14", 2022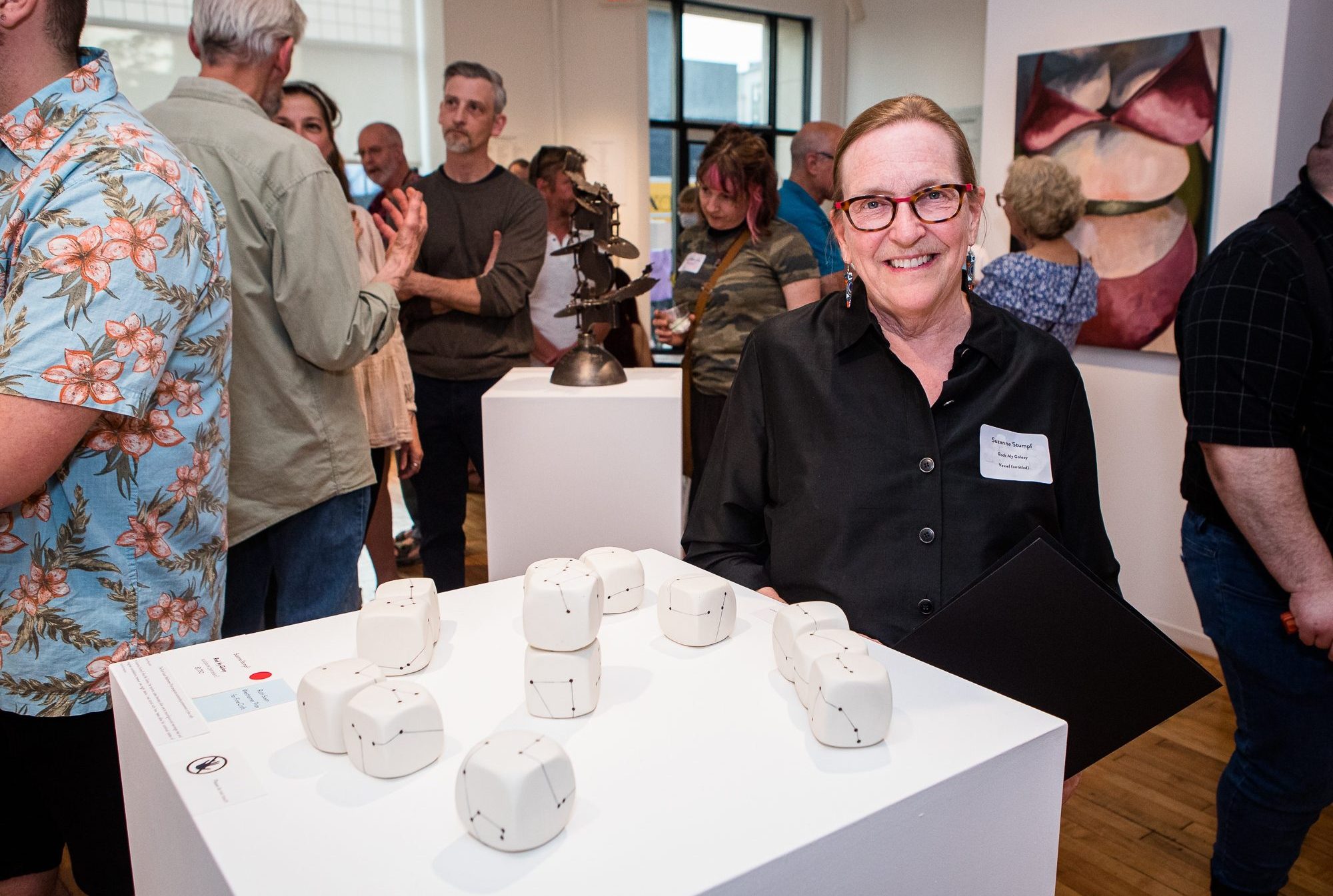 Suzanne Stumpf with her prize-winning piece Rock My Galaxy at the ArtsWorcester Biennial public reception. Photo courtesy of Nathan Fiske Photography.