Your support this year has triple the impact! Any new or increased gift to ArtsWorcester this year will be triple-matched by an anonymous donor, up to $10,000.
Meet our Supporters: Deb Hall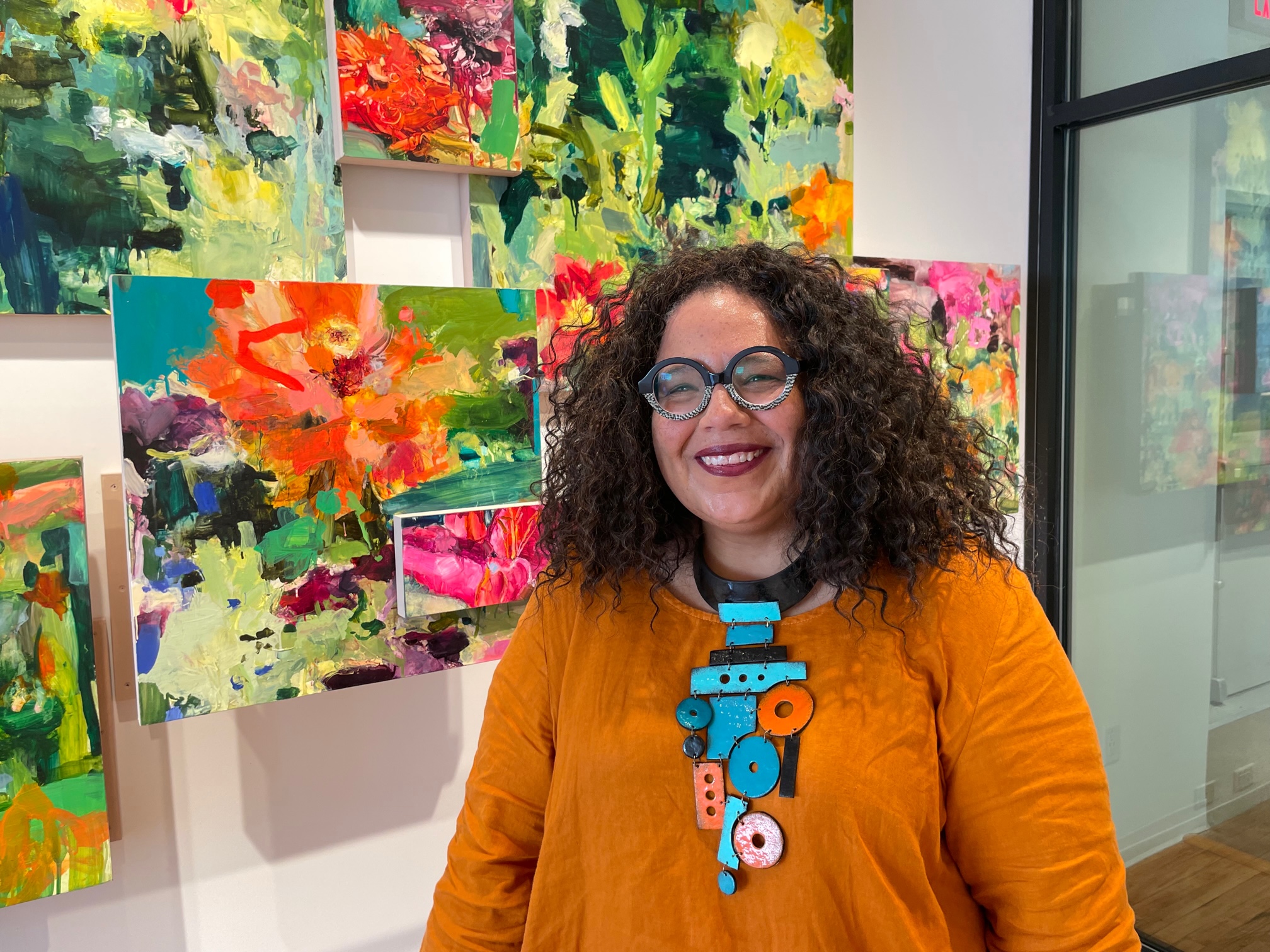 Deb Hall with Robin Reynolds's Garden Immersion
"ArtsWorcester keeps its finger on the pulse of what is happening in our communities."
Deb Hall is the Executive Director of the YWCA of Central Massachusetts. From her office in their historic downtown building down the street, she is a frequent visitor to the gallery, and a long-time supporter.
A devoted fan of museums and galleries, Deb thinks nothing of driving to New York City or points further for the day to see the latest exhibitions. "I will travel quite a distance for an exhibit I really want to see," she says. "Art galleries function as cultural go-to places within a city, and in turn, attract art lovers and tourists to both the art galleries and the city as a tourist destination."
Deb considers ArtsWorcester "a gem" that expands the cultural landscape of the community. "ArtsWorcester incorporates the voices of artists from different walks of life and reaches diverse groups of people," she says, "It keeps its finger on the pulse of what is happening in our communities and the art it exhibits reflects that."
The accessibility of ArtsWorcester is important to Deb, and partnerships are core to that. "Non-profit human services organizations can connect a wider audience to art." This past summer, ArtsWorcester exhibited paintings of Worcester by Tom Grady at the YWCA as part of the City's Tercentennial celebration. "I loved that collaboration," says Deb. "It provided people with art they may not have seen otherwise." Likewise, ArtsWorcester helped place the art of domestic violence survivors sheltering at the YWCA in the Printers Building, ensuring that gallery visitors, too, had access to art and human experience they would not otherwise.
When Deb comes to ArtsWorcester, she expects thought-provoking exhibits that teach her about new artists and new works. Jen Davis Carey's Redemption, with its synthesis of art, storytelling, and history, was one of her favorite experiences, and remains "etched in [her] memory." At ArtsWorcester, Deb knows she will find art that makes her "think critically about [her] environment and about the world–and beauty, and joy."
Support our community by giving today! We're triple-matching every dollar of new or increased gifts.