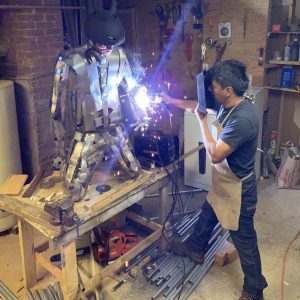 call for proposals
Material Needs Grants
it's been a strange year
Submission Deadline: January 15, 2021
Material Needs Grants, funded by an anonymous donor, support the expenses of supplies and materials for the creation of new art in Worcester County. With this gift, we are able to distribute grants to local artists between $500 and $1,500. We generally exhibit the new work in the following exhibition season (awards made in early spring of 2021 will go towards the works shown in the 2022-2023 exhibition season).*
When is the deadline? Midnight on Friday, January 15, 2021. Submissions received after this date and time will not be considered.
What expenses could be covered by a Material Needs Grant? These grants are restricted to expenses incurred for the supplies, material, and equipment (purchased or rented) needed to make new art. Proposals for any and all kinds of visual art, including performance art, are welcome.
What expenses are not covered? Examples of expenses not covered would be studio rental, framing, publicity and promotional costs, reception expenses, insurance or transport of artwork.
How are proposals evaluated? Proposals are considered for their novelty, innovation, potential impact (on the viewer, on your career, and on other artists in the area), and feasibility. Can you do it? And can you do it in one calendar year?
Who is eligible? You must have been a member of ArtsWorcester for one calendar year prior to applying for a Material Needs Grant, and you must reside in Worcester County. We regret that members residing outside of Worcester County are not eligible. If you have previously received a Material Needs Grant, you must wait three years from the previous application date before applying again.
How do I submit? All submissions must be made online through this Submittable form. Email and hard copy proposals will not be considered.
When will I find out if I have received a grant? By mid-February, 2021.
And then I just make the art? Yes–and awardees receiving grants made in 2021 should expect to have works completed with their funds exhibited in the fall of 2022.*
Download our guidelines and application checklist.
You will receive a confirmation email once your submission has been made. If you do not see this email, please contact the gallery to confirm receipt of your submission: alice@artsworcester.org or (508) 755-5142
*Exhibition dates subject to change
///// Grant winner José Criollo welds his sculpture, The Hunter (wood, metal, paper, and foam, 4′ x 2′ x 2.5′, 2020, NFS). His work, along with that of the 2019-2020 cohort of Material Needs artists, is on view online in Material Needs 2020.