Artist Spotlights
a digital collaboration between ArtsWorcester and Clark University
Art History 201: Art, the Public, and Worcester's Cultural Institutions, at Clark University gives students the opportunity to work closely with regional contemporary artists. With individual artists from ArtsWorcester's gallery programs, the students hone their visual and critical skills by producing short essays positioning the artists' work within contemporary art history. This year, the students also curated small selections of their artist's work for these online spotlights.
Read the first three essays here.
More student essays will be added in the coming weeks. In the months ahead, keep your eyes peeled for this coverage and more in
Worcester Magazine!
This collaboration was funded by a grant from the Andrew W. Mellon Foundation.
The Artist Spotlights featured here are the result of a collaboration between ArtsWorcester and Clark University.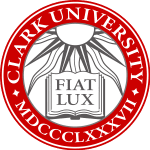 ///// Samuel Aman, Low Men. Read about this work in Anna-Li St. Martin's essay, "A Consumer's Reflection."