What Black Art Means to Me
In conversation with:
Nicole Mauré Coleman, Black creative and activist
Jennifer Davis Carey, artist and community leader
Gloria Hall, historic preservationist and cultural arts presenter
William Thompson, artist
Moderated by Toby Sisson, artist and professor of studio art, Clark University
How does Black art matter? What does contemporary art mean to Black artists, educators, and leaders? What does it mean to be part of the Black artistic diaspora? Hear an informal conversation exploring these questions, and learn more from some of this city's Black artists and arts leaders.
This Worcester-based conversation is the first of a four-part speaker series hosted by ArtsWorcester. The series amplifies Black voices in contemporary art to broaden understandings of Black art history, visual vocabularies, and experiences within the visual art industry.
This video is a recording of a Zoom webinar that took place on Sunday, November 1, 2020.
Thank you to the Greater Worcester Community Foundation and the members of ArtsWorcester for their support of this series.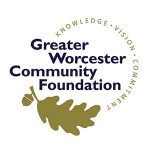 //// cover image: Howardena Pindell, Untitled #4D, 2009. Courtesy of the artist and Garth Greenan Gallery, New York.