ABOUT THIS EXHIBITION
ArtsWorcester West Gallery
November 3 through December 18, 2022
Public reception: Friday, November 11, 6:00-9:00 PM
Large-scale works induce drama and can provoke oversized reactions. For this competitive exhibition juried by Nancy Burns, Stoddard Associate Curator of Prints, Drawings and Photographs at Worcester Art Museum, we invited members to think big.
ArtsWorcester exhibitions are sustained in part by the generous support of the C. Jean and Myles McDonough Charitable Foundation.
JUROR'S STATEMENT
"Go Big represents a cross-section of contemporary practice across the greater Worcester region. Various media are represented, including printmaking, drawing, fiber arts, painting, and sculpture. The 13 selected works represent an array of aesthetic approaches from abstraction to figuration with an emphasis on works that require technical finesse and a deliberate approach."
-- Nancy Burns, Stoddard Associate Curator of Prints, Drawings and Photographs at Worcester Art Museum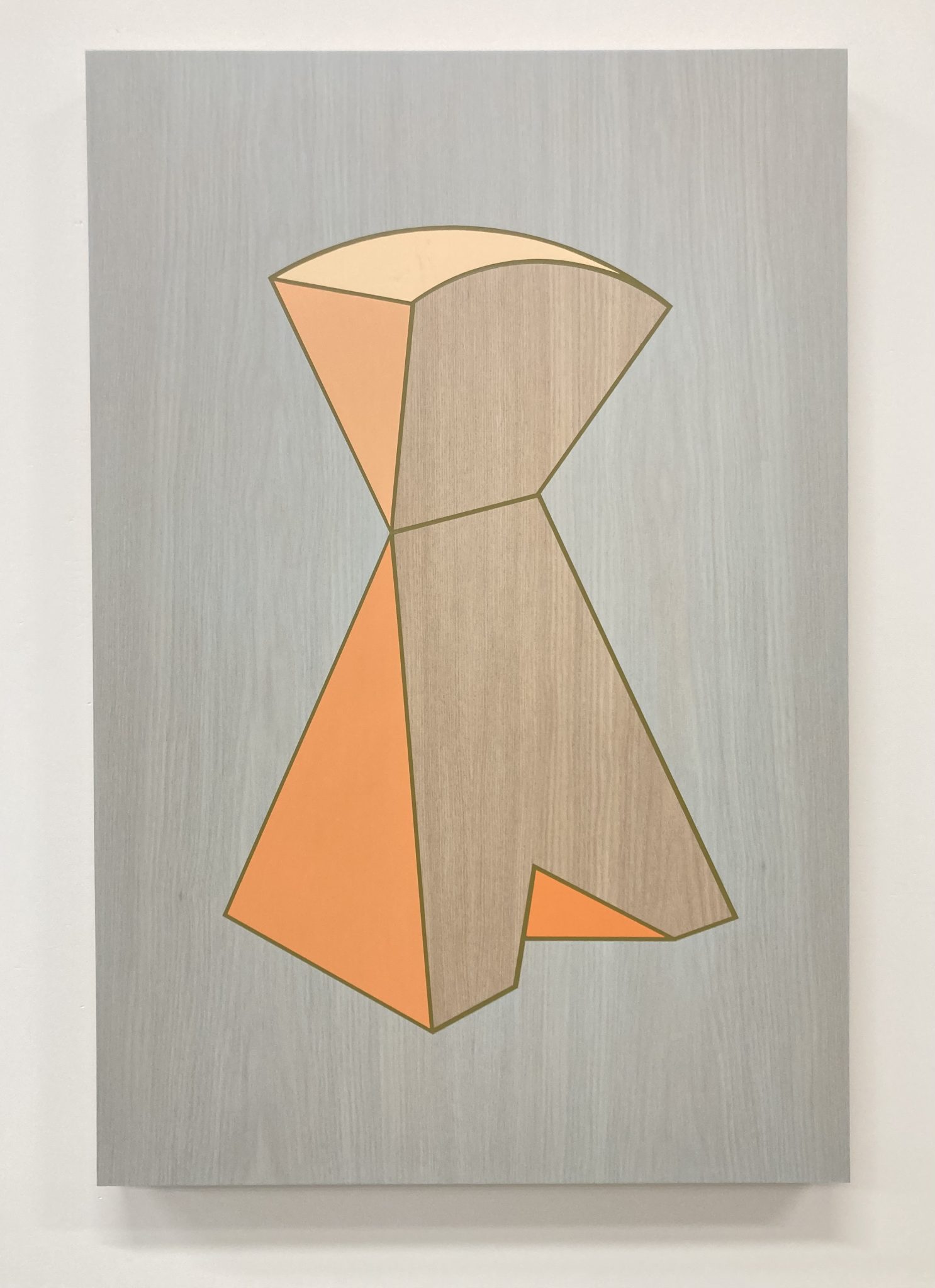 Trevor Toney, Sassafras with Orange Ombré
sassafras veneer, baltic birch plywood, acrylic paint, 24" x 36" x 2", $1,200 (sold)
My paintings are constructed with Baltic birch plywood and then veneered. I do this in a way that allows me to add color, mediums and finishes to create different sheens, opacities and compositions that interact with the color and grain of the veneer. I view the veneer as a main character and not just a surface for supporting other materials. I think of my pieces as a collaboration between the wood and my artistic expression and choose pieces of veneer that speak to my sensibilities and often join veneer in various ways to highlight parts that are especially interesting.

George Hancin, Sylvan Road Late Summer Afternoon
oil on board, 18" x 86", $2,000
The painting was done on four ply wood panells in early September over a course of two weeks. Each panel was painted on location about the same time of day, trying to catch a moment of time and light of a wide sretch of place. I think we humans tend to observe life in a wide visual experience. I try to capture that experience of observing life and place; a feeling of a particular moment.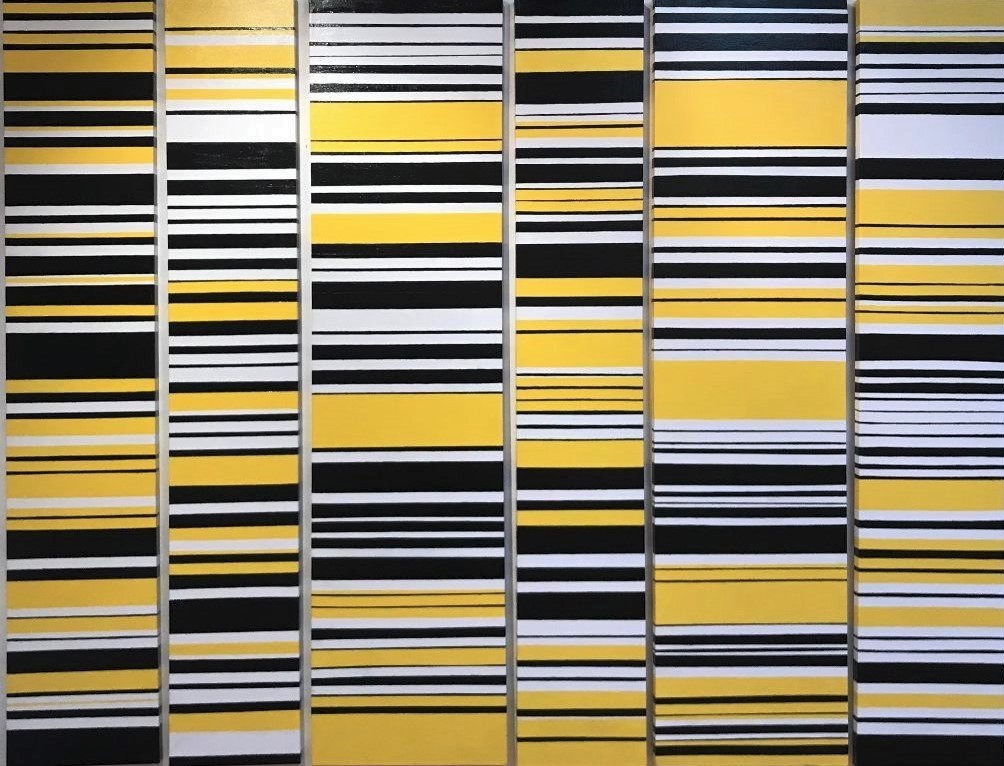 Pamela Tarbell, Bee Vibration
acrylic on canvas, 72" x 93", $6,600
Sound vibrations like color vibrations as feeling that resonate with all of us sometime unconscious or conscious.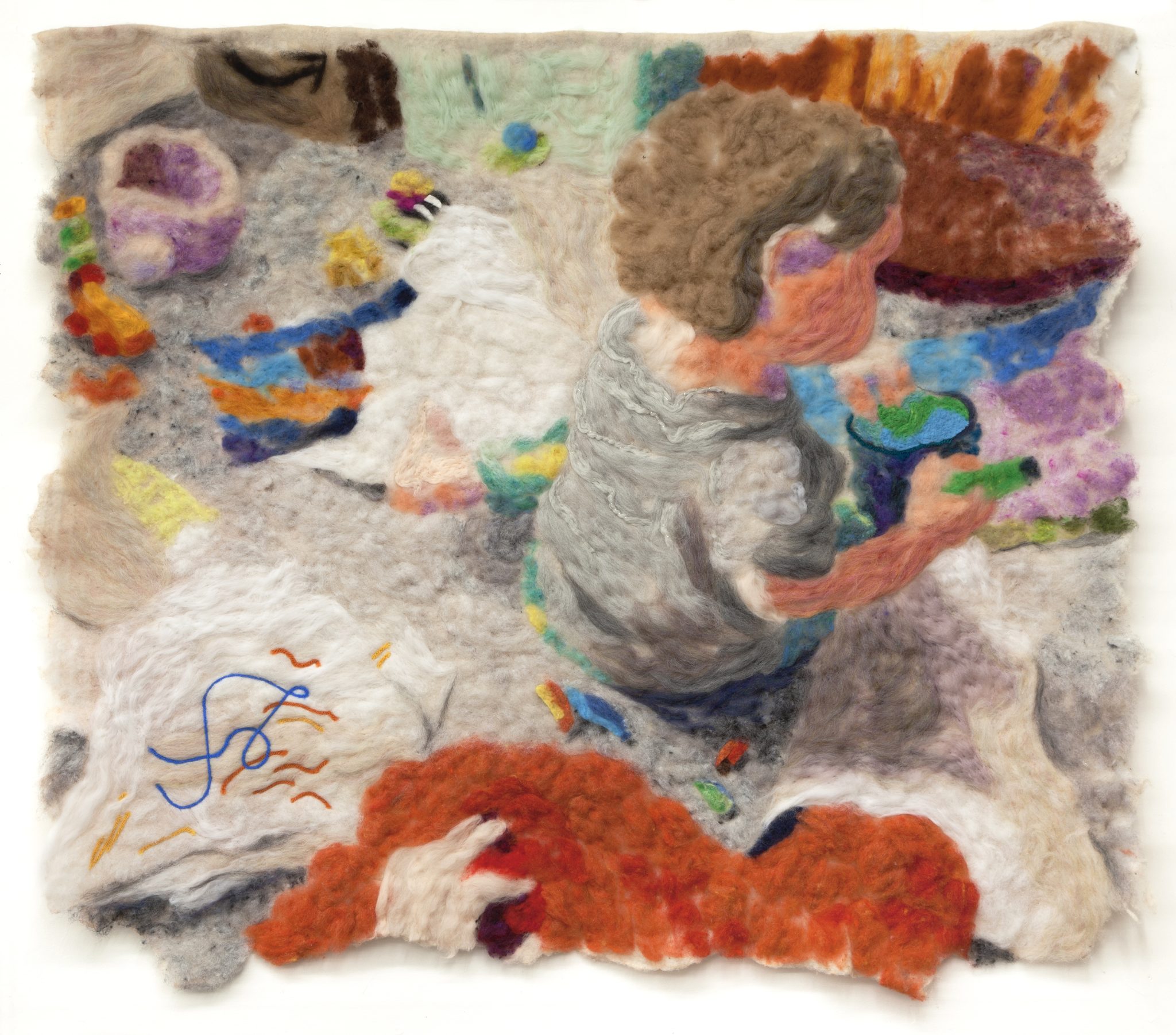 Kara Patrowicz, Playtime
wool felting, 45" x 50", $5,000
"Playtime" is a fiber artwork created through needle felting with wool, and some details are needle felted with yarn. It's a scene of my son playing and drawing on our messy living room floor, with my knees and hand emerging at the bottom of the composition. While making this piece, I was thinking about explorative play and creating, and watching it unfold from a mother's viewpoint. This is the first large-scale fiber artwork that I have created, since I previously worked on a smaller scale. It inspired me to create larger pieces since its completion.

Donna Gordon, 4 Rescue Horses Outside Laramie, Wyoming
lithograph, 29" x 41", $3,000
I was doing a residency at Brush Creek Arts in Saratoga, Wyoming in 2019. On my way home I stopped at Deerwood Ranch, an eco-sanctuary for wild horses. We drove out onto the range and got out to be with the horses, who ranged from lying down, to racing in a pack. Two years later, I was able to make this lithograph that's part of my Double Vision series.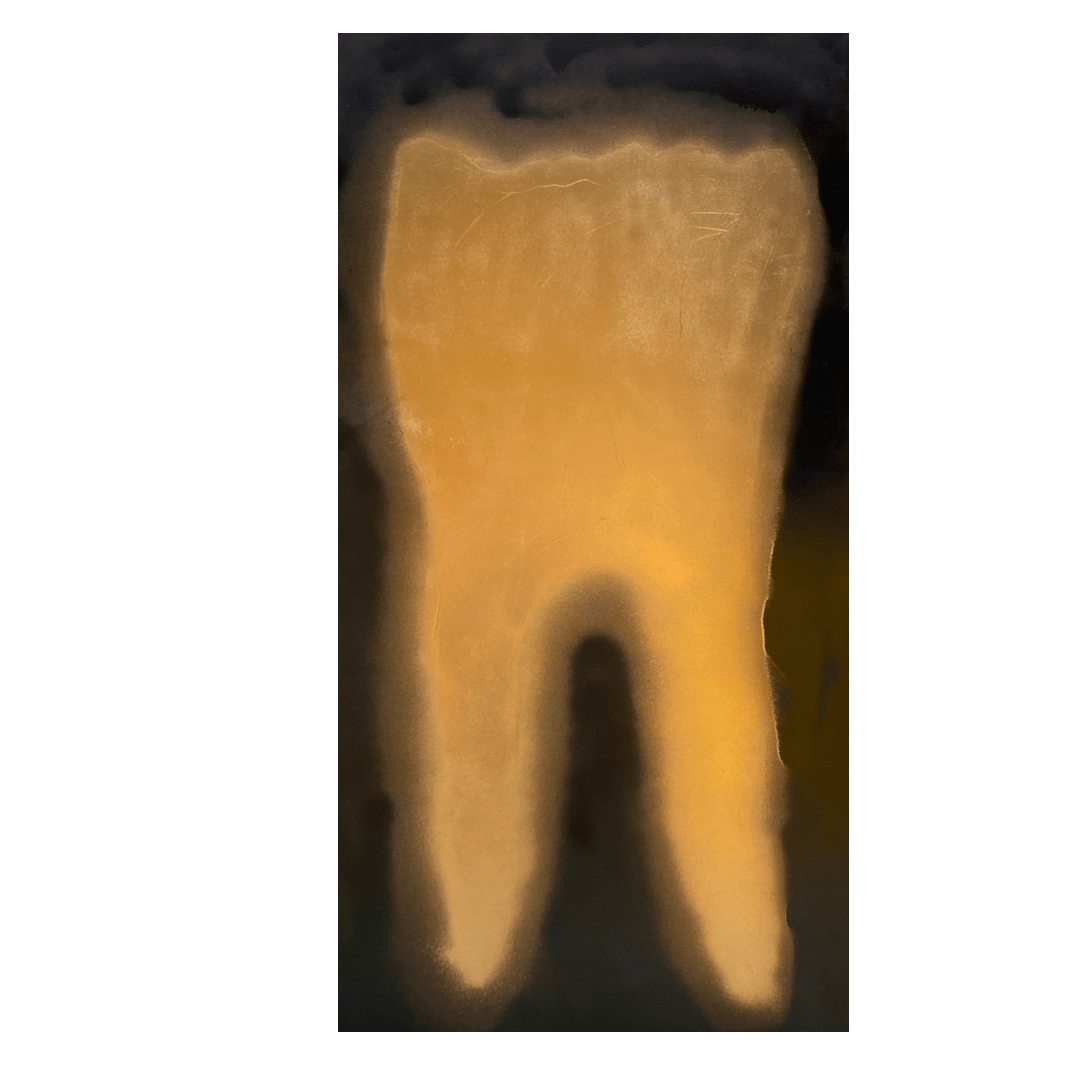 Michelle Mullet, Gold Tooth
acrylic, spray paint on wood panel, 48" x 24", $2,000
My grandmother had a golden tooth and I loved it. I thought it would be fun to amplify that image and pay tribute to her in meaningful and playful way. This painting is just pure joy in the form of a giant, golden tooth.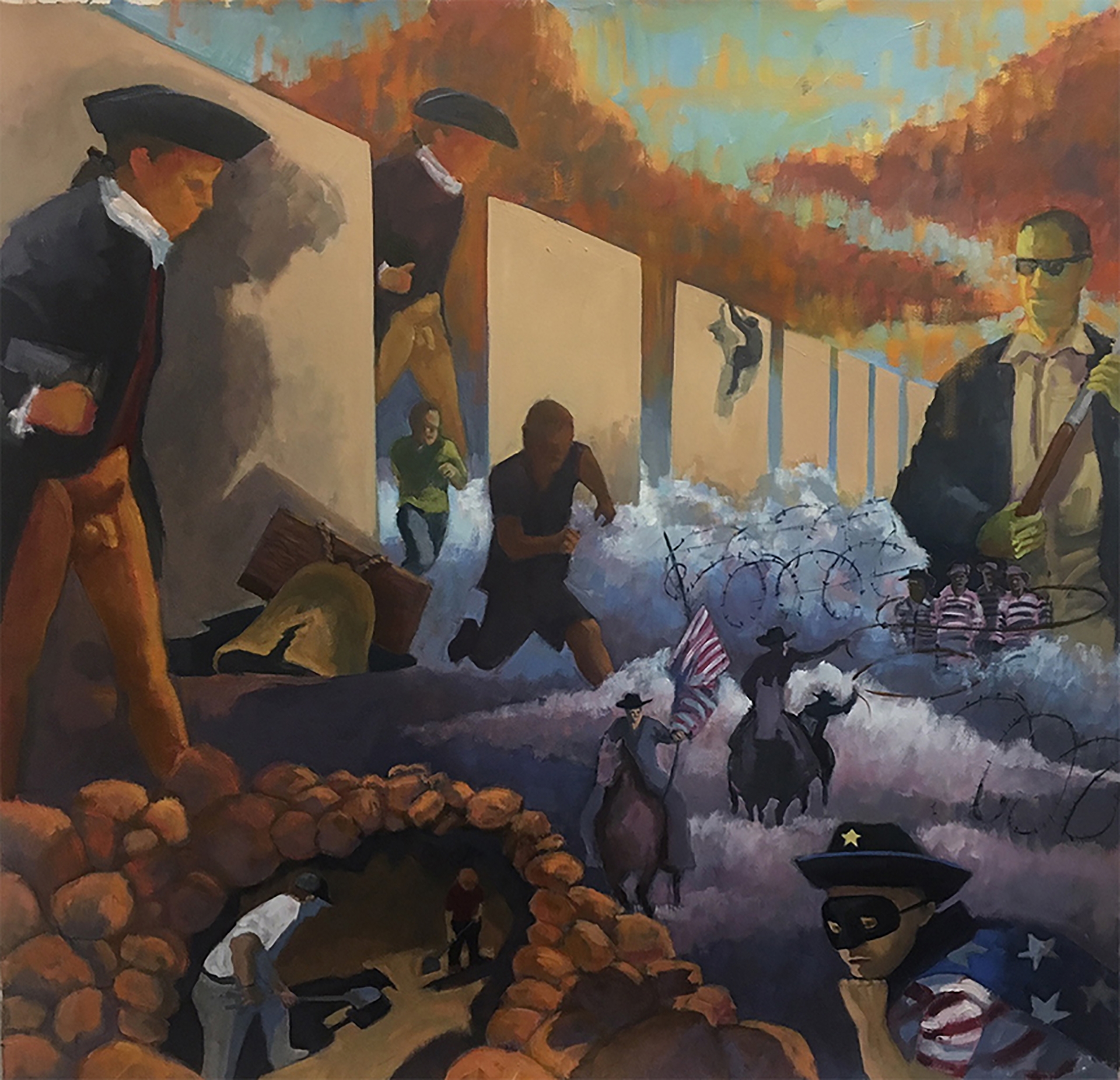 Joan Ryan, Fore Fathers at the Wall
oil, 45" x 44", $3,000
This painting reflects on the history of immigration, politics of borders of borders and American history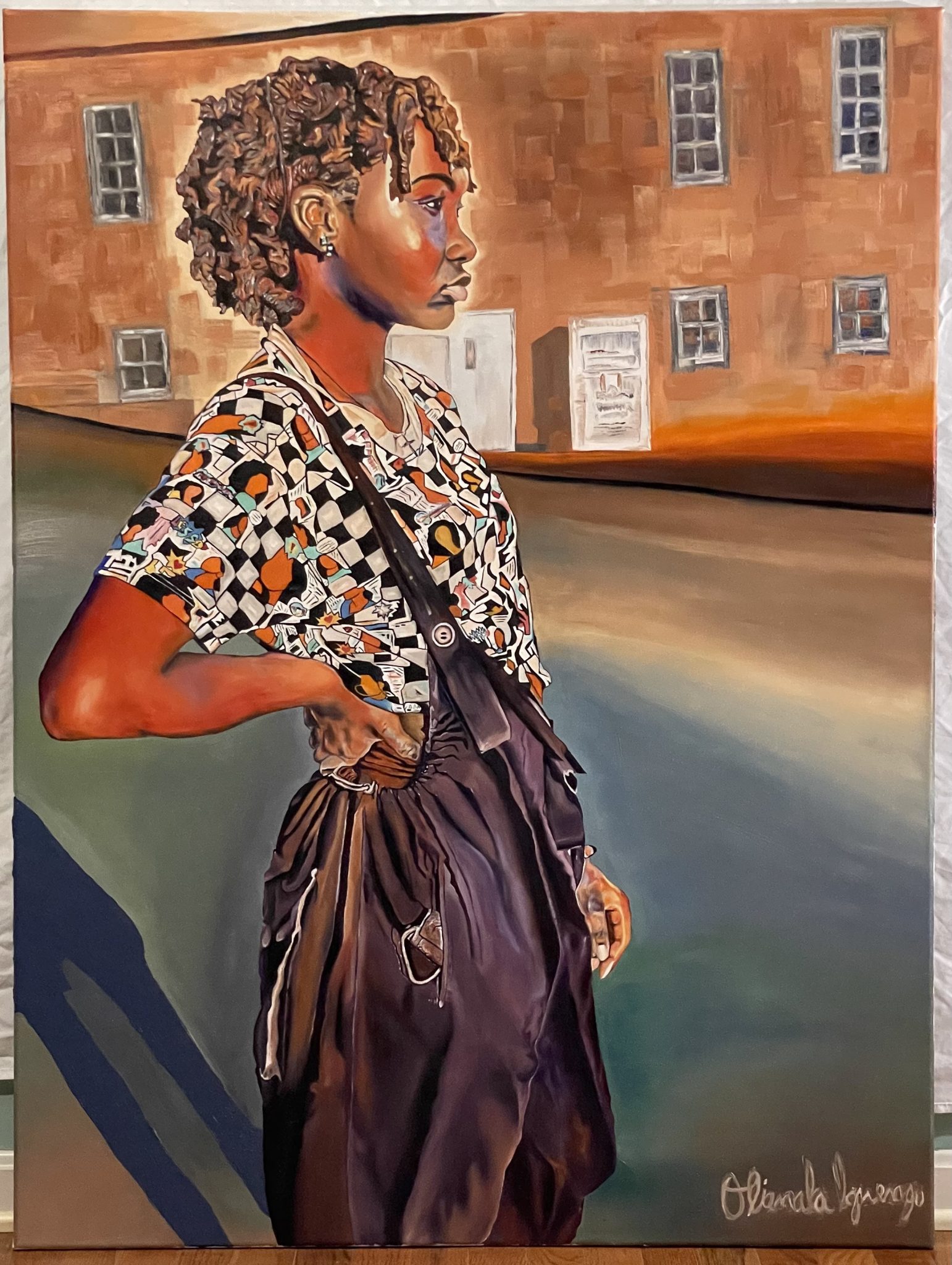 Obiamaka Igwenagu, Chroma in the Sunset
oil paint, 48" x 36", Not For Sale
My work focuses on the expression of freedom and individuality while exploring the concept of identity. The intensity of the image is pushed out by the vibrancy of each hue created by the brush strokes, which also reflects the richness that I want to convey. The abundance of beauty was created to capture the emotion felt at that very moment gazing at the sunset. The effort of painting this image on a larger scale allowed me to mitigate the challenges faced in order to arrive towards a unique sense of creativity.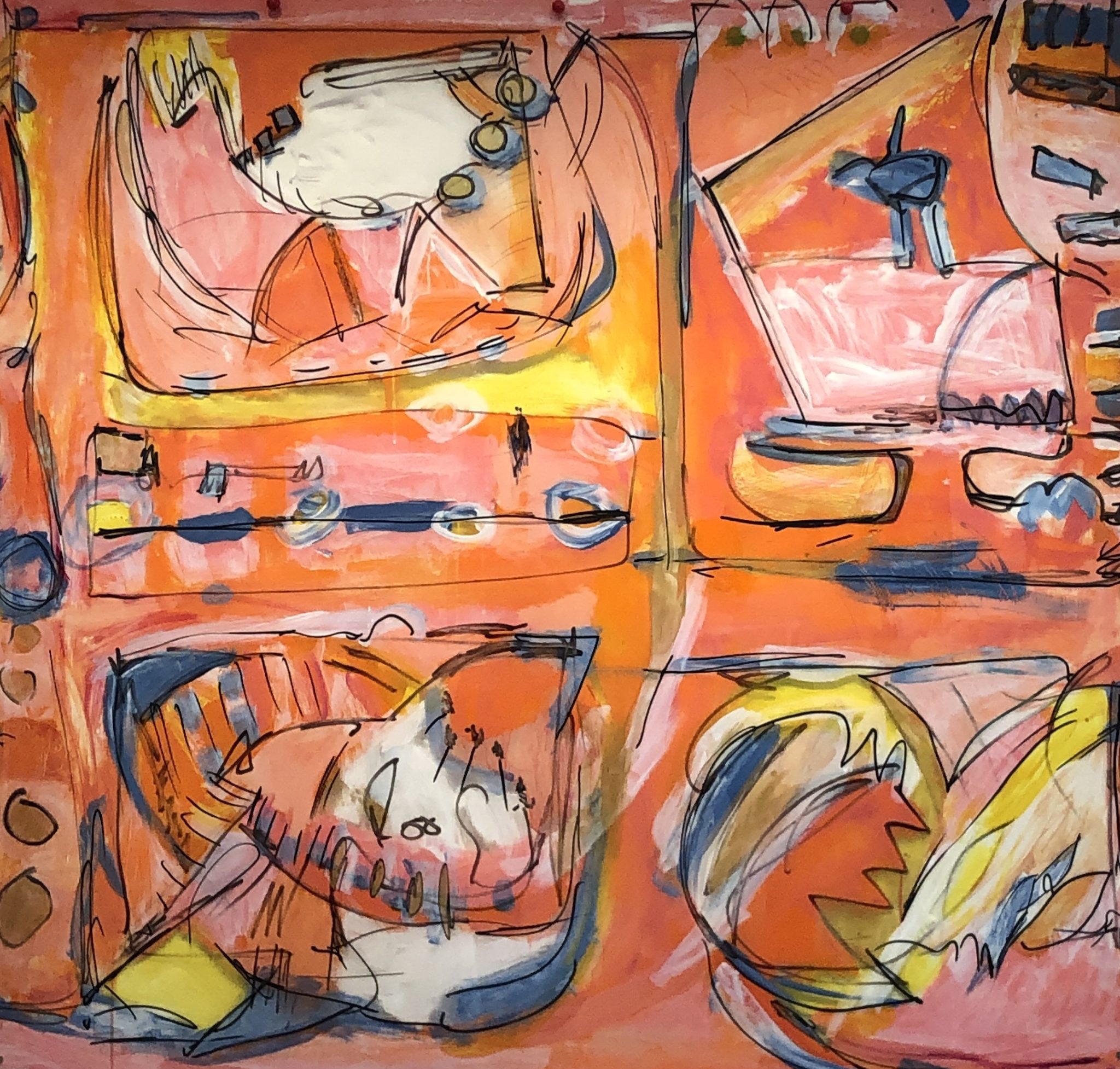 John Pagano, 4=1
acrylic polymer on acetate, 55" x 51", $2,200
The idea of mixing colors in a new way has always intrigued me. Ascetate provides this when I paint on the front and back of the material, mixing one over the other, or sometimes one under the other.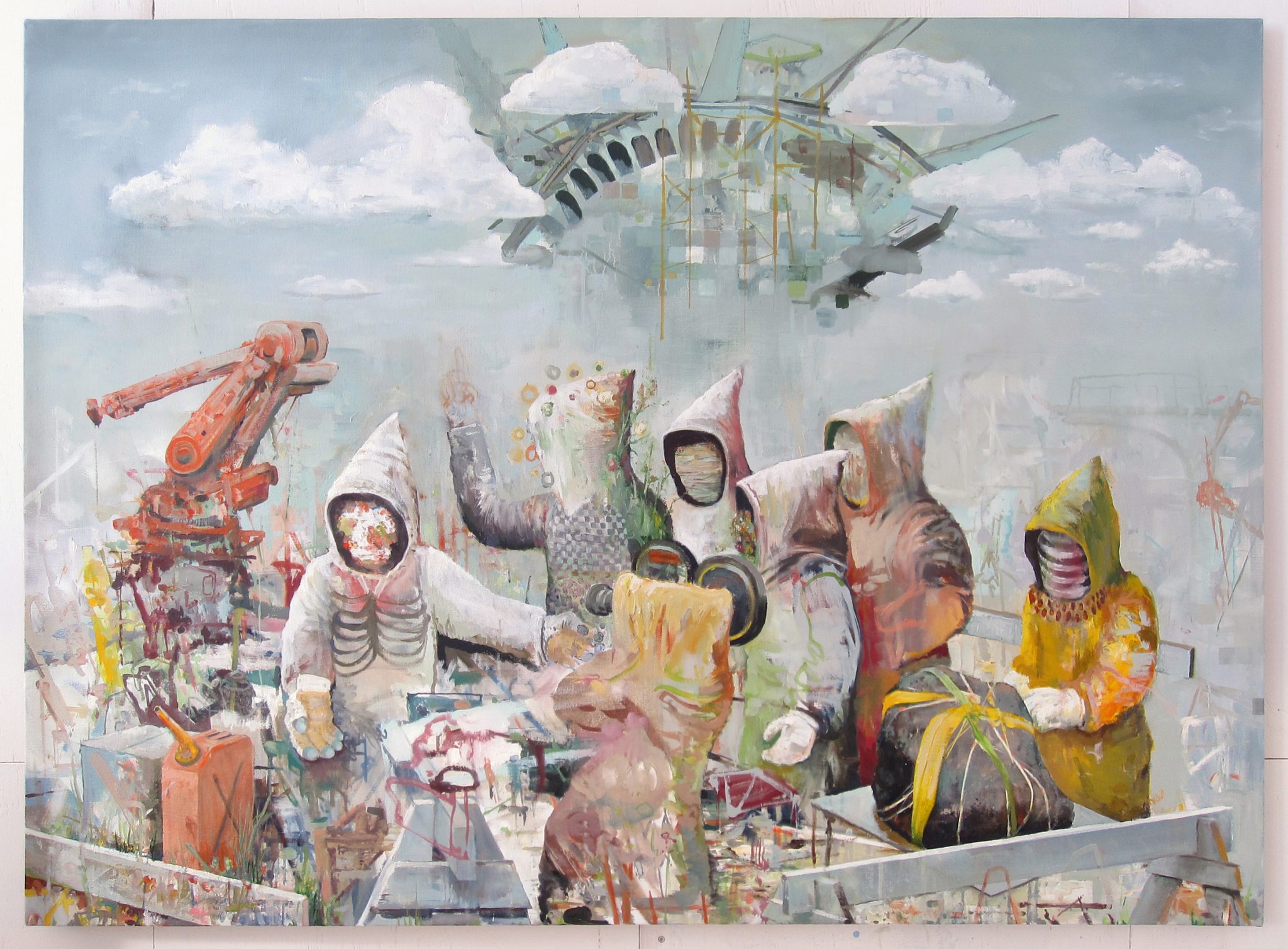 Jakob Fioole, We Will Be Here, For Ever and Ever
oil on linen, 43" x 59", $3,800
We will be here, for ever and ever. The title and painting itself relate to many people who for whatever reason left home and came to America, like myself. Today's world is filled with stories about generations starting over and all the experiences, good and bad, that come with that. I am fascinated by this complex process that is always in motion. An observer myself, I invite viewers to take in this painting and construct their own story. Who are these characters and what are they trying to do? Is this place being built or deconstructed? What is going on?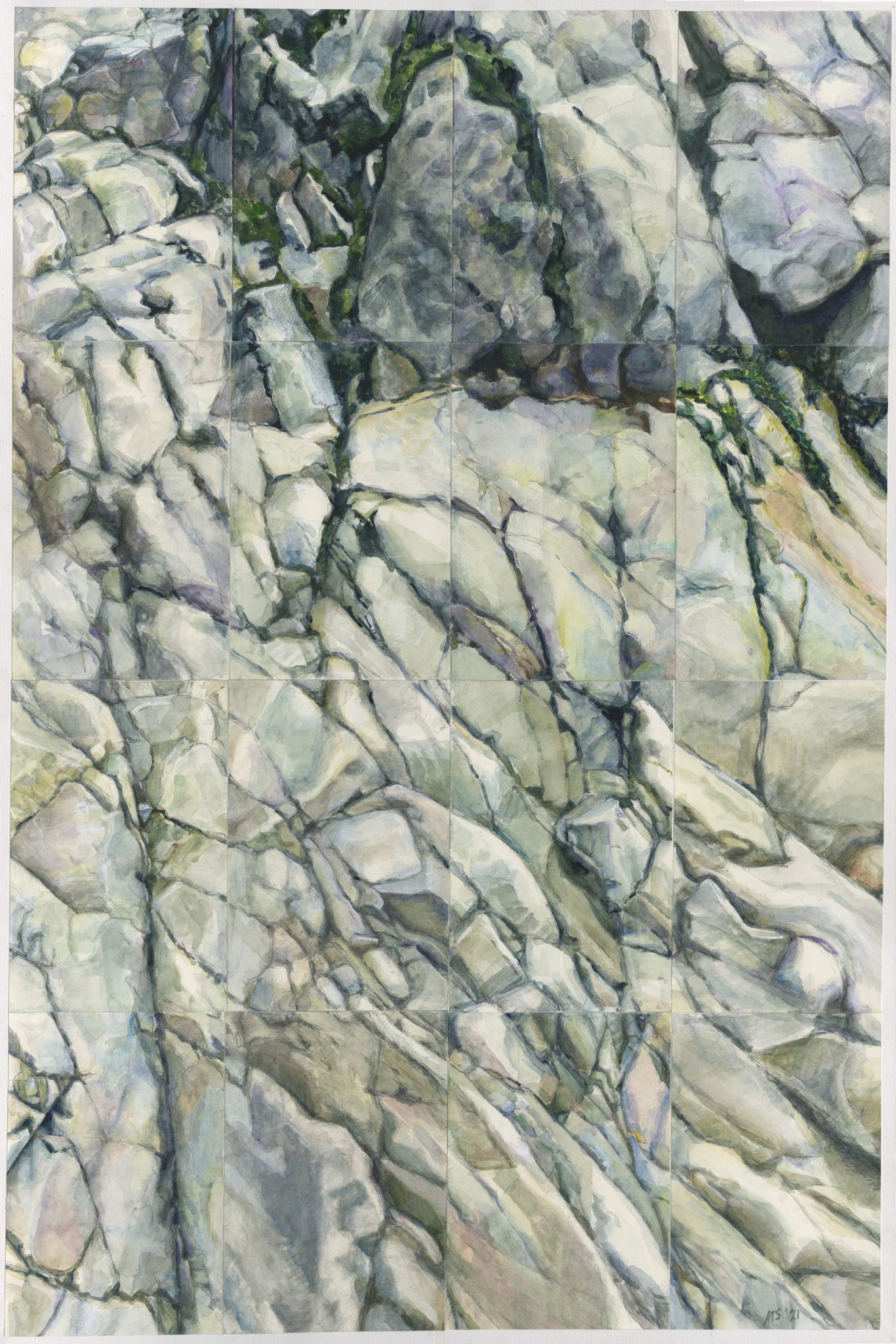 Amy Singer, Smith River Rocks
16 small watercolors glued onto canvas, 24" x 36", $2,500
I was tantalized by these compressed rocks along a riverbank in Oregon. I made small watercolor images working from my photo so I could study and engage in each contour and crevice.

Christopher Nicholson, 5
oil on board, 73" x 21.5", $1,500 (sold)
This is an assembly of five separate pieces that combine to make a single one. I seek to convey a sense of movement and the passage of time.