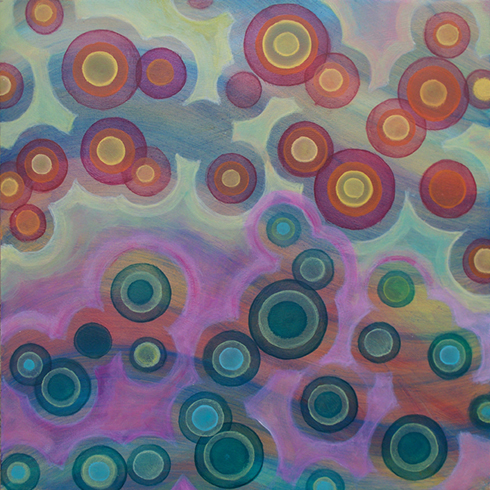 Neil Wilkins
painting
Neil's work is an exploration of the evolving relationships, interactions and new dynamics created by each mark he makes. He uses circular forms to investigate personal and universal themes of interaction and connectivity.
Influenced by scientific principals and natural phenomena, Neil's paintings reference fluid dynamics, geological formations, wave properties and ecological growth. His interpretations take shape by seeking new perspectives and capturing moments of transition. By deliberately removing a sense of absolute scale, he allows microscopic and macroscopic interpretations to exist simultaneously.
Neil is a lifelong resident of Massachusetts who earned both his MAT Fine Art and M.Ed. from Salem State College. He attained his BFA degree from Montserrat College of Art. He has been a member of the visual arts team at Express Yourself in Beverly for over 15 years and teaches engineering and visual art in the Haverhill school system. Neil exhibits regularly and his work has been included in many juried, curated and solo exhibitions throughout the greater Boston and Worcester areas.