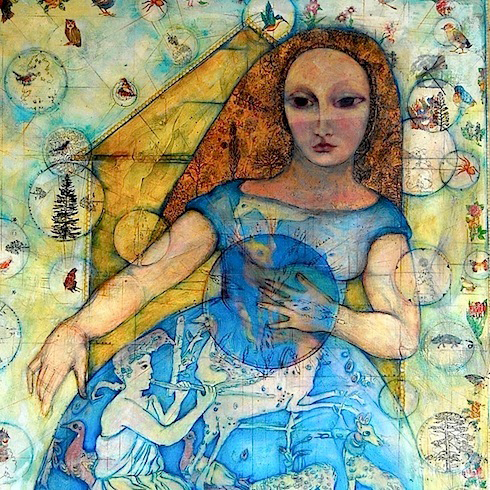 Maryjean Viano Crowe
mixed media, works on paper
Mj Viano Crowe creates intricate paper cuts, mixed media paintings and installations, photographic assemblages; light box shrines and artist books, where representations of the female figure perform on the various stages she creates. Within their private universes, her subjects reveal little about their actual inner selves. Often orbiting the background is a complex arrangement of ephemera from birds and insects, to flora and fauna, suggesting an extension of the figures' intricate, emotional worlds.
In Massachusetts, Maryjean's work has been exhibited at Clark Gallery, The Fuller and DeCordova museums; and at the galleries of Carver Hill, MFT and the Sohn Gallery in Maine. Internationally, her work is at the Bibliothèque Nationale in Paris and Bokartas in Lithuania.
A 1995 recipient of National Endowment for the Arts, and a 1987 Massachusetts Artists Foundation Fellowship, Maryjean's work is in "Step-by-Step, A Guide to Building Pictures"; "Altered Books & Collaborative Journals"; "Writing on the Body; and "The Complete Book of Alternative Processes I & II".
Viano Crowe received a BA in Art Education from Massachusetts College of Art and a MFA from the Rhode Island School of Design. Originally from the Boston area, she now lives and works in Belfast, Maine.