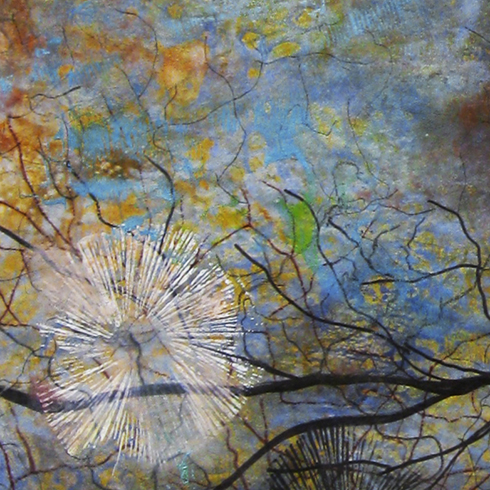 Donna Hamil Talman
mixed media, painting, print making, works on paper
A decade ago, as Donna worried about our climate crisis, her art took that focus.  She created three projects, one an installation, focused on refuse, particularly plastics in our oceans. Imagery from discarded materials, trash on the streets, on beaches, and fishing line and netting is incorporated into the art.  She then switched to potential solutions.  One project celebrates the discovery of a plastic-eating fungus.  Another uses a mushroom-based material as a substrate.  The encaustic medium  (beeswax and tree resin) , is minimally harmful to the environment.
Donna has had solo exhibitions at Kayafas Gallery and The Copley Society, Boston, Soho Photo, NYC, and Schneider Gallery, Chicago.  Images are in La Fotografia, The Book of Alternative Photo Processes, Creative Vision, and Photographic Possibilities.  She did residences at Vermont Studio Center, Hungarian Center, and has received grants from the Worcester Art Museum, Massachusetts Cultural Commission, and URI, Visual Arts Sea Grant.
Hamil Talman received a Masters degree from Clark University, is a psychotherapist, and taught at Anna Maria College.