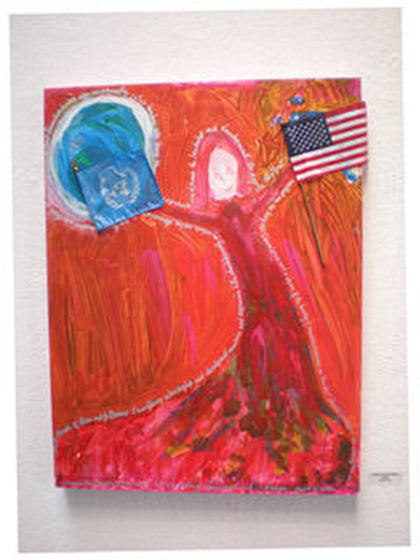 Virginia Swain
painting
Drawing on the new genre of social activism, expressive art empowers me to be an effective leader for peace in co-creation with Spirit. I have been building on UN Secretary-General Dag Hammarskjold's work for a spiritual renaissance for over 25 years in the United Nations.
Before I start each piece, I ask "how do I let my soul speak?" With expressive art, I claim my deepest visions and bring forth unconscious parts of myself, calming inner turmoil or fear. Healing images then arise from my brush.
I use images to heal local and global challenges through a sacred container, where hearts and minds knit together, one soul at a time, for a spiritual renaissance. Art activates visionaries' dreams through this partnership in a new definition of politics and politician.
My work invites American souls to heal by offering images to a Phoenix reborn amid ground zero's ashes, revealed in a dream while in New York City on 9/11. My Soul's Journey to Redefine Leadership: A New Phoenix Rises from the Ashes of 9/11, chronicles why I brought my resources from 25 years of teaching Reconciliation Leadership at the UN to the U.S. at this critical moment in history.