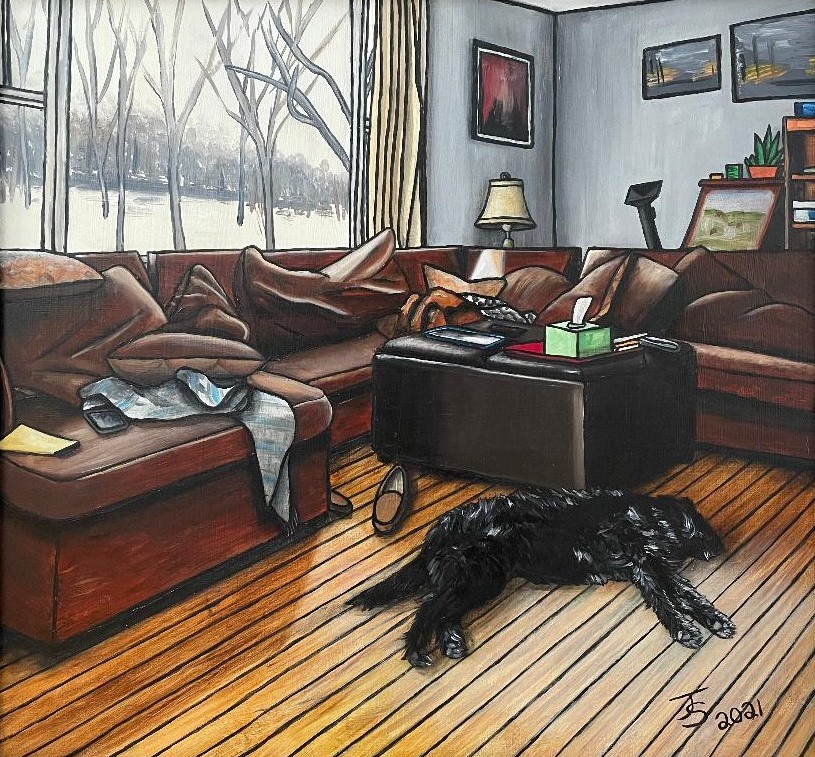 Joanne Stowell
painting
"Over the past few years my work has evolved into several different series, each with their own main idea, but all with one unifying theme – reality. Too often we forget what is real. I choose to embrace the chaos, the mundane, and the less-than-picturesque. I attempt to capture struggles of being a mother and a human being, as well as the quiet moments that often go unappreciated. My work is never glamorized. Also, my work is not always meant to be pretty as reality is not always pretty. Some may say much of my work appears dark, but to those I must respond that, just as with life, a sense of humor is often required.
"My work ranges from scenes of daily life and intimate moments to large works celebrating the strength of mothers through their post-partum stretchmarks. Every piece tells a story. My paintings are primarily done in oil and vary greatly in size from small scenes to large pieces full of emotion. I enjoy the intimacy of the small paintings as well as being able to allow my entire body to become part of the painting process in many of the larger paintings. I paint in a style that I consider contemporary simplified realism, which seems appropriate. I also use black outlining throughout most of my paintings as I have always been drawn to the boldness of the black paint and feel that the use of outlining pulls my work slightly closer to illustration and the idea of storytelling."
Joanne Stowell is a professional fine artist and art instructor. Although primarily a painter, Joanne also has experience with drawing, sculpture, ceramics, printmaking and installation art. Her most recent artwork consists mainly of contemporary realistic paintings with the theme of an unfiltered view of reality. Joanne has an MFA in Visual Arts from Lesley University College of Art and Design and she works out of her home in Ashburnham, MA. She has had artwork in numerous exhibitions nationwide.