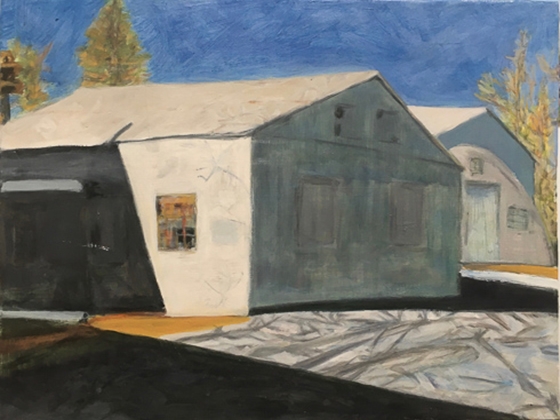 Patrick Steele
painting, mixed media
Patrick Steele lives in Southborough, MA and has a studio in Saxonville Mills. His work incorporates utility buildings, figures, and landscapes to tell stories of man's impact on the natural world, and the emotional states of dissonance that are created.
He says: "I show ways we don't fit perfectly in nature, seeking beauty through an untidy lens."
Patrick began working in acrylic and mixed media in 2017 before switching to oil painting in 2020. His work has been shown at ArtsWorcester, Cambridge Art Association, Newburyport Art Association, Plymouth Center for the Arts, Spring Bull Gallery in Newport, Hopkinton Center for the Arts, and Post Road Art Center in Marlborough.
His work, Boston Warehouse, won Best in Acrylic at Newburyport Art Association's annual Regional Juried show in 2019. His site-specific installation, Rainbow Wall, won First Prize in Southborough's Art on The Trails exhibition in 2019.
Instagram: https://www.instagram.com/patrickjsteele