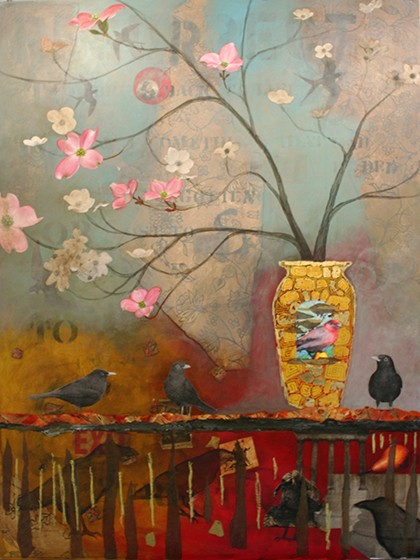 Jeanette Staley
painting, mixed media
In the Fall of 2001 I left the Metro West area of MA, relocating to the Connecticut River Valley in VT to raise my young daughter. She's now an art student in Boston, and I, in turn am winding my way back to familiar ground and ArtsWorcester. Still in VT, I facilitate workshops in my studio and private high schools, and tend a small herd of deplorables.
In my allegorical collage/mixed media paintings I use, primarily, vague and obtuse literary references to consider traditional gender roles and expose the subtlety, cultural embeddedness and frustration of misogyny. Possessed by this focus, I have long struggled against social and commercial irrelevance. Most recently it occurs to me, with a fair amount of confidence, that the issues of traditional roles and cultural misogyny and their impact on the American social fabric are relevant once again.
My collage materials come from a library of both written and visual ephemera, including; newspapers and journals, old wall paper, photos, books and bits of gift wrap, my own small studies and larger finished work. For subject and imagery, I refer to writings from ancient myth, folk and religious text and poets such as Dante and Gibran juxtaposed with current events. Most recently, I've come to consider my collages as mirrors. I hope to attract the viewer with colors and subject, and keep attention with resonating images. Ultimately the viewer sees their own projection and they create their own stories.