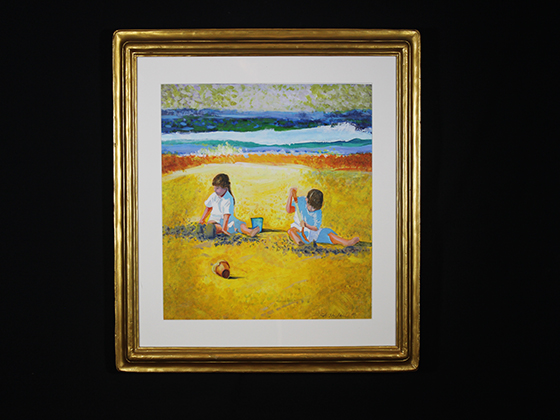 Richard A. Shilale
painting, mixed media
Most of my artwork vacillates between realism and abstraction, with collages comprising the bulk of my recent production. I cut, fold and layer different colored images from books and magazines to create the collages. As layers are created, I add, subtract, and paint different sections until I'm satisfied with the result. My goal is to create art that is well designed and has a unique visual sensitivity. Much experimentation and intuitive thinking help to develop the finished pieces. For me, the enjoyment and satisfaction come when all the pieces of the visual puzzle fall into place.
In my realistic pieces, I use watercolor medium with an emphasis on time, place and light. Lilly pads, old church fixtures, farming landscapes and tools are the subjects. The essence of these pieces lies in the treatment of the basic elements of design and how they communicate the sensation of the moment.
A lifelong resident of central Massachusetts, Richard has a BFA from Clark University/Worcester Art Museum and a MAT from Assumption College. A retired art teacher with experience at both public and private schools, he now focuses on his own artwork. Richard summers in Maine and has traveled to Iceland, Italy, Spain, Greece, Lithuania, the Caribbean, Canada, Hawaii, Alaska, and other areas in the United States.
His work has been exhibited in juried shows in Maine at the Ogunquit Art Association, and in Massachusetts at the Fitchburg Art Museum, Worcester Craft Center and Post Road Art Center.