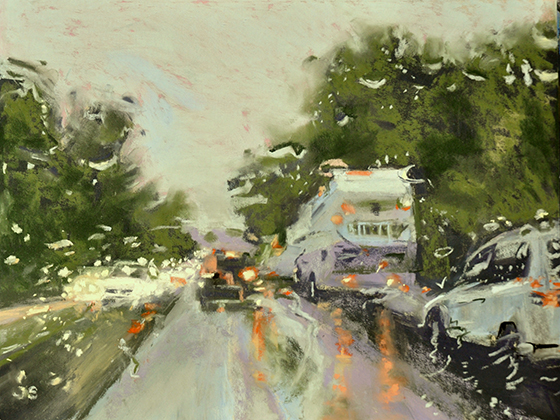 Janet Schwartz
painting, drawing, mixed media, works on paper
A long time resident of Westborough, Janet only recently emerged as a practicing and serious artist. Although she has a degree in Art Education, after graduating, she turned her attention toward education, not art.
Years later, her passion for drawing came to the surface when, in 2011, her daughter convinced her to sign up for The Sketchbook Project. Creating 32 small-scale drawings helped her learn to be more controlled, precise and intentional, as she explored other mediums and renewed her passion for drawing and painting.
Since then, Janet has created another round of sketches for The Sketchbook Project, currently on tour throughout the U.S. and Canada, and has started doing commissioned work, expanding to oil painting, colored pencils, mixed media, pastels and charcoal. Fully motivated now but still working fulltime at her "day job," she finds time to work in her studio. She brings a very personal and unique viewpoint to her work and is currently evolving from purely representational to a more conceptual focus.
She had her first solo show in April 2013 at the Westborough Public Library and is busy preparing for another in October in Newton.