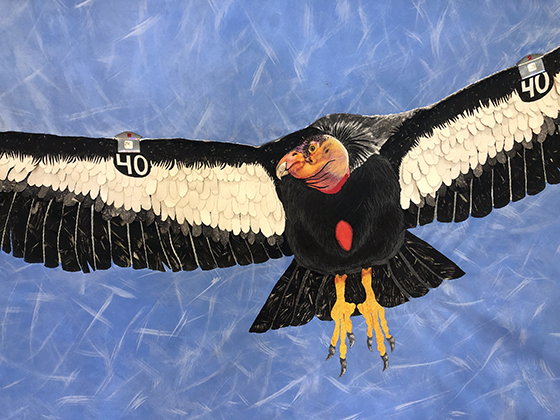 Donalyn Schofield
mixed media
In 2019 I was awarded a Material Needs Grant from ArtsWorcester to make two large scale works: "Sudan, The Last Male Northern White Rhino" and "California Condor #40." I determined that I would make both animals on 7' x 12' sheets of Tyvek. For the rhino I chose to use lithographic crayons to make a dense gradation of black to create the mass of a life-size rhino. For California Condor #40 which has a 10' wingspan, I made a paper and mixed media collage to create the vibrant colors of the condor's head and body soaring in a blue sky. This was all applied to the 7' x 12' sheet of Tyvek.
Since the 1970's I have worked for various periods with the theme of Endangered Species. Before Sudan died in 2018 his sperm was saved for a breeding program. His daughter and granddaughter are still alive and 5 embryos have been harvested. So there is hope that this species can be restored through IVF in another species of rhinos.
The California condor's population was down to just 23 birds in 1982 when a breeding program was established. Currently there are 450 individual birds at three sites in the United States. Which is a real success story!
Unfortunately because of the coronavirus my two works will only appear in a virtual exhibit through ArtsWorcester's website starting on October 15, 2020. In the future I hope to exhibit these works publicly so people can react to the size of these animals and respond to the world-wide plight of endangered species.