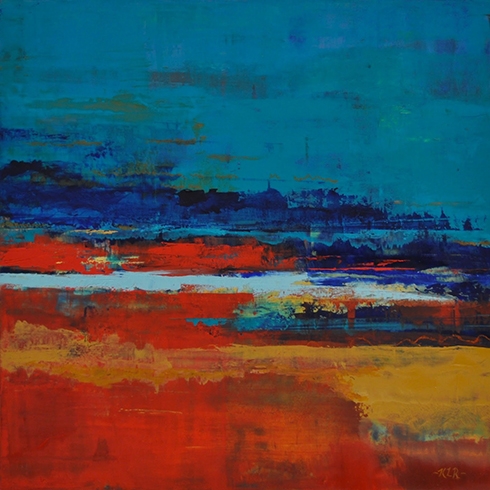 Karen Reid
drawing, fine craft, painting
The work I create hovers between abstraction and reality. My compositions are gestural, colorful explorations of memory and place. I enjoy the questions and problem solving that comes with the improvisational process that I work in. It's a dance between me and the canvas; a response to what the painting is telling me to do.The playfulness of color, form and line changes the perspective and meaning of the painting which creates depth and curiosity. Developing the painting and creating harmony with these elements is an organic process that fills my imagination. My influences come from Hans Hoffman, Arthur Dove, Helen Frankenthaler, Marc Chagall and many more depending on the day.
"Art is the only way to run away without leaving home." – Twyla Tharp
Karen studied at the The Art Institute of Boston, The South Shore Art Center in Cohasset, MA. The Fuller Museum in Brockton, MA. The Danforth Museum in Framingham, MA. and The School of the Museum of Fine Arts in Boston, Ma where she earned her diploma in Fine Arts. She has studied many forms of fine art including drawing, painting, ceramics, monoprint and encaustics. Presently her work centers on drawing and painting using oil paint, watercolor, wax and charcoal. Currently, Karen works out of her studio in Oxford, MA. and teaches painting and expressive art classes. Her work has been exhibited throughout New England.