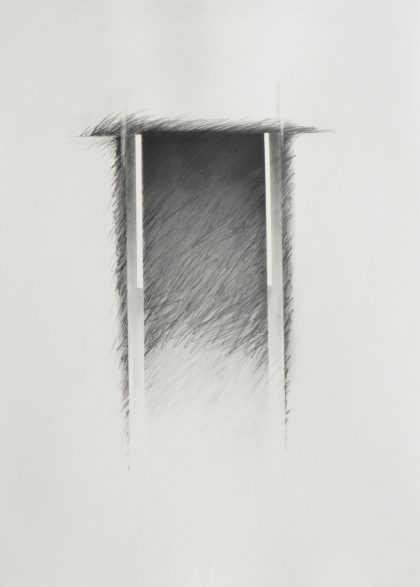 John Hayes-Nikas
graphite, ink, and charcoal
JOHN HAYES-NIKAS was an integral part of the Westborough Schools Fine Arts Department for 31 years , retiring in 2014. Prior to that he taught in Boston and at Harvard–Radcliffe, MIT, Boston University and Massachusetts College of Art, Chamberlain School as well as at Bridgewater State College, Haystack Mountain School in Maine and the DeCordova Museum in Lincoln. Recently he has been adjunct professor at Clark University and lecturer at Worcester Art Museum.
Mr. Hayes-Nikas was awarded a B.F.A. degree with Honors from Massachusetts College of Art in 1975. He majored in painting with a printmaking minor. In 1985, he received a fellowship to study at Skidmore College with the renowned art historian James Kettlewell and the ceramicist/potter Regis Brodie.
Mr. Hayes-Nikas spent 12 years as a painter, graphic designer and printmaker in Boston. He was one of the founding members of The Graphic Workshop, a printmaking cooperative. Studying under the tutelage of colorist Robert P. Moore Jr. and with a master printer's credential status, Mr. Hayes' co-op designs have been published by the World Wildlife Federation and Greenpeace. A number of his co-op pieces have also been published in the book Poster as Art 1945-1975, Corcoran Museum; Print Magazine: XLV:III; and Basic Printmaking Techniques by Bernard Toale.
Recently his work was exhibited in a forty-five year retrospective, Rebellion and Grace at Mass College of Art and Design. In 2015 he received the prestigious Alumni Award for his contribution to the history of Mass Art and his dedication to art education throughout the Commonwealth for over four decades.
His work has been seen in a number of Arts Worcester exhibits these past four years and in the Fitchburg Art Museum in 2015. His artwork is included in numerous public and private art collections throughout the United States.
John lives in Westborough with his spouse Brenda and is the father of Ian and Alexander Hayes.