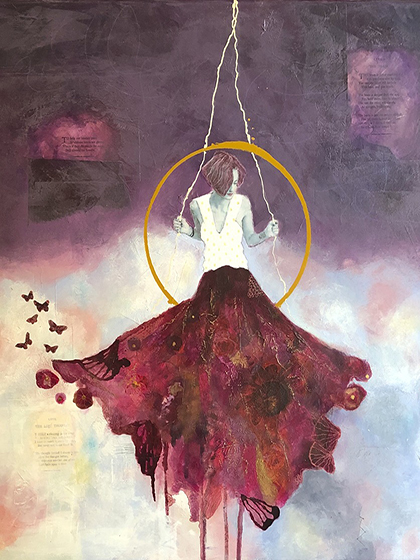 Kate Morgan
mixed media
In 2011 I went to an art therapy group for women with PTSD. Several art mediums were set in front of us and we were asked to express an emotion. I grabbed some pastels and for the first time I expressed myself through art. It was and is the best medicine I've found.
I am a mixed media artist living in Douglas Massachusetts. I work from a studio in my home. I am bound to no medium, but I gravitate towards collage and acrylics in most my pieces. My work is self-therapeutic and expressionistic at its core. My subject matter is women's figurative and portrait painting. My current work is primarily figurative collage. They represent what I dream things should be and outlet emotional themes I seem to be always working through. Faith in the Divine and the unseen is a continual thread for all my inspiration. I am passionate about finding light in the darkness and I hope that peeks through in my art.
I sell locally in Grafton, MA at Off The Common Antiques and through social media. My links are below if you'd like to see more of my work.
https://www.facebook.com/katemorganart40/