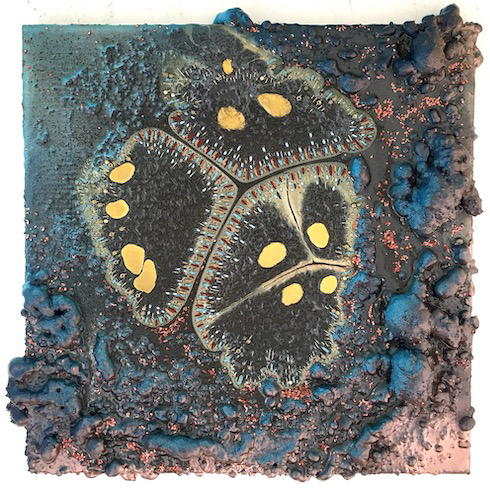 Nicole Irene
mixed media
Alluring esoteric and enlightened pulchritude can be found in the unsettling dystopic panorama of the mind. Psychotropic interdimensional primordial goo birthing into landscapes that are woven with the cosmos. I attempt to immortally unfold the delicate fabric of self-conscious epistemic moments of knowing.
I am moved by the beauty of the nocturnal sky, astronomical phenomena, metaphysics, and cosmology… the workings of the universe within ourselves and around us fascinates me and compels me to translate the curiosity and spectacle into my artwork. My artwork addresses the wonders of the enigma that is the cosmos and our own being. Contemplations of these mysteries manifest as conversions populated with textural vibrations, colorful swells and rhythmic compositions expanded on with original written words of my own.
Mystery, paradox and magic lead me to experiment. The metaphysical is personified by dream-like views of eerie and fantastical landscapes brimming with the potentiality of life punctuated with unexpected combinations of colors and textures.
I am a mixed media artist creating in the Berkshire hills on western Massachusetts. I have served on several art panels was the graduate liaison, assistant to the curator, for my MFA cohort graduate exhibition and was one of the artists in the 2018 Boston Voyager Blog: #BostonCreatives: the local artists who inspire us.