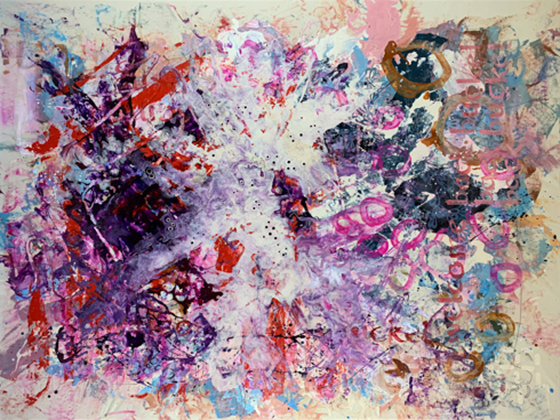 Blake Brasher
painting, mixed media
Blake is interested in the power of abstraction to delve into big problems in understanding the nature of our existence.  He wonders quite a bit about what it means to be a conscious being, and if there are other ways a conscious being might be.  He has come to believe that one of the fundamental aspects of consciousness is that it is a phenomenon that happens when desperate but related systems come together to form a larger whole.
Blake's paintings are snapshots of mental landscapes, exploring the space between order and chaos.  One of the underlying themes is the juxtaposition of pattern and controlled repetitive brush work against uncontrollable mark making techniques such as pouring and dripping paint.  He also uses an automatic drawing process and incorporates snippets of text into the work, little distillations of epiphenomenal qualia that are omnipresent in the unquiet mind.
Blake grew up in a little town near Fairbanks, Alaska, and also lived in Turkey, Texas, and Arizona before moving to Massachusetts in 1997. He received his BS in Art and Design from MIT in 2003 and has been exhibiting his work publicly since 2008.