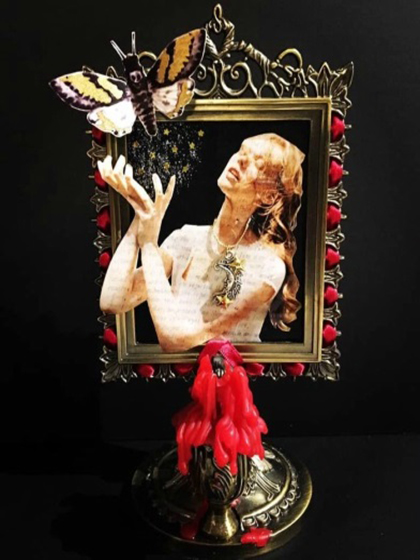 Melissa Borges
mixed media
I was born in Lowell, MA, to Portuguese immigrant parents. Like most artists, I demonstrated a love of all things creative from an early age. Because of my introverted tendencies, I submerged myself completely into my projects, creating characters for stories and video games.
I attended Anna Maria College in Paxton, MA, where I got a degree in studio art. At the time I mostly made portraits in pencil, but then I took a sculpture class that changed my world around. Before I even knew what 'found art' was, I loved to collect things- things I now call art materials. Old boxes, abandoned dolls, broken jewelry, bottle caps, sea shells. I am happiest when I am in my studio arranging these items into works of art.
I also incorporate gouache, acrylic, pastels, and colored pencils in my work. Most recently I've enjoyed playing with image transfers.
The theme of my work is women in transformation. I am a work in progress, I always will be. I want my body of work to show my journey.
I now live in Worcester, MA, where I am experimenting in other creative ventures like illustrating a children's book, designing theater sets, and teaching mixed media art classes.
Instagram: www.instagram.com/melissamarieborges/
Facebook: www.facebook.com/heArtReflectionsStudio/