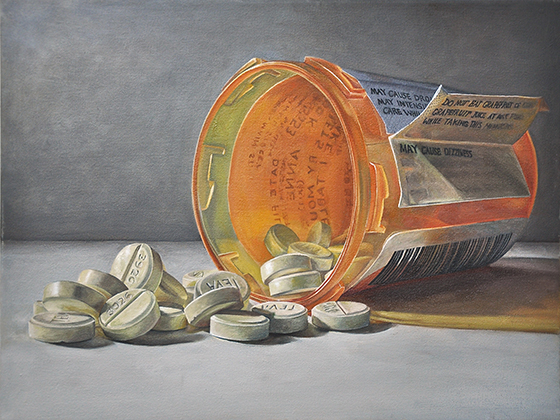 Tess Barbato
painting
Tess Barbato is a young, 21st century American realist oil painter whose work is conceptually driven. She possesses a larger-than-life vision that results in incredibly detailed portrayals of the most mundane of objects.
Tess inherited her artistic sensibility from a long line of family artists. She graduated Summa Cum Laude in Fine Arts from Plymouth State University. Her lifelong struggle with dyslexia compelled her to use art as her preferred means of communication. And for Tess, communication has always been paramount. She is an artist with something to say, a master of delivery in the form of wry paradox.
Tess' paintings have been accepted for numerous juried exhibitions and have accumulated several awards and honors. Some of her notable group shows have been Art of the Figure, juried by Philip Pearlstein in Setauket, New York; Less is More: Small Works in a Great Space, juried by Jack Rasmuissen and Joann Moser in Annapolis; The New England Collective IV, juried by Kaveh Mojtabai and Brian Goslow, the Publisher and the Editor-in-Chief of ArtScope Magazine at Galatea Fine Art in Boston. Her solo exhibitions include "Fuck Wall Street" at The Jo Hay Open Studio Gallery in Provincetown, MA and An Exhibition of Work By Tess Barbato at the New Bedford Art Museum.
She is currently working out of her studio in Worcester, Massachusetts.