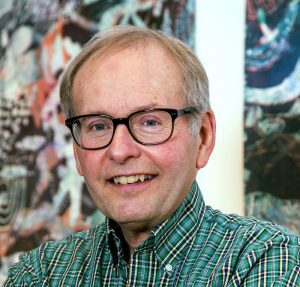 Roger Hankins, Director of the Cantor Art Gallery at the College of the Holy Cross, will be the 36th recipient of the ArtsWorcester Award, which goes annually to an individual who has made extraordinary contributions to art and culture in this city. He will receive the award during ArtsWorcester's Annual Meeting at 657 Main Street on Friday, September 8, 2017, at 6:00 PM.
Roger Hankins has been the director of the Iris and B. Gerald Cantor Art Gallery at the College of the Holy Cross for over fifteen years. In this role, he curates exhibitions of historical and contemporary artists, ranging from Holy Cross alumni, faculty, and students to international figures working in traditional and new media, all of which are produced to the highest artistic and professional standards. With an encyclopedic knowledge of modern and contemporary art, Hankins is a mentor to artists and students across the city, a thoughtful juror of exhibitions outside of the Cantor, and a sought-after advisor to arts organizations. Hankins is a sculptor and ceramic artist, and his practice and experience informs both the quality of his exhibitions and the guidance he gives.
"Roger is an unsung hero of the arts in this city," says Juliet Feibel, Executive Director of ArtsWorcester. "Few people are as generous, thoughtful, and wise in their advice." Tim Johnson, art preparator for the Cantor Art Gallery and the College of the Holy Cross, describes the support Hankins provides to artists very simply: "Artists trust him."
The Annual Meeting and the giving of the ArtsWorcester Award take place immediately before ArtsWorcester's first opening of the season, for the exhibitions Material Needs at 660 Main Street, and Collage Variations at 657 Main Street. The reception for Hankins and the artists begin at 7:00 PM. The award ceremony and the reception are all free and open to the public. Parking is free in the paved lots belonging to the Freemasons at Ionic and Beacon Street.
Photograph courtesy of John Buckingham.