Playing Games
a members' exhibition
On view: May 12 - June 19, 2022
Reception: Saturday, May 14, 12:00-3:00 PM
We're turning the gallery experience upside down! Playing Games features works by fifty ArtsWorcester artist members who explored themes of games, sport, and play through new and traditional media. Works on view range from life-size sculpture to a musical installation to a hand-sewn backgammon set which visitors can play with in the gallery. Several artworks are kinetic or tactile, inviting visitors to engage with art in new ways.
Five hundred dollars in prizes, funded by Marlene and David Persky and the Artist Prize Fund, will be awarded by Darcy Schwartz, founder of ArtReach. Prize winners have been announced! Read more below.
Playing Games is produced with special support from the members of the Corporate Circle. ArtsWorcester exhibitions are sustained in part by the generous support of the C. Jean and Myles McDonough Charitable Foundation.
/// Lizzie Fortin, Wham! Boom! Pressure., mixed media collage, 16" x 16"
---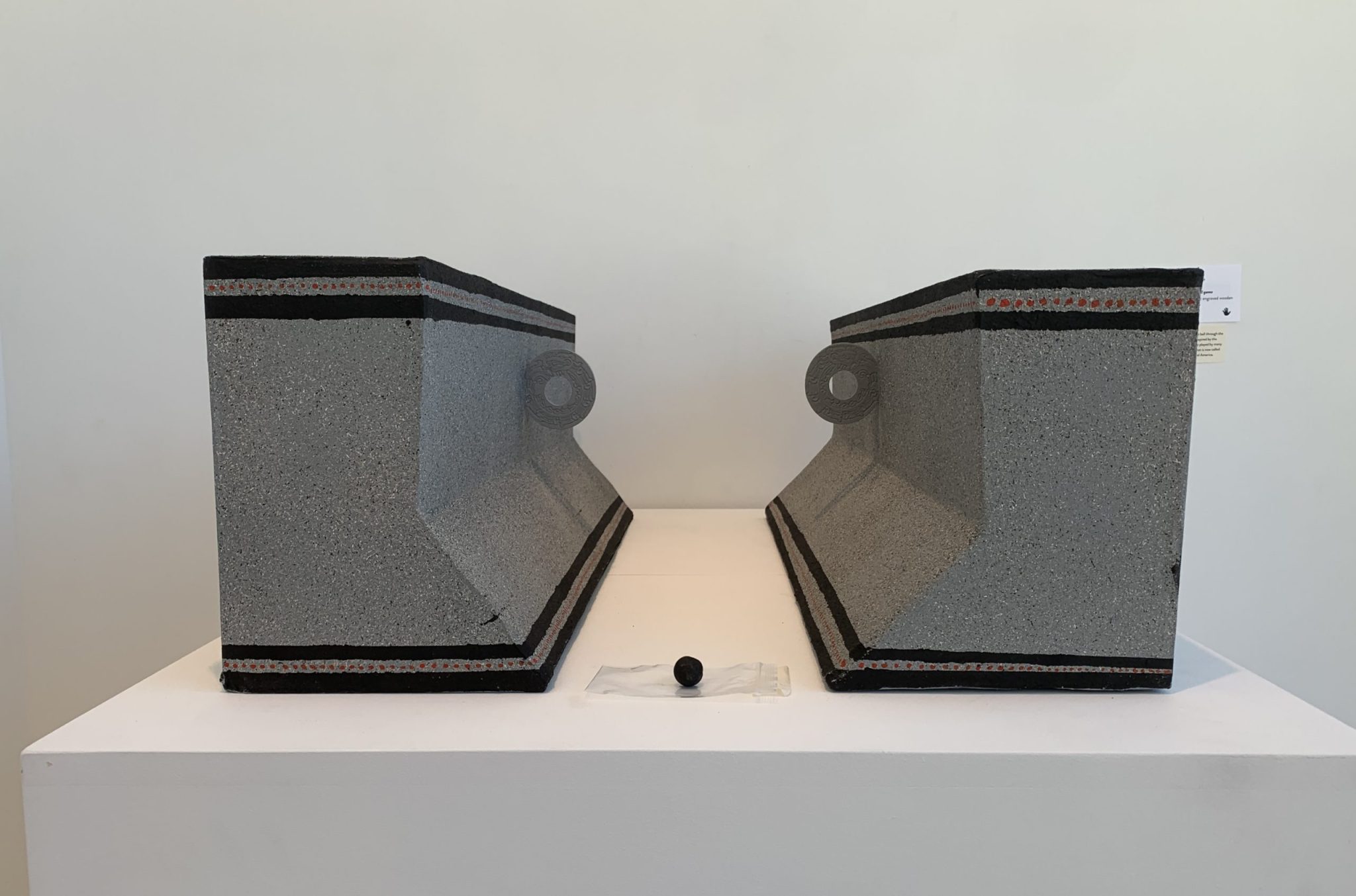 Jeffrey Aragon
Mesoamerican Ball game
foam core, acrylic paint, laser engraved wooden hoops, 25" W x 32" L x 10.5" H, 2022, $400
@jeffsmayanart
The Mesoamerican ball game was played by many different cultures in what is now called Mexico and Central America. Many cultures such as the Maya, Mexica/Nahua (Aztec), Olmec, and many more. This art piece is a celebration of the cultures that many people descend from, the people who I descend from. This game was used both for recreational and religious purposes and is connected to the hearts of those who played them and to many today.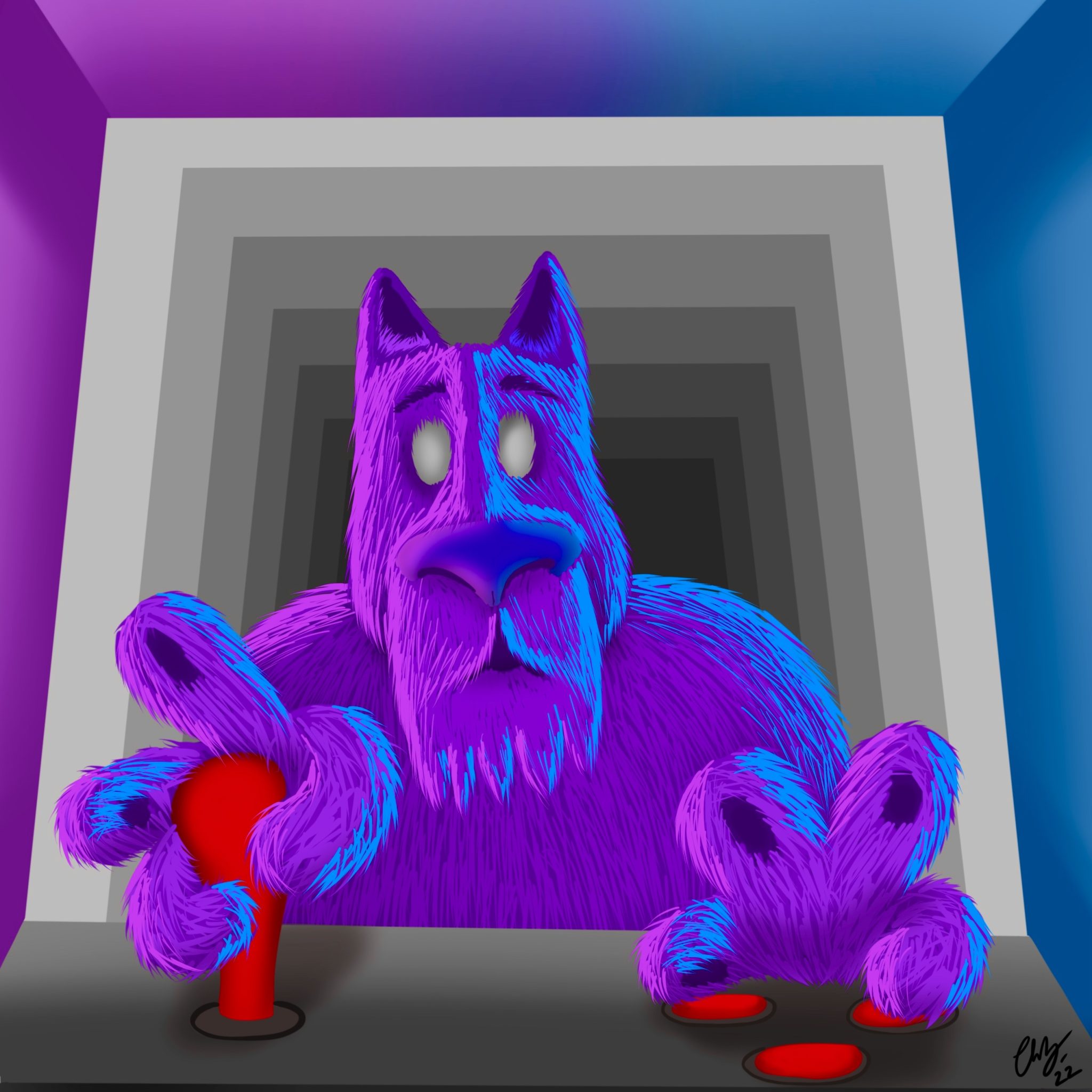 Christian Bachez
Ill Vision
digital (archival inkjet print on ultra premium photo paper luster), 12" x 12", 2022, $39.99 (sold)
@BachezDoesArt
I wanted to create a piece that is ambiguous in its messaging but inviting with its color and subject matter. Is SNAX in the zone and winning in the game he's playing? Or is he trapped in the world of the game? Is there a reason he faces the viewer? The title of the piece may provide insight into some of these questions.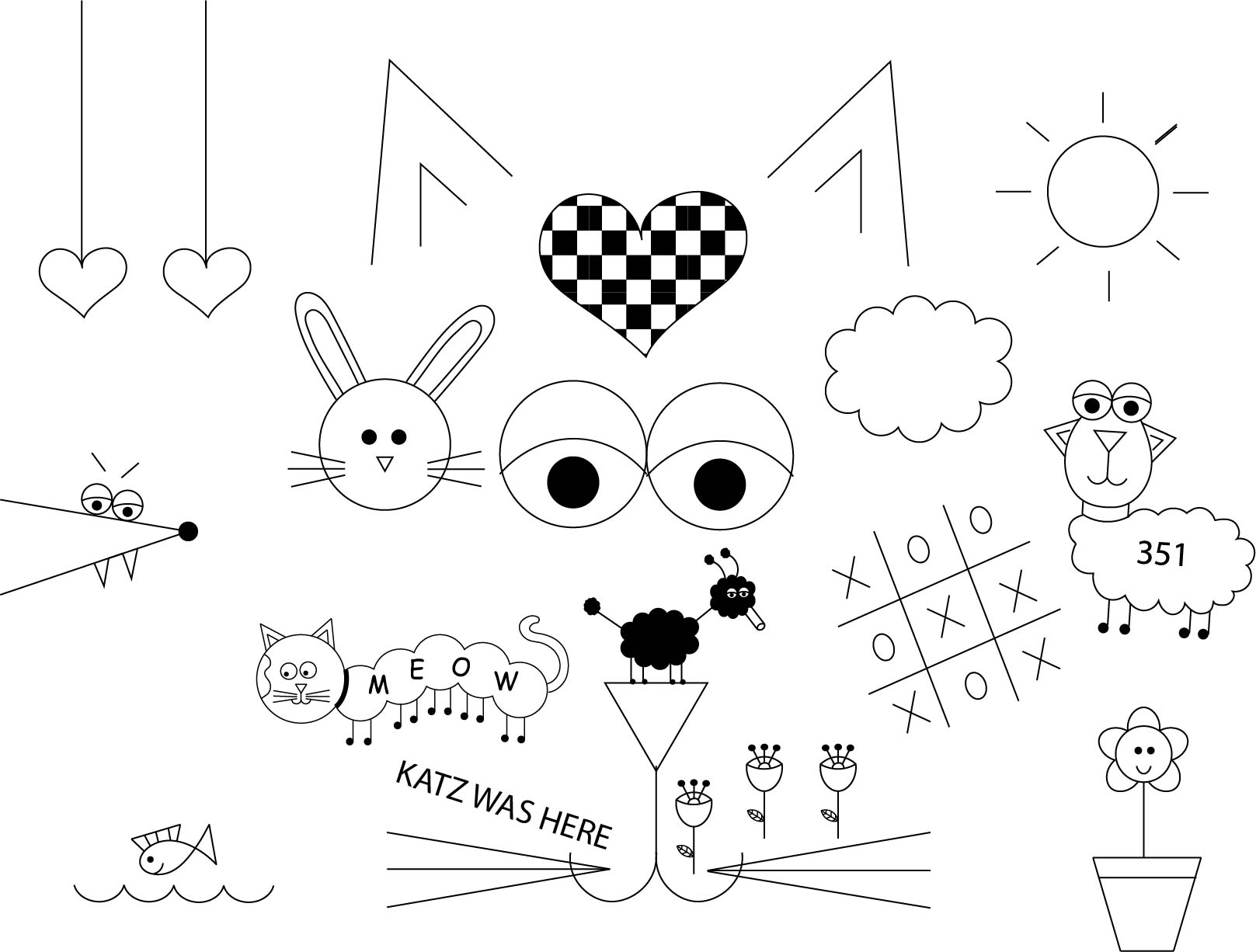 Amy Berger
Katz
digital (Adobe illustrator), 13" x 19", 2022, $300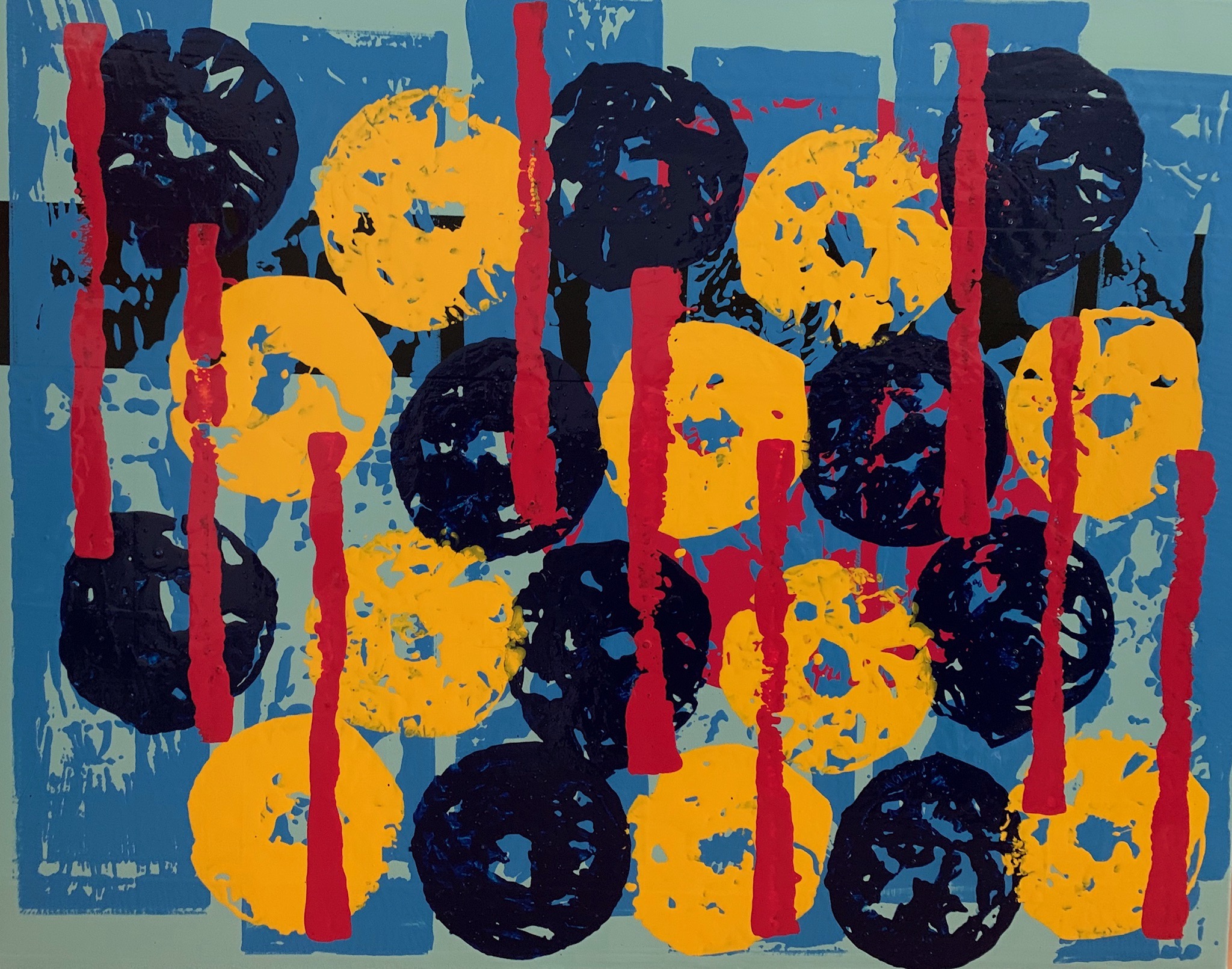 Stephen Bergeron
BoardGame
enamel on canvas, 22" x 28", 2019, $900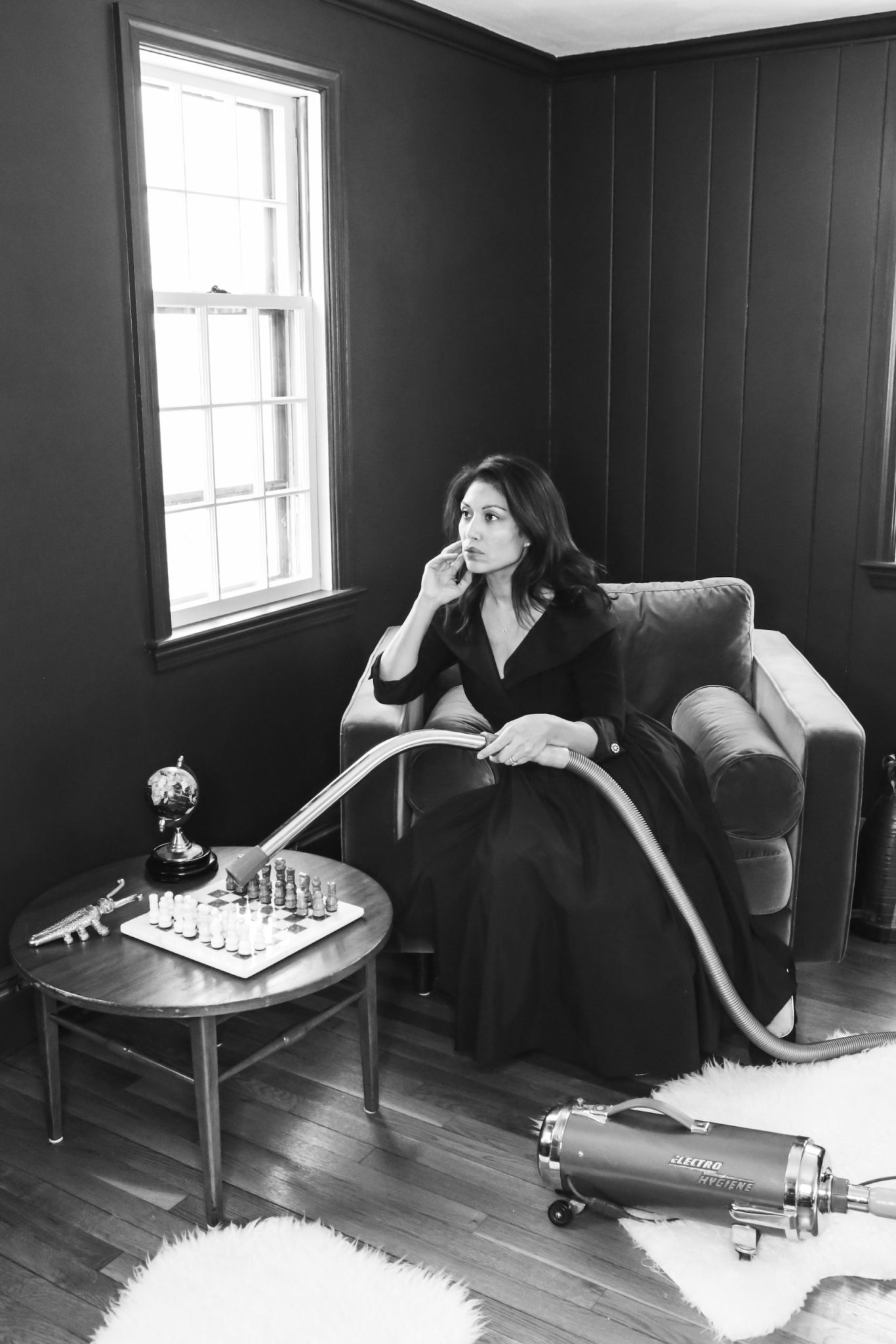 Chelsea Bradway
Chess Anyone
digital black and white photograph on hot press rag, 24" x 30", 2021, $575
@all_things_sparkley_photography
When everyday household chores seem mundane, it may be time for a game of Chess. Don't let the fear of mundanity creep in and ruin all the fun!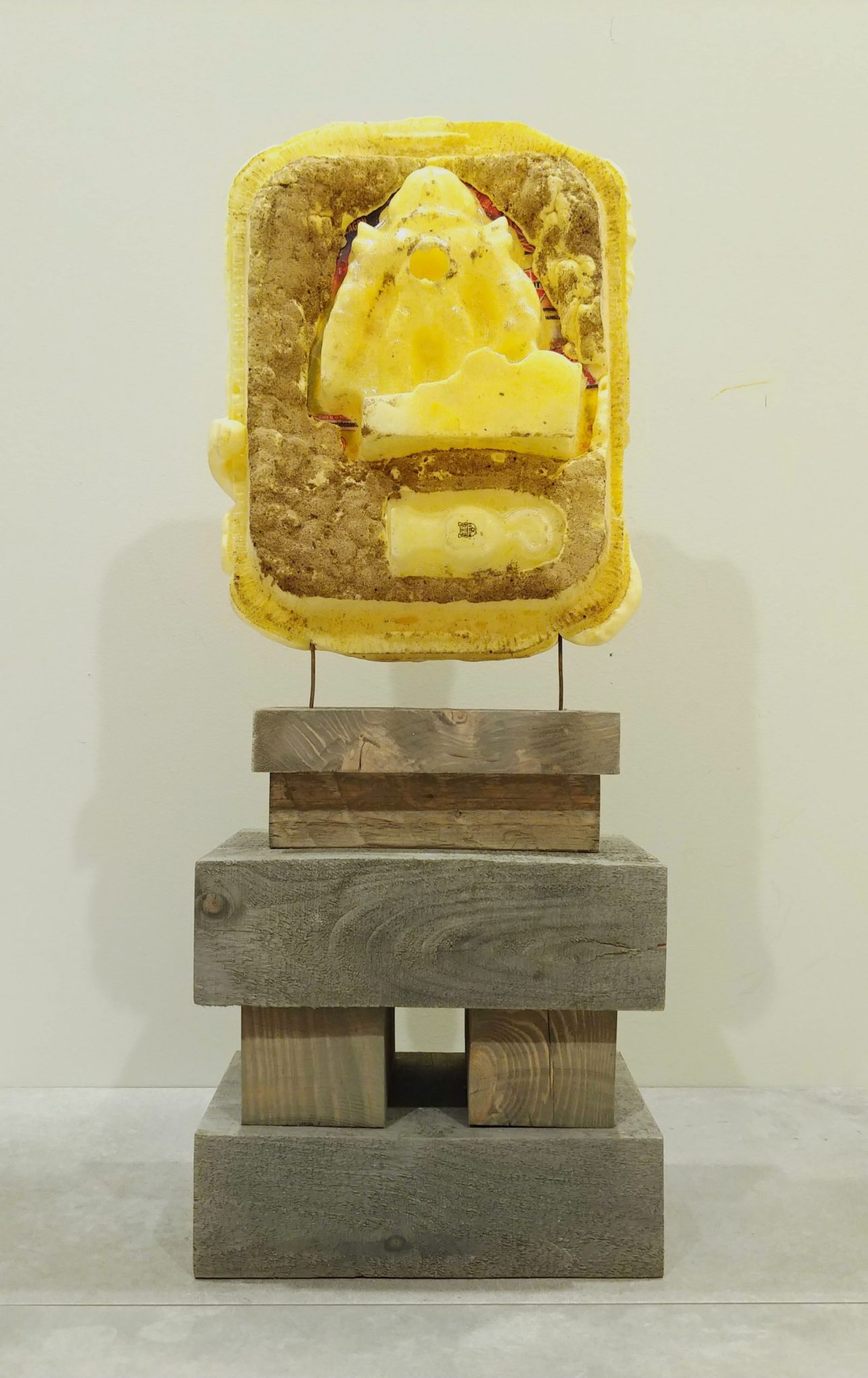 Aaron Brodeur
probe.figure/subject_tama=gjitzu
plastic, foam, sand, wood, 28.5" x 11" x 6.75", 2022, Not For Sale
@aaron.brodeur_studio
This work focuses on the overlooked elements of toy products. Rather than emphasize the items for purchase, significance is placed instead on the packaging that encloses the contents within. The results from my process recreate what I essentially consider to be a ghost of the toy. It was done with the thought that it could be viewed from the perspective of how our time in history can be encapsulated and represented conceptually as a classification of future archaeology.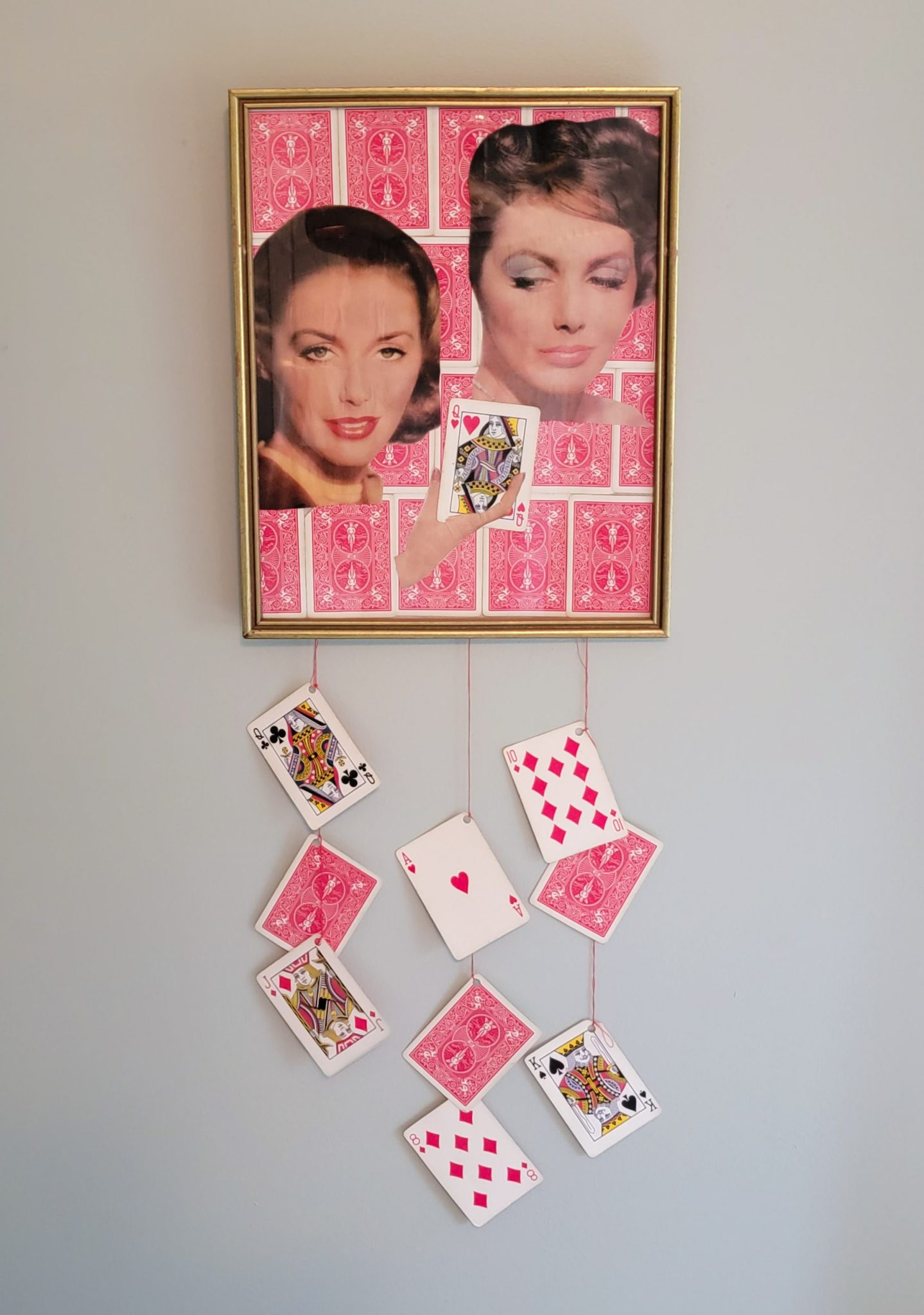 Megan Candito
It's in the Cards
@meg.candito
mixed media: playing cards, vintage magazine clippings, thread, 11.5" x 31.5", 2022, Not For Sale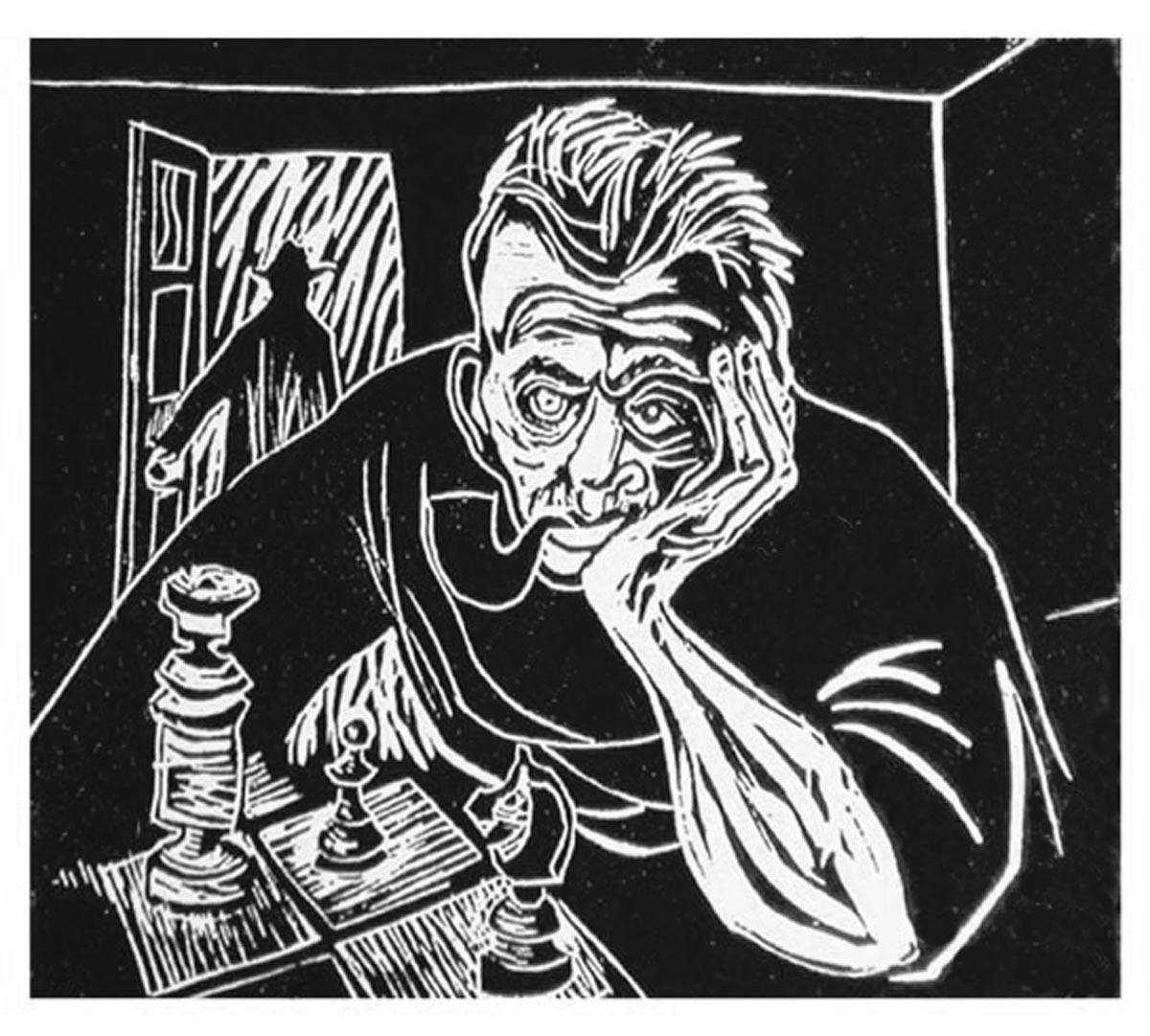 Evan Charney
Checkmate
linoleum print, 6" x 7", 2020, $95
'Checkmate' is a linoleum print, meant to convey the frustration and sadness of the one who has lost.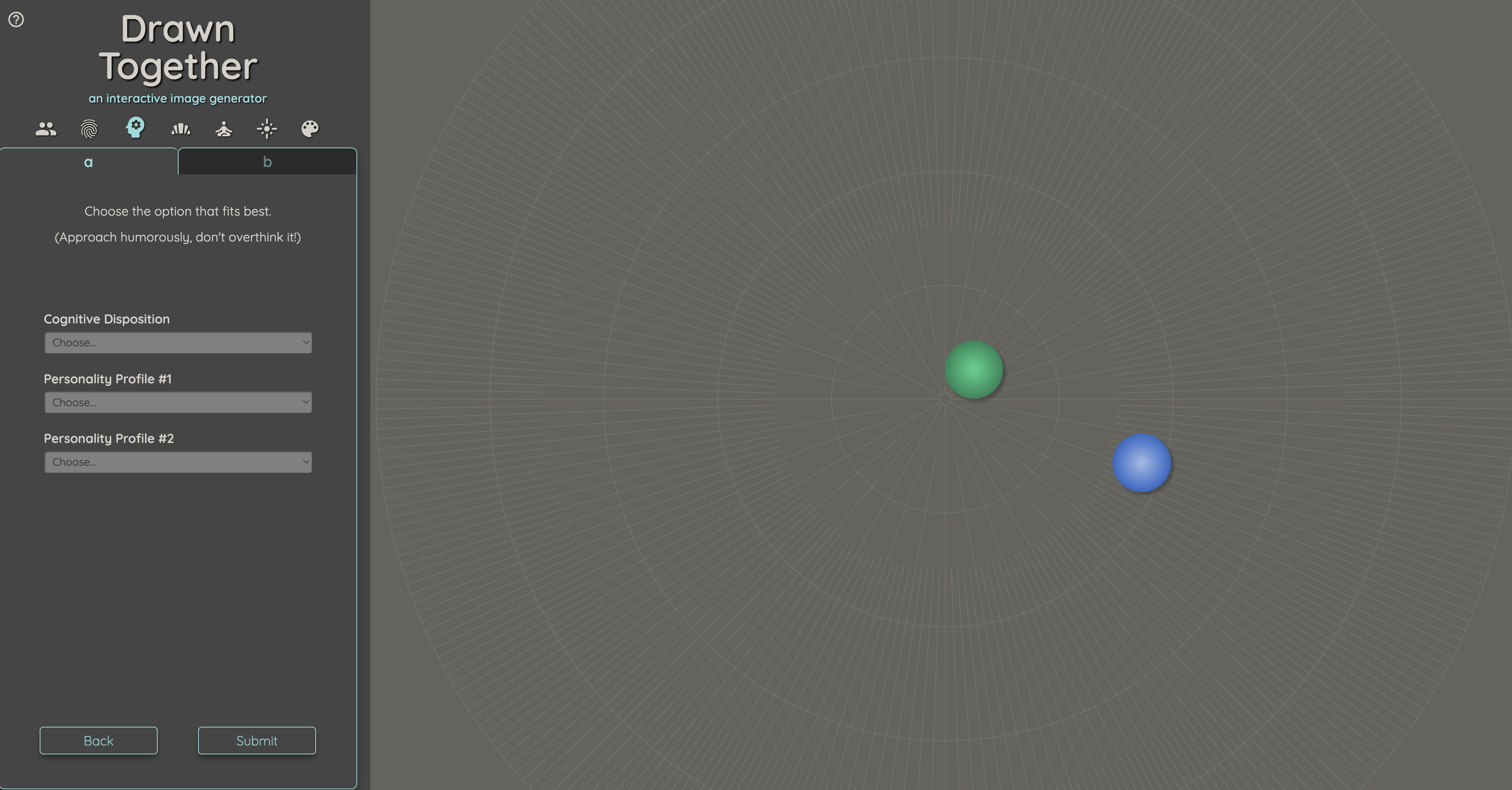 Carrie Crane and Deagan Crane
Drawn Together
digital game played online via laptop and monitor, 20" x 20" x 20", 2021-22, Not For Sale
carrie_crane_art
The idea for Drawn Together began while making sketches for an installation at the FAM. I was thinking about geometry and planetary orbital systems as a way to describe the nuances of human social systems, i.e., family, groups of friends, work colleagues, or social-media networks. I started imagining a series of algorithms that could translate the individuals' personal data into an image.
My son, Daegan, was training to be a programmer and was open to helping. We have been working on this for the past few years. This exhibition served as a catalyst to really get it up and running.
Trish Dehls
Magnificent Pandemonium
enamel, wood, steel, copper 16" tall, 4" base, 2022, Not For Sale
@dehlstrish

As school buildings have been re-opening, the artist was struck by the exquisite sights and sounds of children at play, sights and sounds that had been deeply missed during COVID lock-downs and restrictions. Through the artists' eye, children at play are both magnificent in their joy and freedom while the ensuing chaos is pandemonium.
Children at play, full of joy and movement are visualized through enamel images on a turning carousel.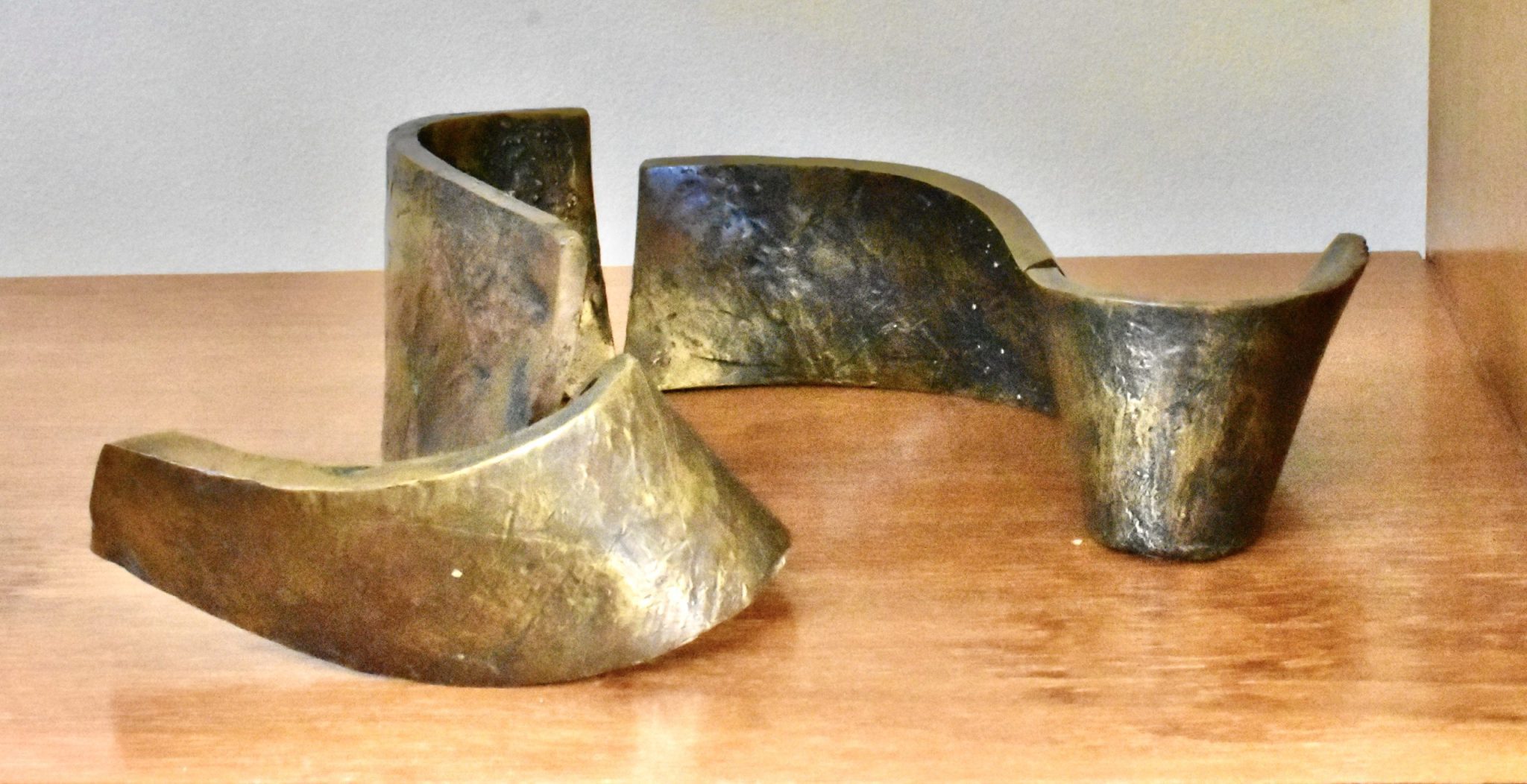 -Staff Pick-
Lawrence DeJong
4 Arcs
Bronze, 5" x 2" x 4 pieces, 2017, $850
Over the years I have created a number of multi-piece moveable sculptures indifferent materials. As the artist, I have created the forms (the 'boundary') and the viewer is invited to interact with them (play with them) and express their creativity by arranging them to their aesthetic preference. There is also a tactile feeling one experiences in their weight, surface texture, and temperature. Enjoy.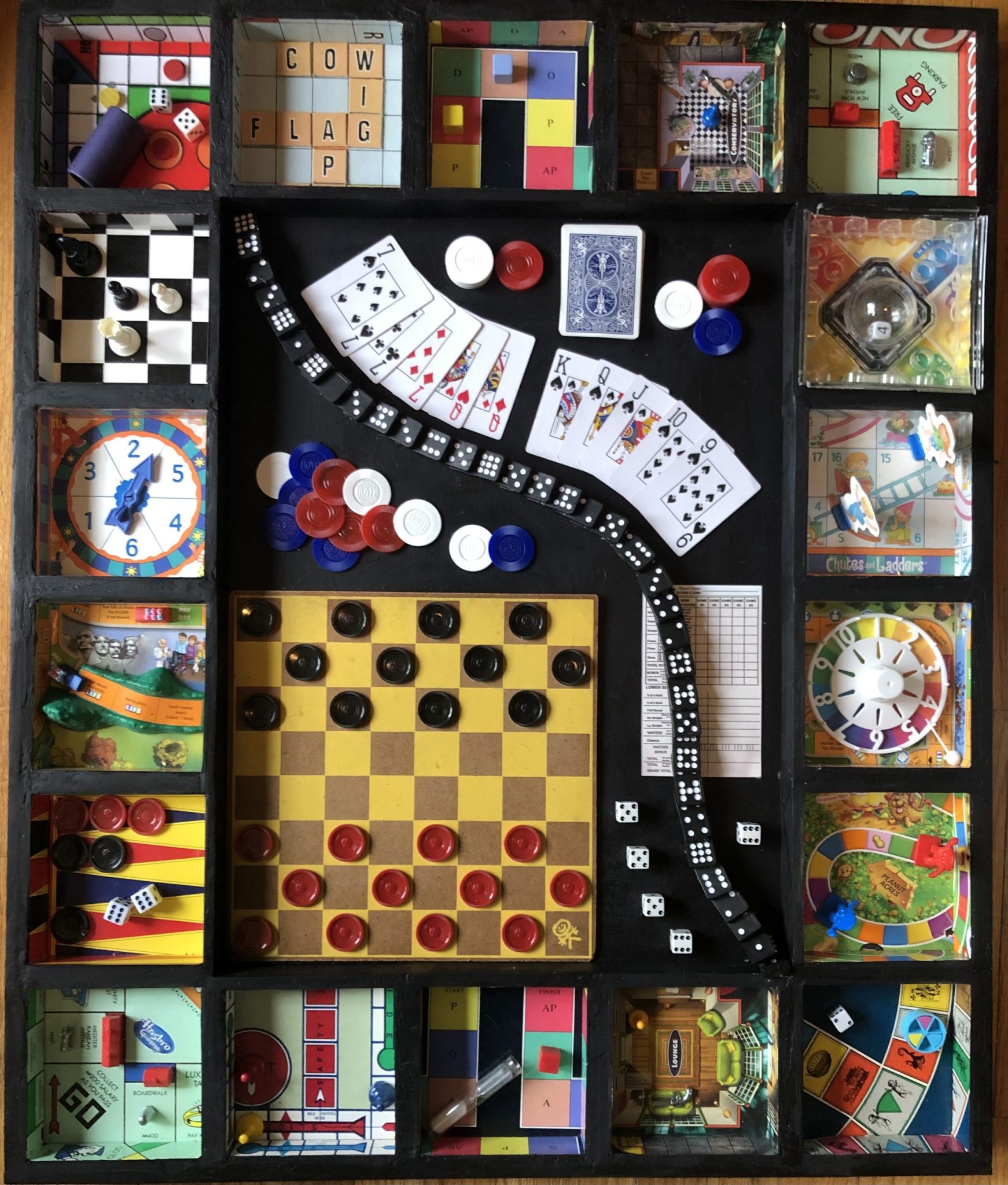 Kristi DiSalle
Family Game Night
mixed media: game boards and pieces, cards, dice, acrylic paint, 36" x 30", 2022, $600
@kristileighcreations and @kristileighgillustration
Family Game Night is a celebration of our past and our present, bringing childhood memories to mind, while also encompassing the fun we have as adults. Recognizable pieces of games, be it the board or the pieces, evoke memories of times with family and friends when we laugh, aggravate, compete, and enjoy.
My work is an examination of the place fun and games have in our lives and our humanity. I use recognizable objects as a way to show the connections we have as children, mothers, fathers, and friends: as humans.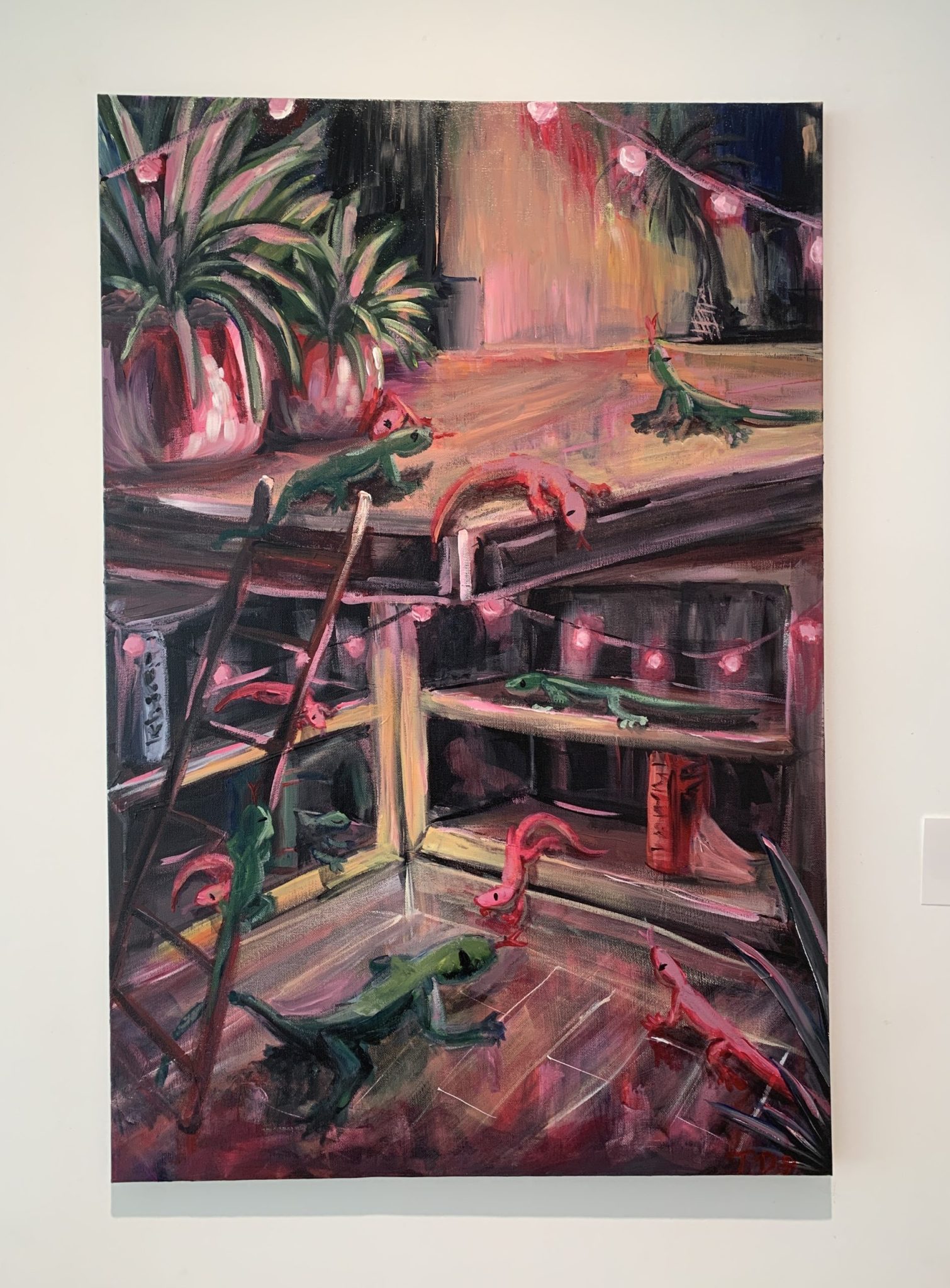 The Dying Sun
Oops All Lizards
acrylic on canvas, 36" x 24" x 0.5", 2022, $325
@the_dying_sun
This piece spiraled off the idea of drawings akin to that of children's book where an entire scene is played out with several different characters interacting with one scene. It then developed into the idea of using lizards which would mimic the playfulness of anoles.
Anoles are very common in Florida, and you'll see them running across sidewalks, sunbathing on solar powered lawn lights, and taunting my grandparents' dog.
I enjoy watching them, seeing how they interact with each other, and watching how they play as if we weren't watching.
Kate Egnaczak
Pick-Up Sticks 2021
digital video, 30:05, 2021, Not For Sale
"Pick-up Sticks 2021" is an original score performed in Elm Park over the summer of 2021. Sticks were gathered from the mere ponds by the artist on paddleboard while collecting park trash. Sorted by size into bundles, the sticks were woven into the nest and roof of "Home Build for Everyone," a floating sculpture made from park trash for "Exhaale: Art In the Park". The score cross-references the action of the artist with the origins of a game that challenges players to untangle a pile of randomly distributed sticks. The more tangled the pile, the more challenging the game.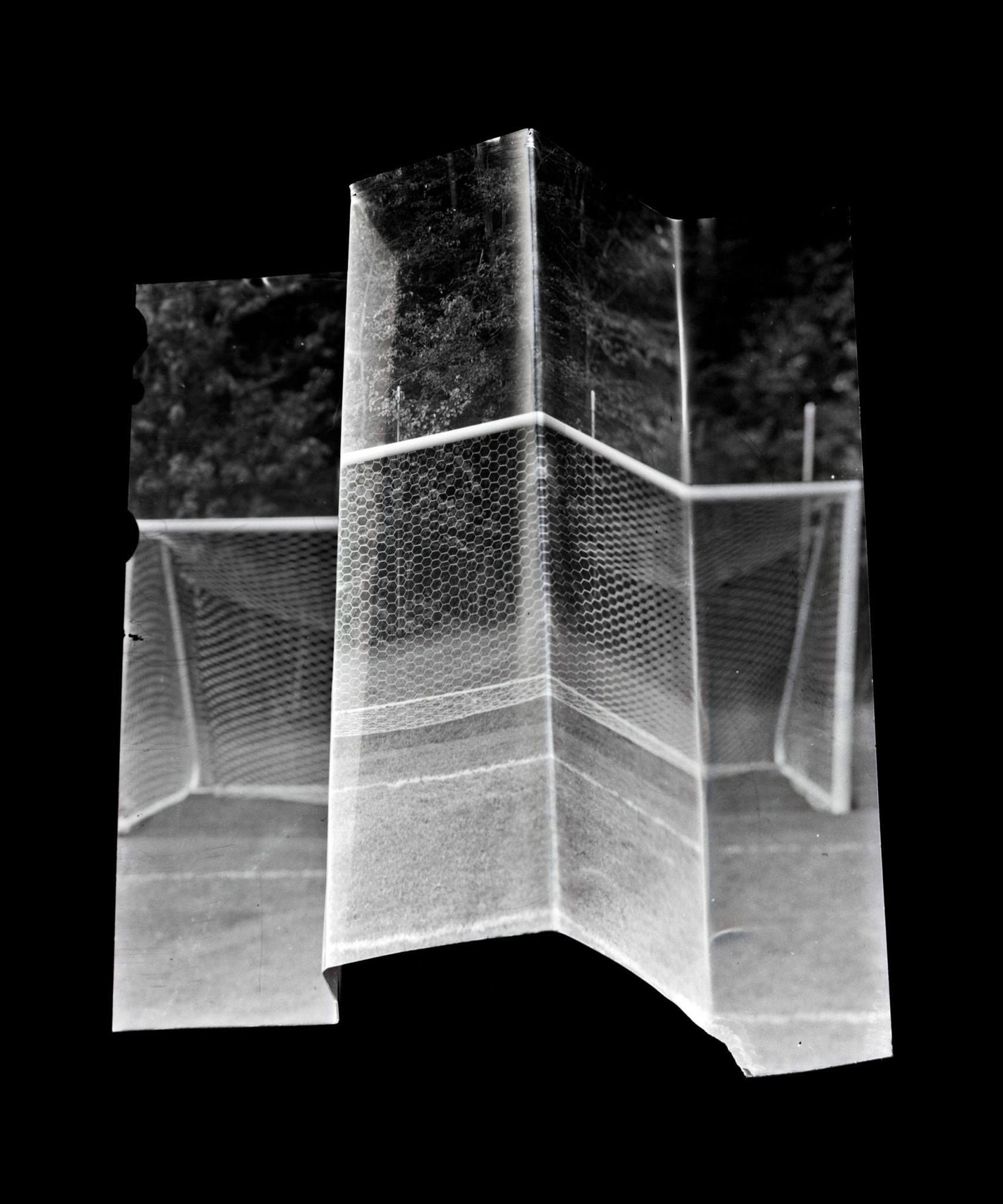 Colleen Fitzgerald
Goals/Boundaries III
pigment print mounted to 100% cotton rag museum board in custom maple frame with regular acrylic, 20" x 24", 2017, $1,600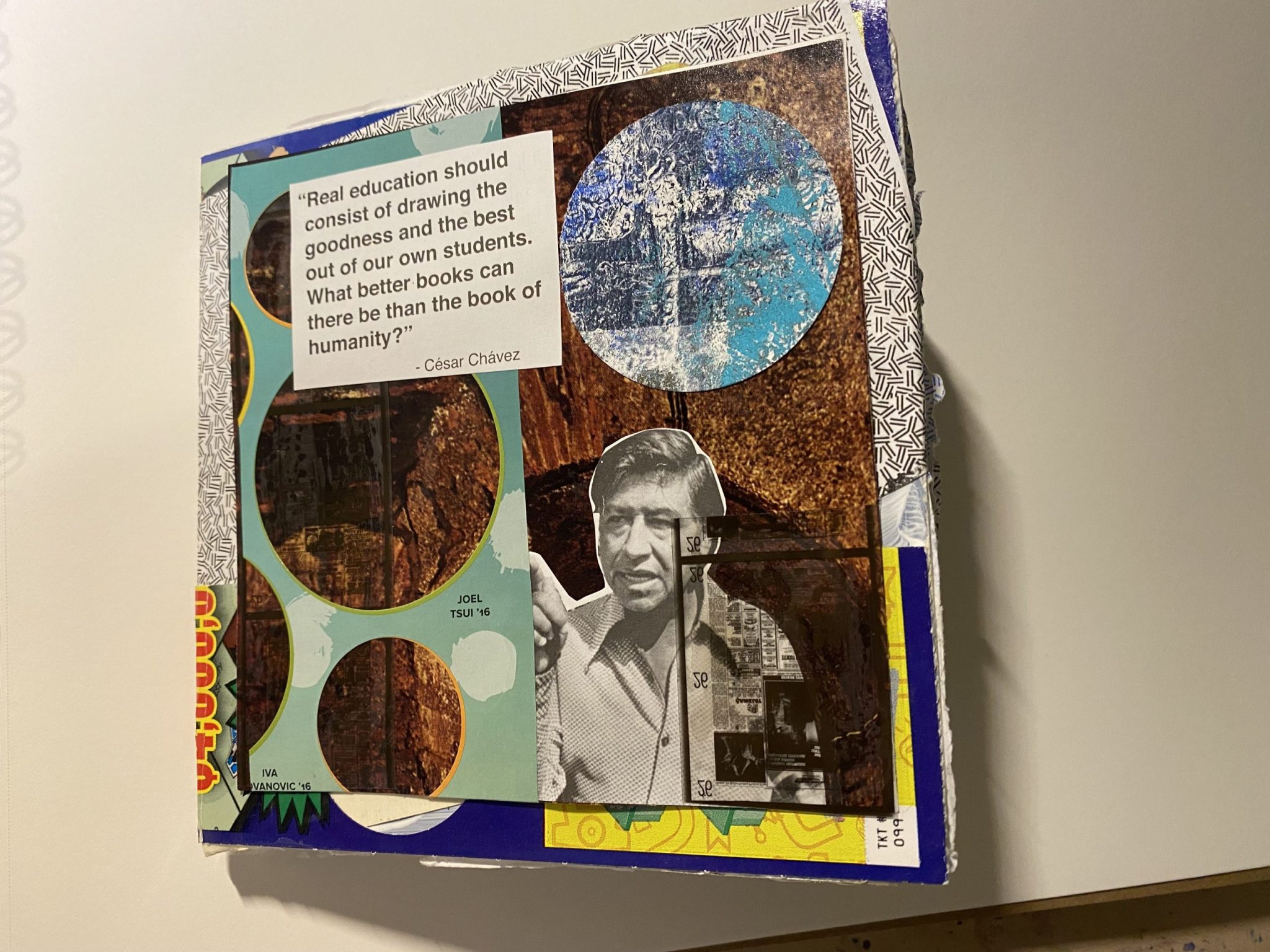 Lizzie Fortin
The Future
upcycled board book with collage with ephemera and acrylic prints, 6.5" x 6.5", 2022, $200
@veglizzie83
This piece speaks to the beauty and ephemerality of the future. Words, images, and ideas are layered to create something new - just the way the future unfolds for each of us.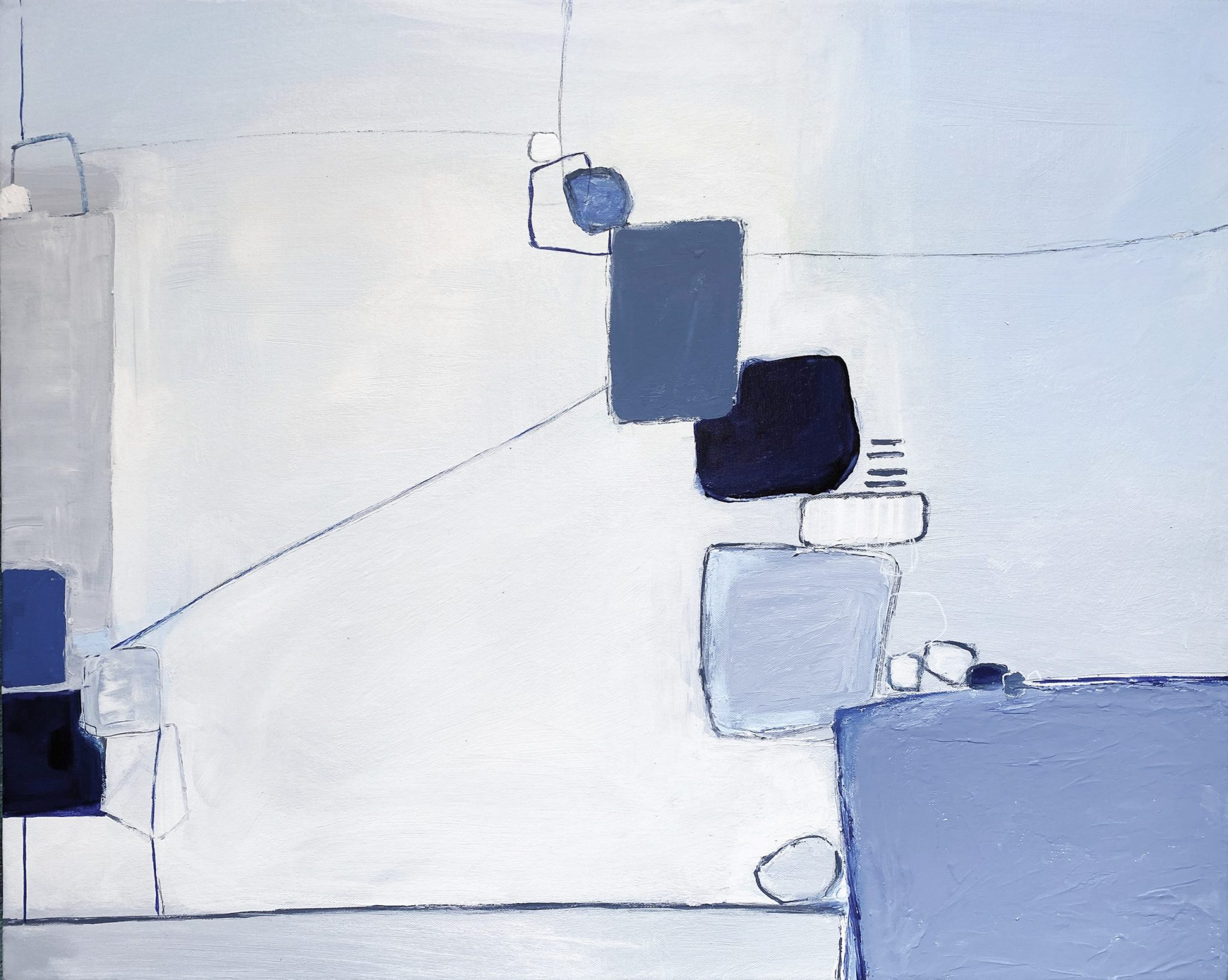 Lisa Hayden
Beach Rock Balance
acrylic on canvas, acrylic on wood panel with beach rocks, 24"x30", 2022, $850
@meltedtheory
I love to play at the beach. New England might not have tropical waters, but we sure have rocks! Whether it's scrambling up the big rocks to find tide pools, or stacking little ones on the shore, the warm sand and salty air make for a lovely day of fun.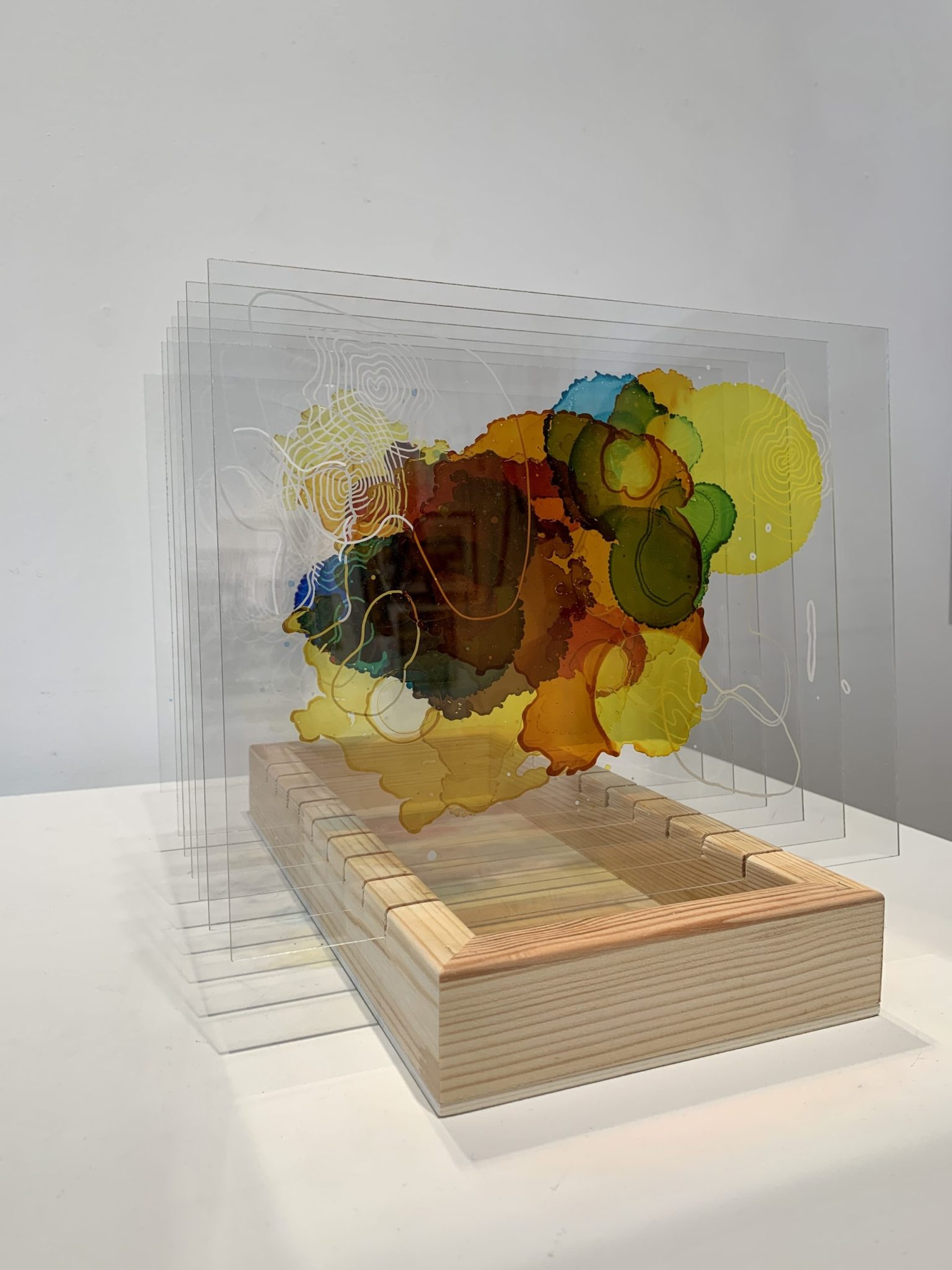 -Juror's Prize-
Allie Heimos
Sequence Device
ink on plexiglass with wooden base, 10" x 10" x 8", 2022, Not For Sale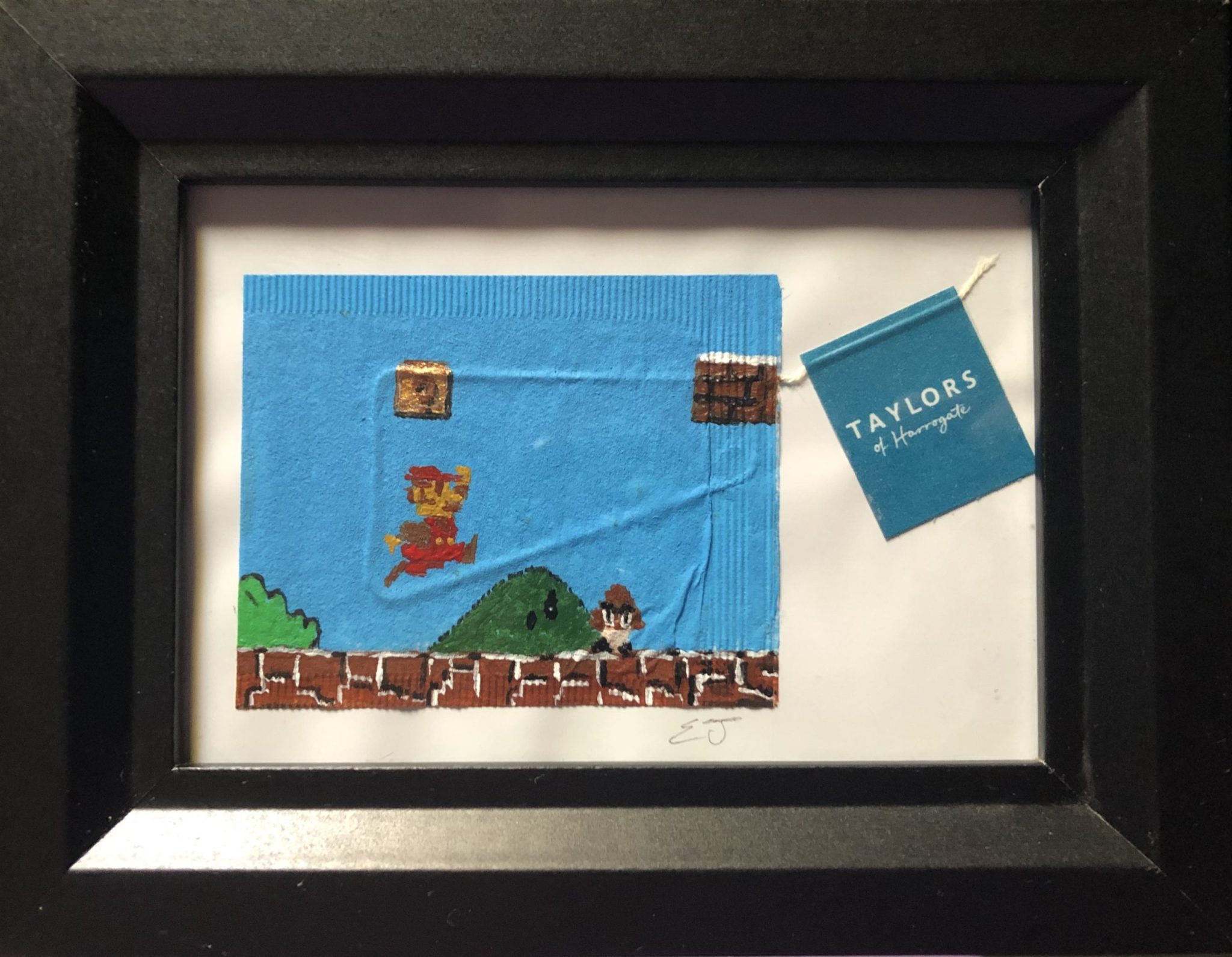 Elijah Johnson
Super Mario Bros.
acrylic on teabag, 5" x 6 1/2", 2021, $200
Children of the 80's, you know the song sing along! We played the game, we watched the show, we ate the cereal. Enjoy!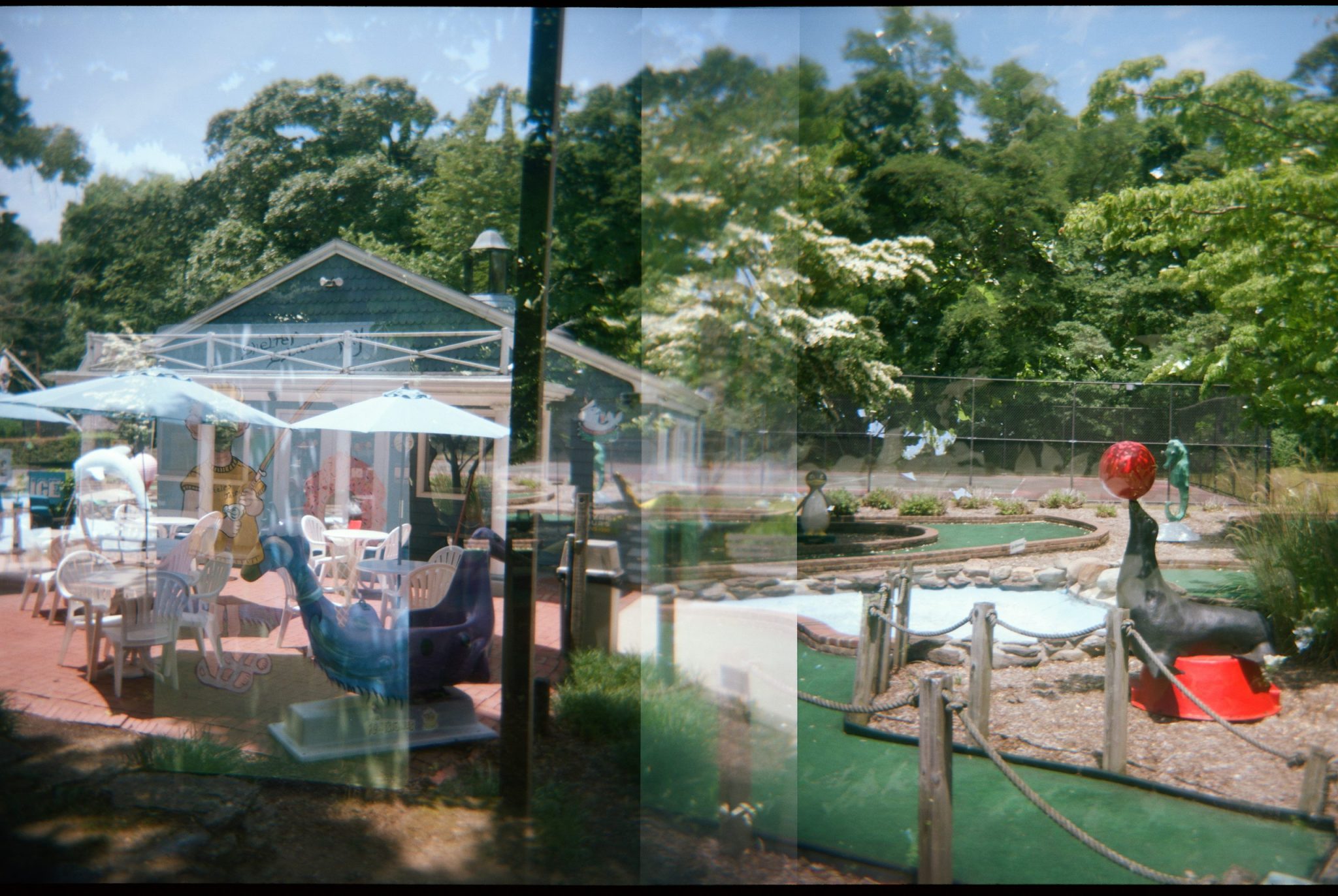 Amanda Kidd Schall
Jilted Course
film photography using plastic toy camera, 21" x 16", 2020, $350
@twocatpress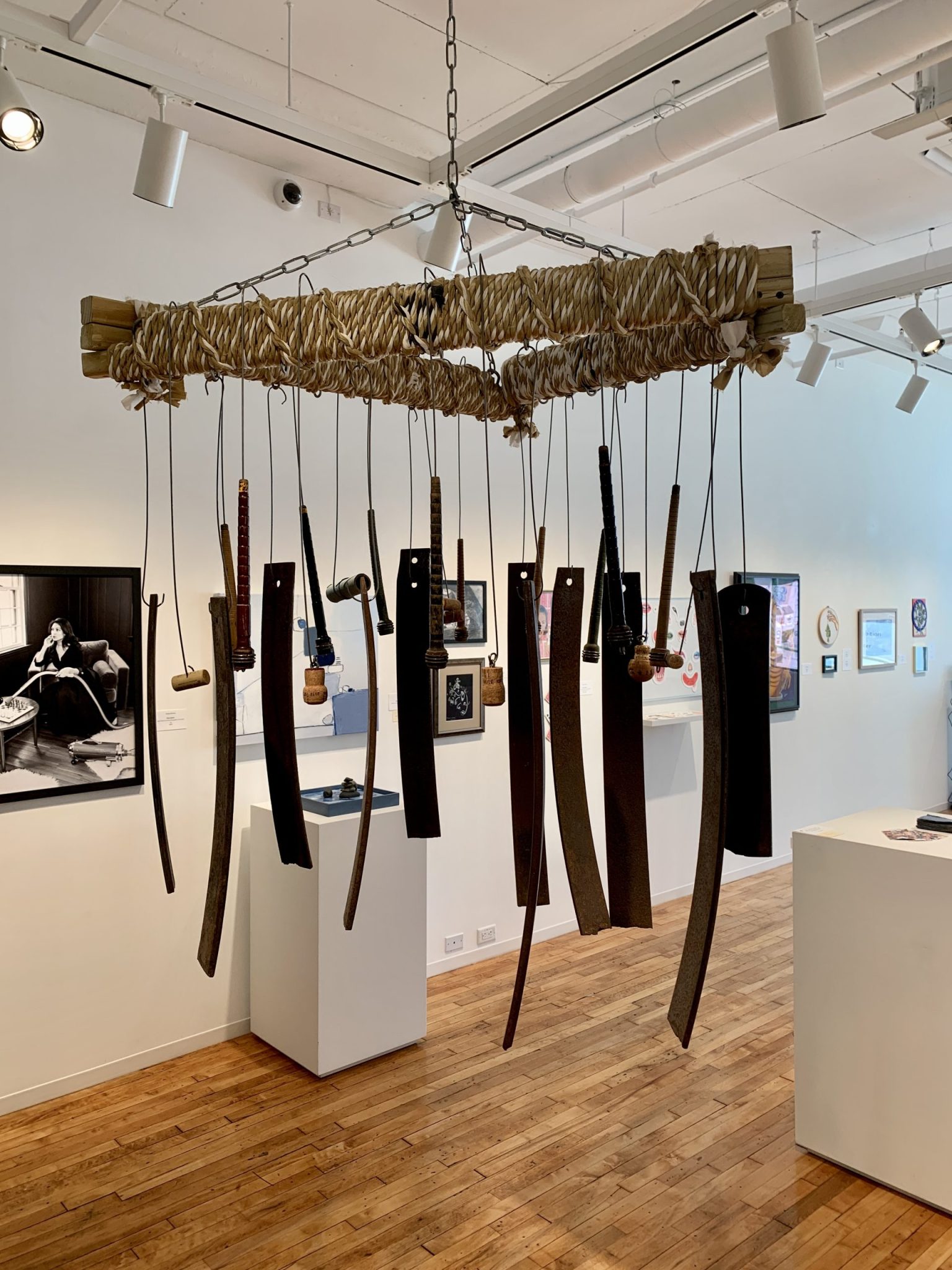 Christopher King
Leaf Spring Xylophone
steel leaf springs suspended from a wooden frame decorated with half-hitched handmade rope, 36" W x 36" H x 36" D, 2020, $300
@kingchrisg
I collect road debris and upcycle these found materials. The thirteen leaf springs in this sculpture each have a distinctive tone and resonance that are presented as an interactive musical instrument. It is designed specifically to be played by up to three players.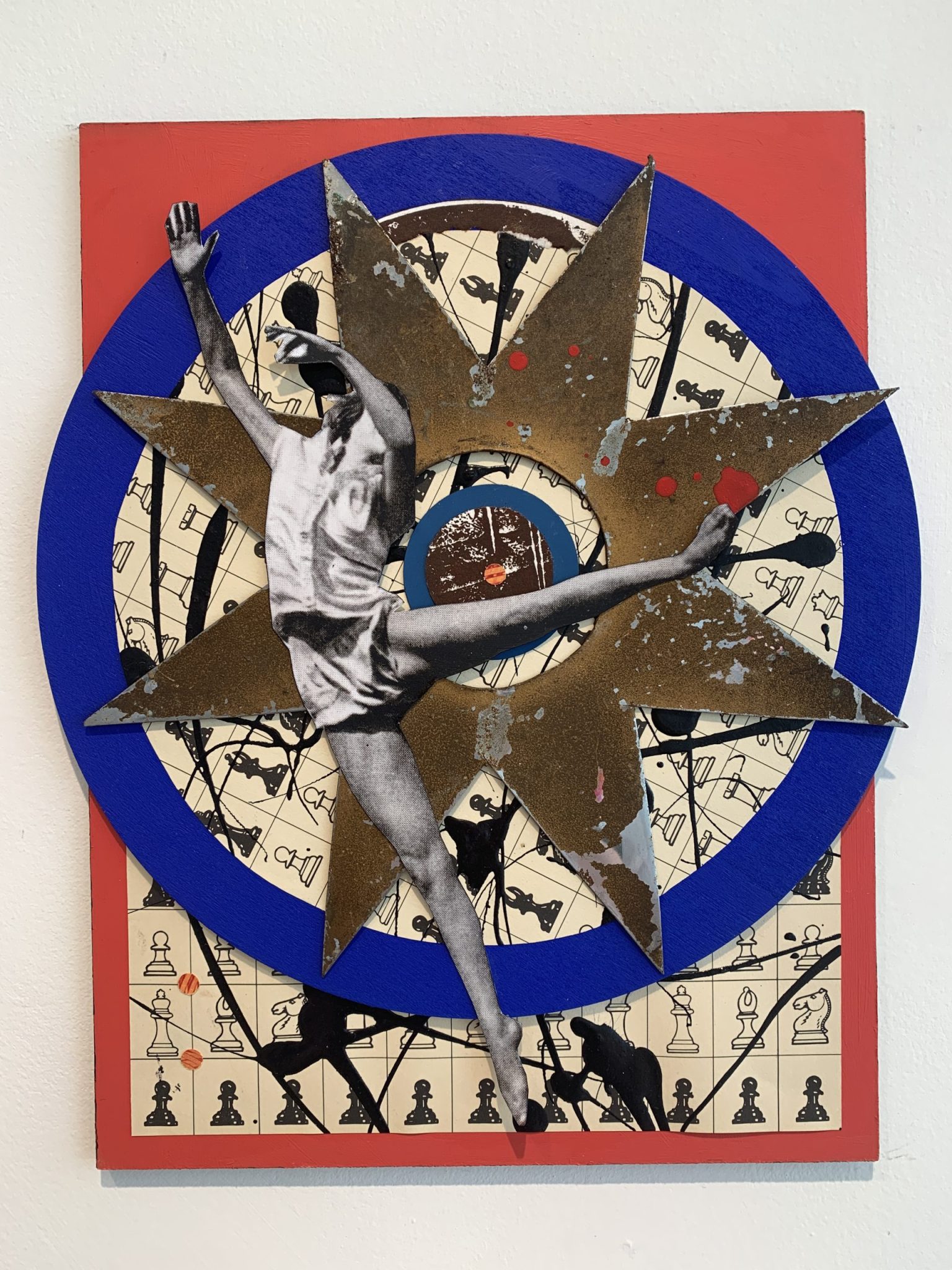 Amy Klausmeyer
High Jump
assemblage on board, 9" x 12", 2022, $275
I attempted to create something playful using found objects, paint and collage. The meaning of the piece can be interpreted in multiple ways and left up to the discretion of the viewer.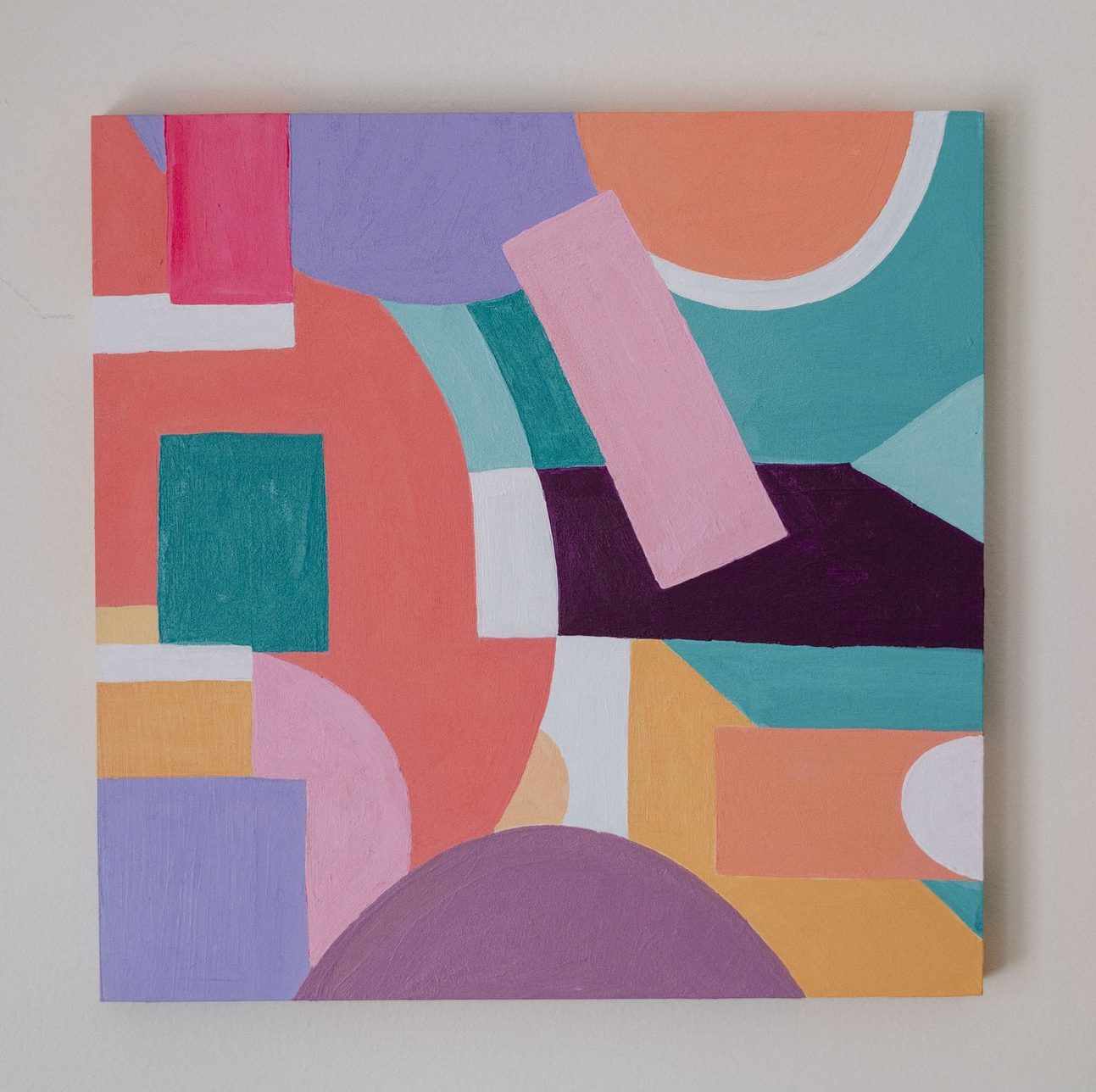 Stephanie Krist
Does he LIKE like me?
acrylic paint on wood board, 12" x 12", 2022, $235
@stephanie_ritacreative
Stephanie is an abstract artist based in Hudson, MA. She has vivid dreams of the art she is supposed to make. This piece is part of the "Anxiety But Make It 90s" ongoing exploratory series, when Stephanie mixes vibrant pop colors and clashing shapes, showing both the joy and worry of growing up in the 90s.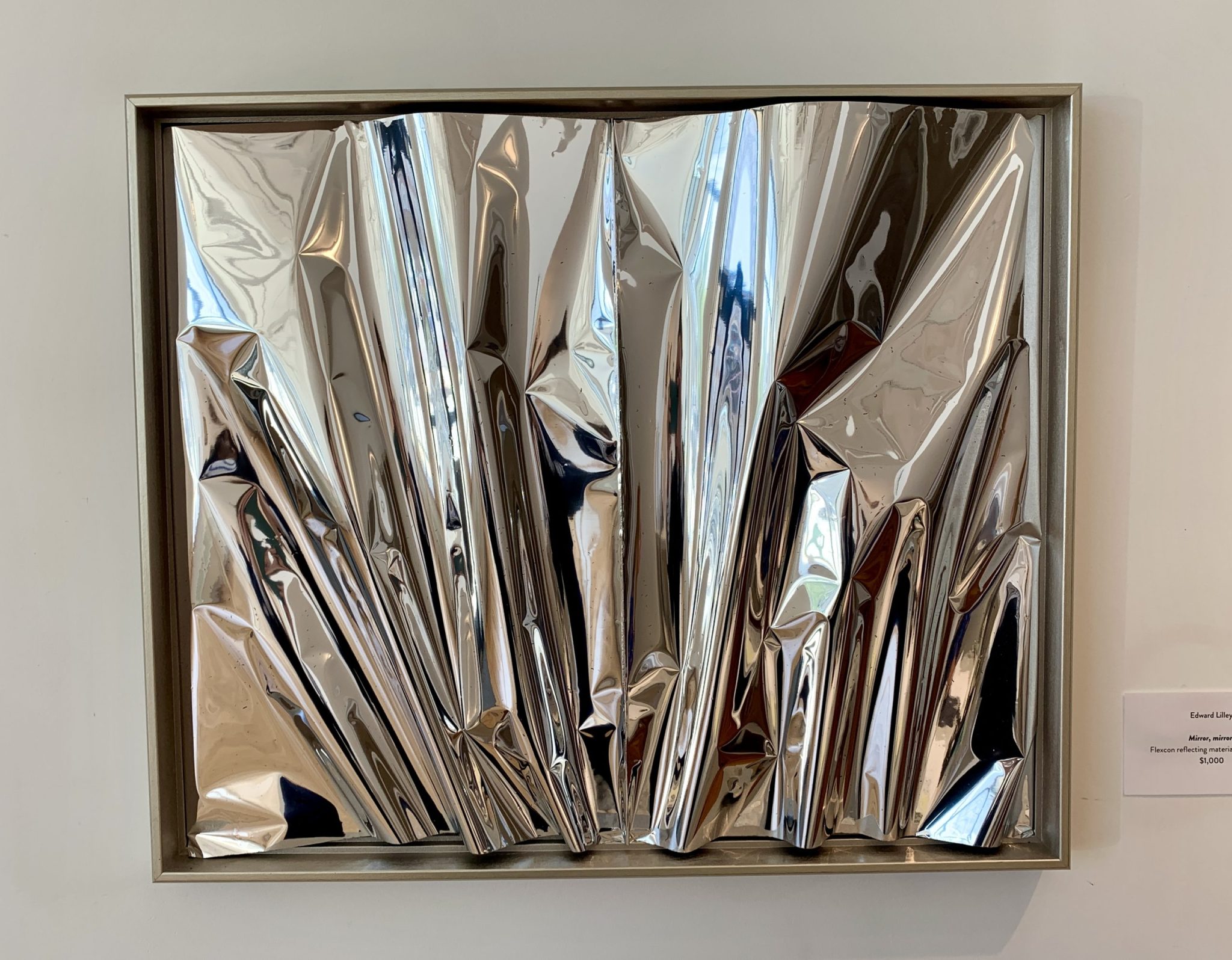 Edward Lilley
Mirror, mirror
Flexcon reflecting material and support, 24" x 24", 2022, $1,000
I am inspired by Anish Kapoor and his reflecting art. His famous Bean in Chicago has become a popular landmark. My offering to Arts Worcester is much more modest in size, but through distortions, the reflected images are more complex. Look slowly and take a photo. Have fun.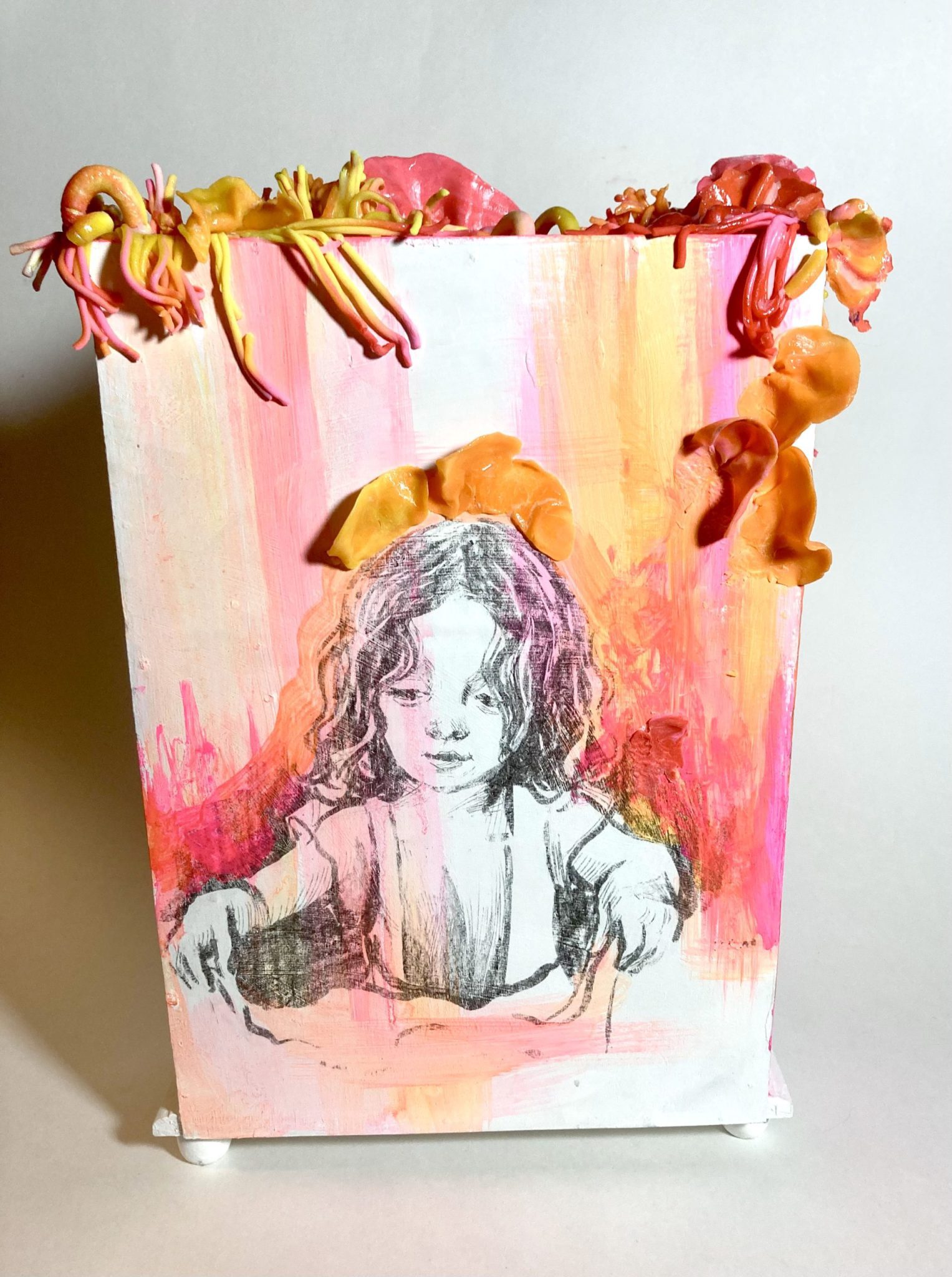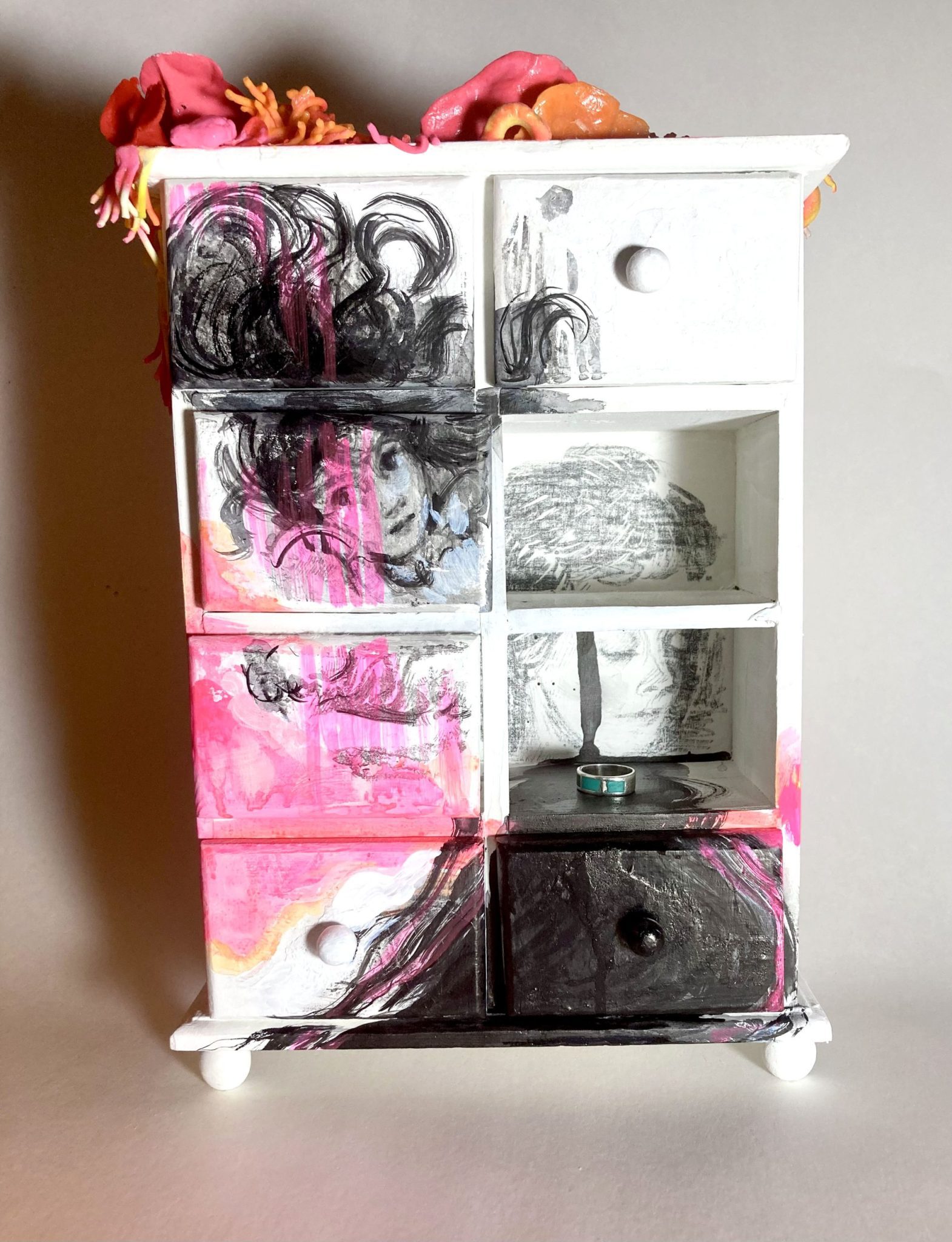 Ashley MacLure
Together
ink on found jewelry box, acrylic, Play-Doh, 8" x 10" x 3", 2022, $700
@ashley.maclure
The Ritual
Ashley MacLure
Trauma sits silent, ready.
The mother guards and protects in silence. The mother shelters and carries.
The daughter permeate, inherit, and remember.
We are never separate from the mothers who came before. Mothers construct boundaries to grief, and rituals for salvation.
Routines from home stay with mothers and daughters; prayers, meals, play, bedtime. Memories nestle. Artifacts are charged by the ceremonies that made them. We honor the good rituals and try to expel the bad.
Daughters permeate, inherit, and remember. The ritual continues.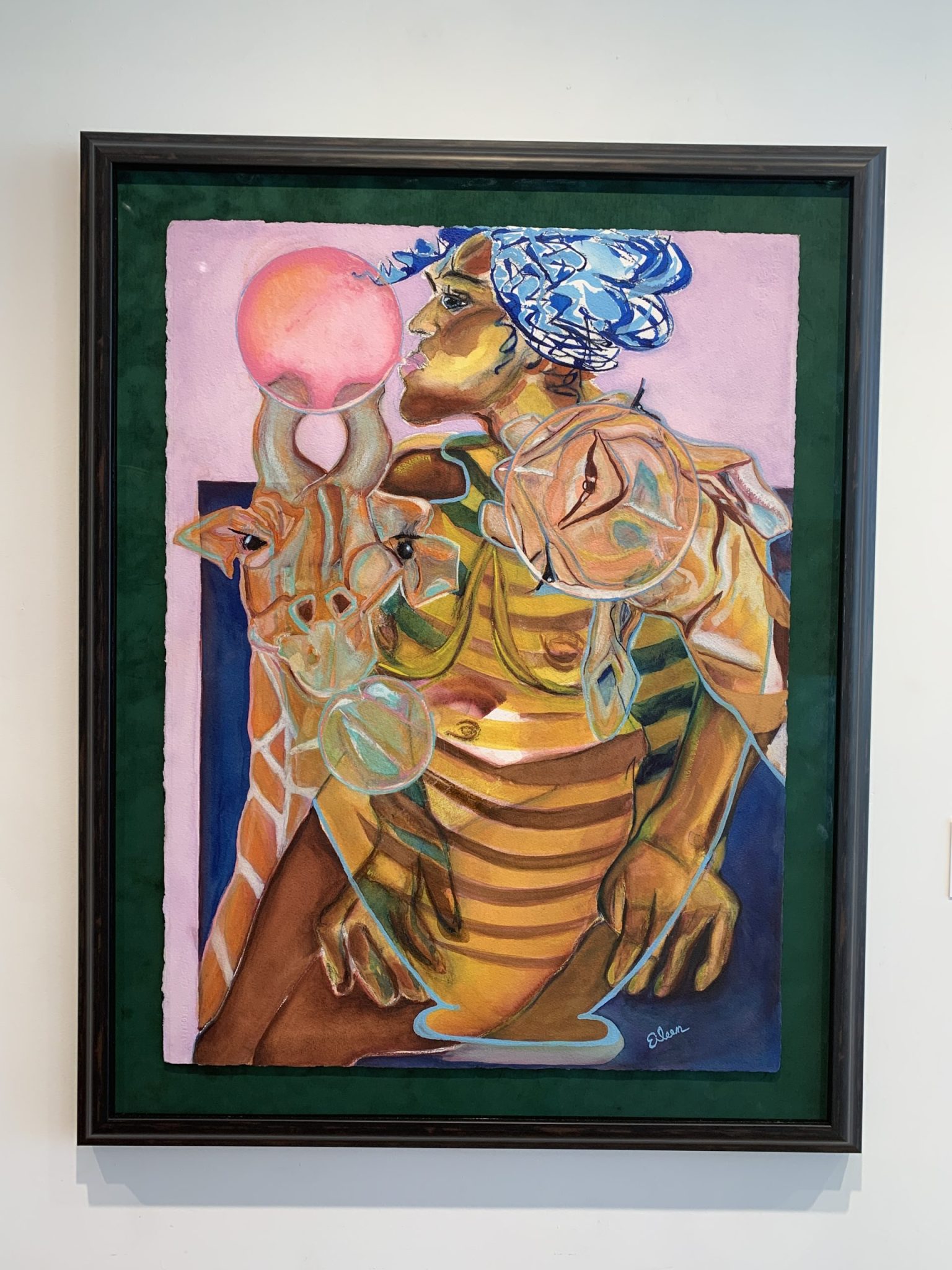 Eileen Mahowald
Harmony 2
Watercolor, 29" x 36 7/8", 2022, $1,100
I have enjoyed 30 years of family life with my husband and children cultivating joy and appreciation in our ordinary lives.
It was 22 years since I painted. I dove back into my Art 3 years ago with my favorite subjects of people and living beings captured with the expressive quality in moments of space and time. With an emphasis on portrait and the figure as they relate with humility and the human experience of sacred endeavor and regular ways of being. Images captured and composed with whimsy, humor, tenderness and fearlessness of basic goodness, with a dash of irony.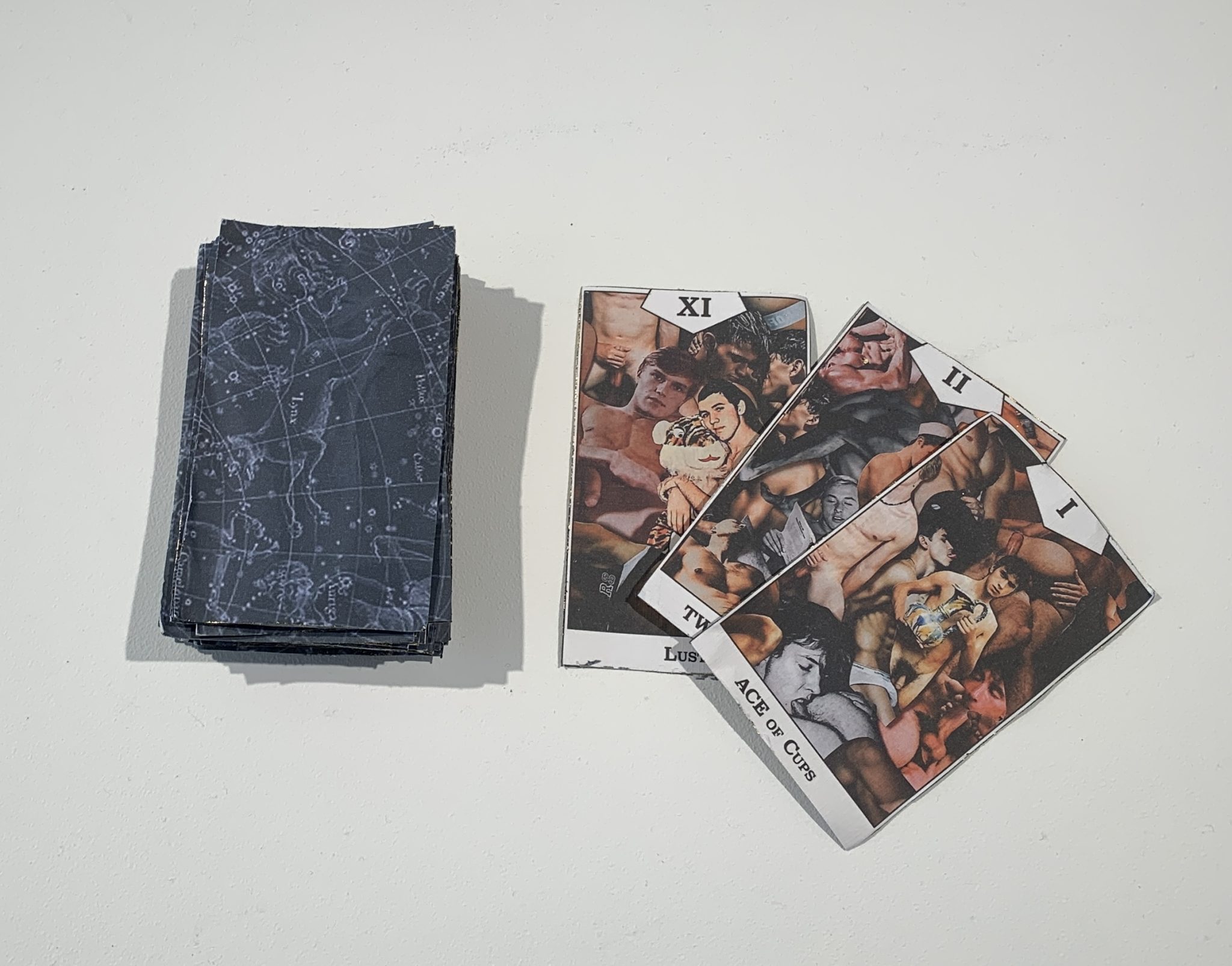 Nathan Manna
The Faerie Queen Tarot
digital collage printed on linen paper, 20" x 20" x 20", 2021
@nathandmanna
Tarot as a form of cartomancy, or divination via cards, is an ancient art dating back to roughly the 15th century in Milan, Italy, and Marseilles, France. The original tarot deck is built on opposites and one of the major dichotomies is male versus female. The deck represents an extremely heteronormative viewpoint.
For my piece I wanted to completely obliterate that viewpoint, and ask what does a queer future look like? That answer is not so simple. One would think the answer from 50 years ago, and today, would be very different but is it? Queer individuals can create their own futures, and communities, but hate crimes still exist, and queer youth are on the frontlines of numerous conservative political agendas. Aesthetically, I wanted the work to have the feeling of timelessness so chose imagery from several different decades and aged the individual cards by hand. It feels lived-in as queer people have been building their own futures for millennia.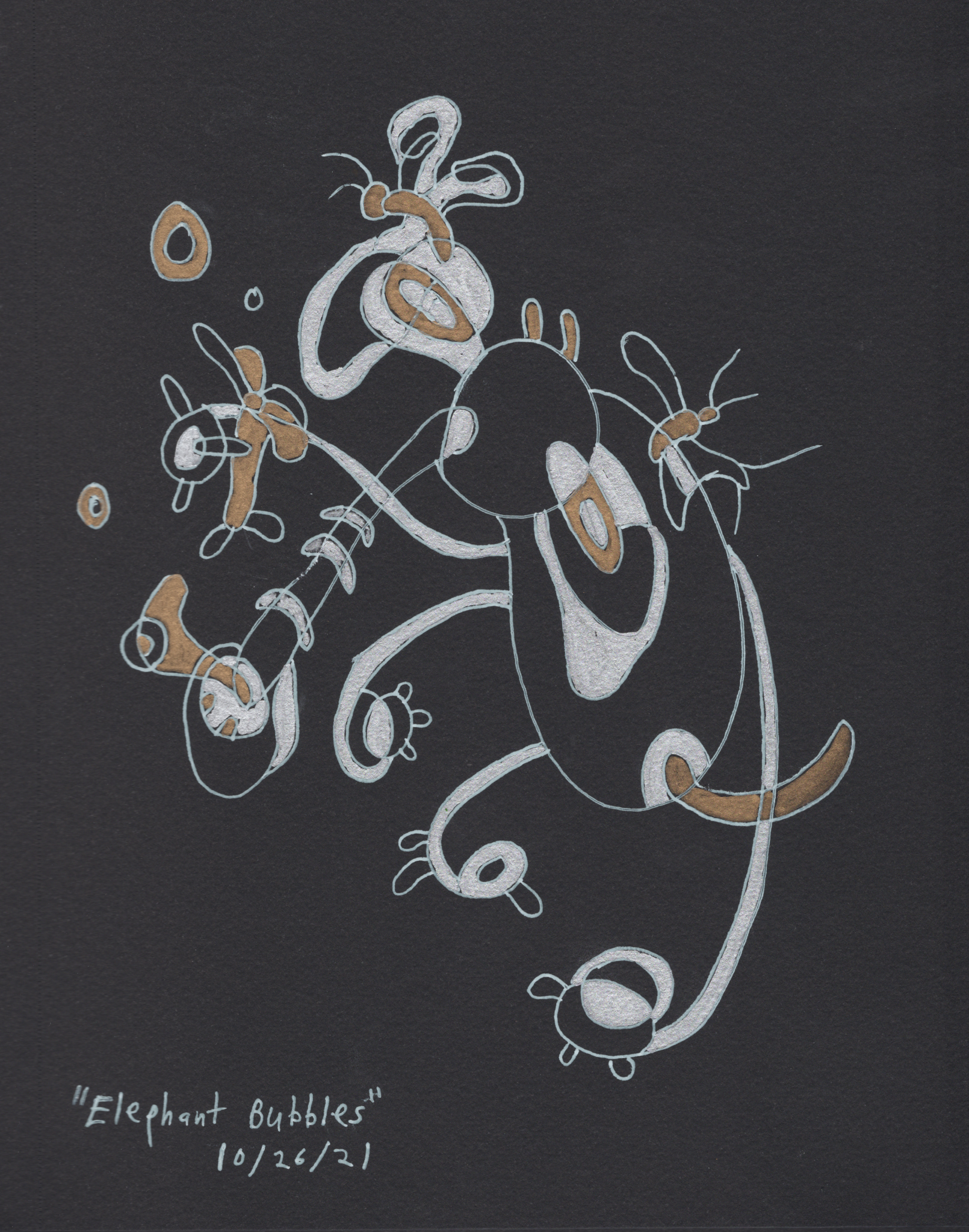 Parker Milgram
Elephant Bubbles
Uni-Ball Signo gel pen and Sharpie on paper, 7" x 9" image, 11" x 14" frame, 2021, $250
@parkermilgram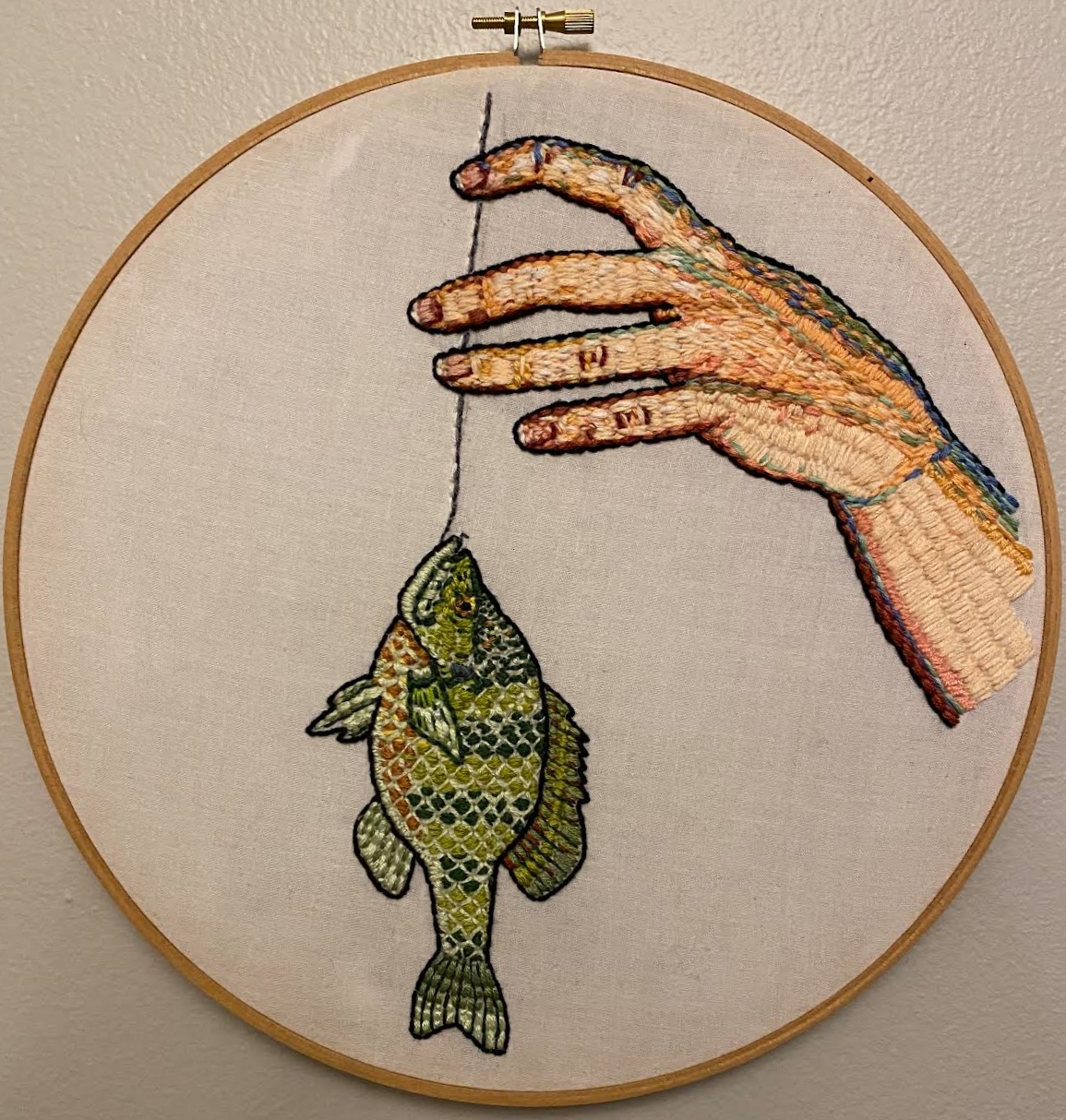 Abigail Moon
Pumpkinseed
embroidery on cotton, 10" x 10", 2021, Not For Sale
I made this embroidery of my hand holding a fishing line with a Pumpkinseed on the hook. The photograph I used for a reference was taken when I went fishing with my mom in the summer of 2020. I don't fish very often and I threw back all the fish I caught that day. I like to make embroideries of my hand interacting with different objects in part because embroidery is a tactile art form and it's interesting for me to think about other tactile experiences I have had while I work with the needle and thread.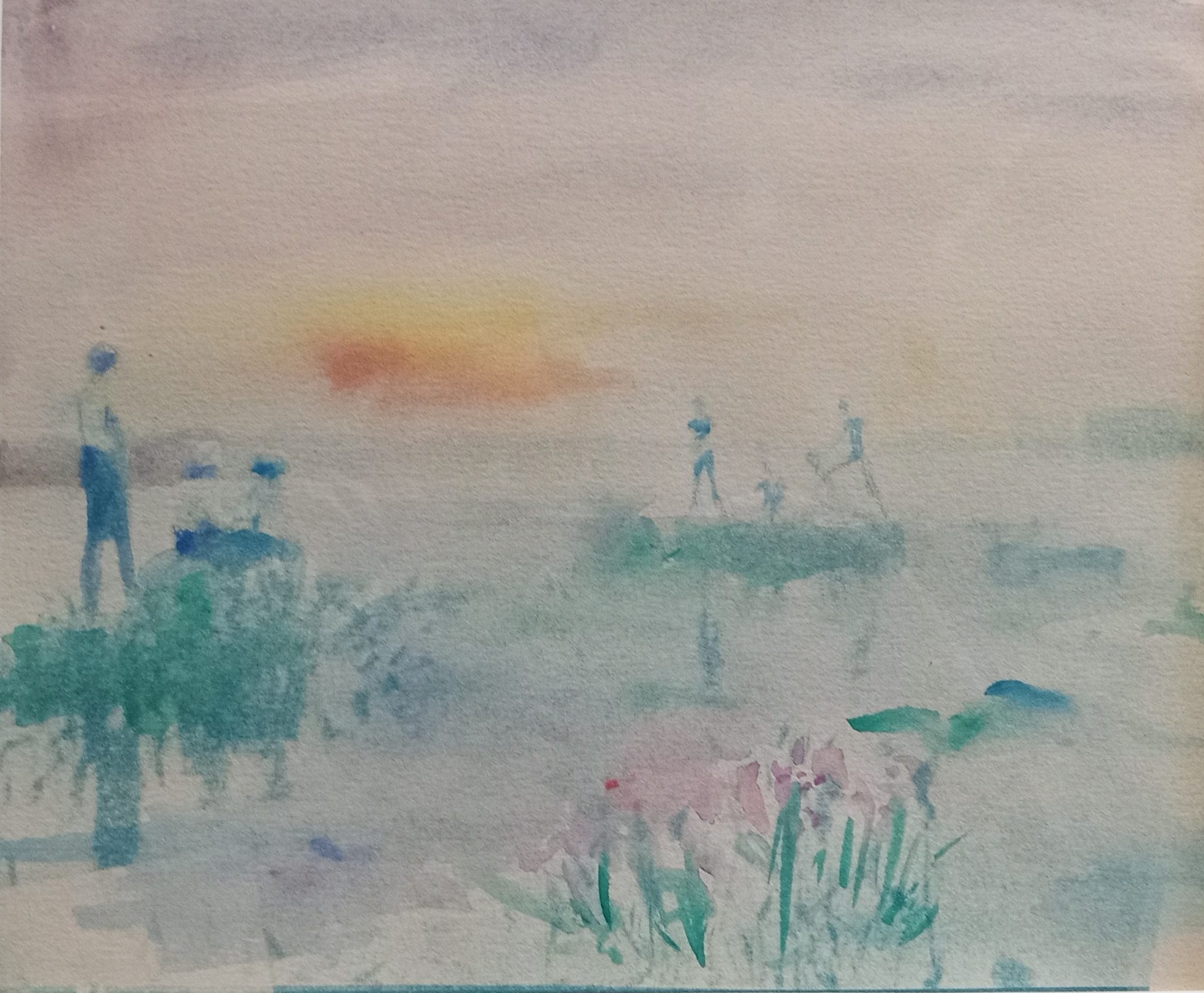 Helen Obermeyer Simmons
Across the Water
cyanotype and watercolor on artists paper, 20" x 16", 2020, $1,200
The image harkens to a period when young people created games for themselves. I imagine the figures calling back and forth to each other from the small islands on the edge of a lake.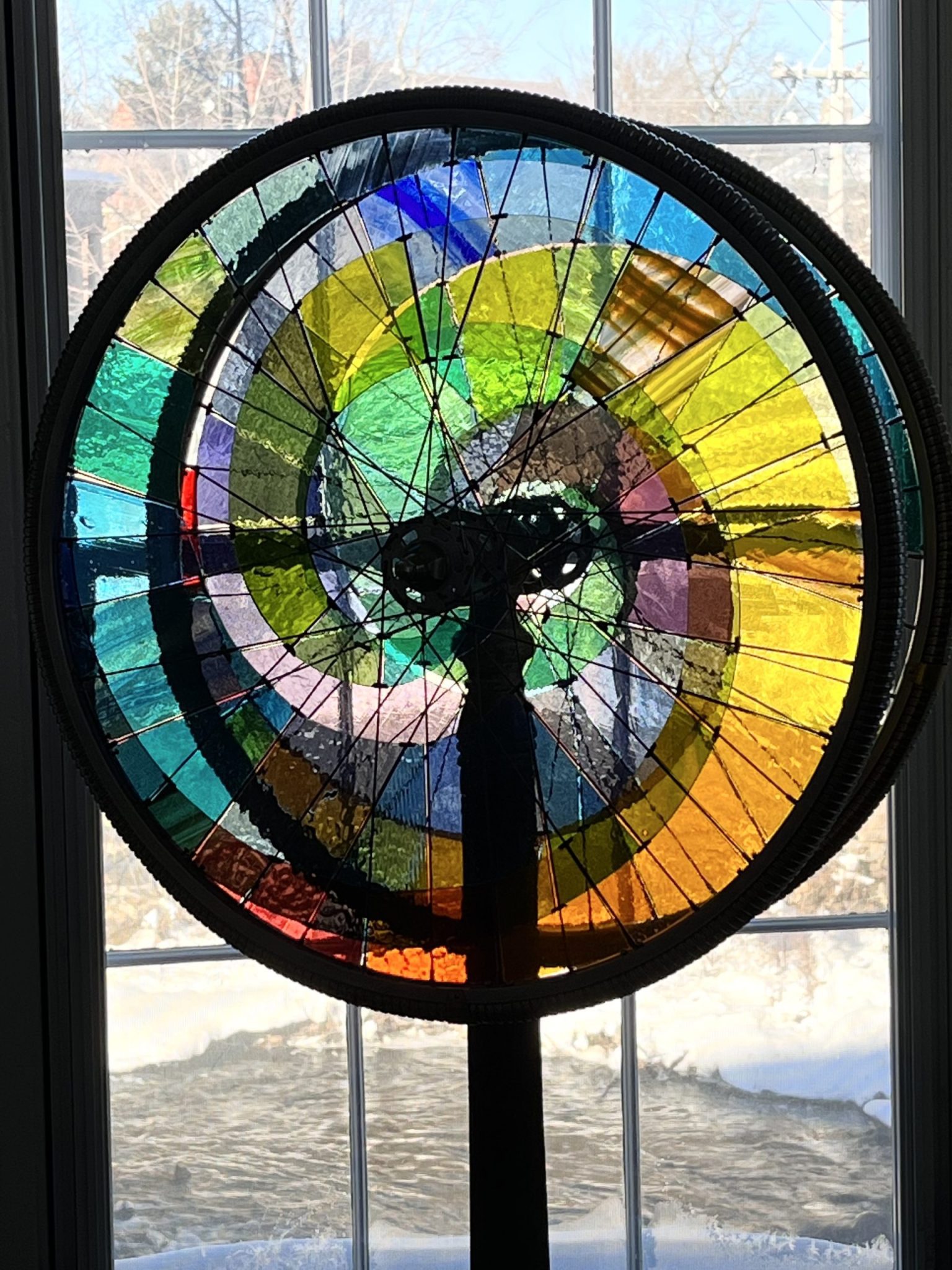 -Juror's Prize-
Stephen Paulson
Kaleidacycle
colored glass, bicycle wheels, and found objects, 78" H x 30" W x 20" D, 2019, $7,500
@stephenpaulson48
All I can say is, spin and enjoy the colors.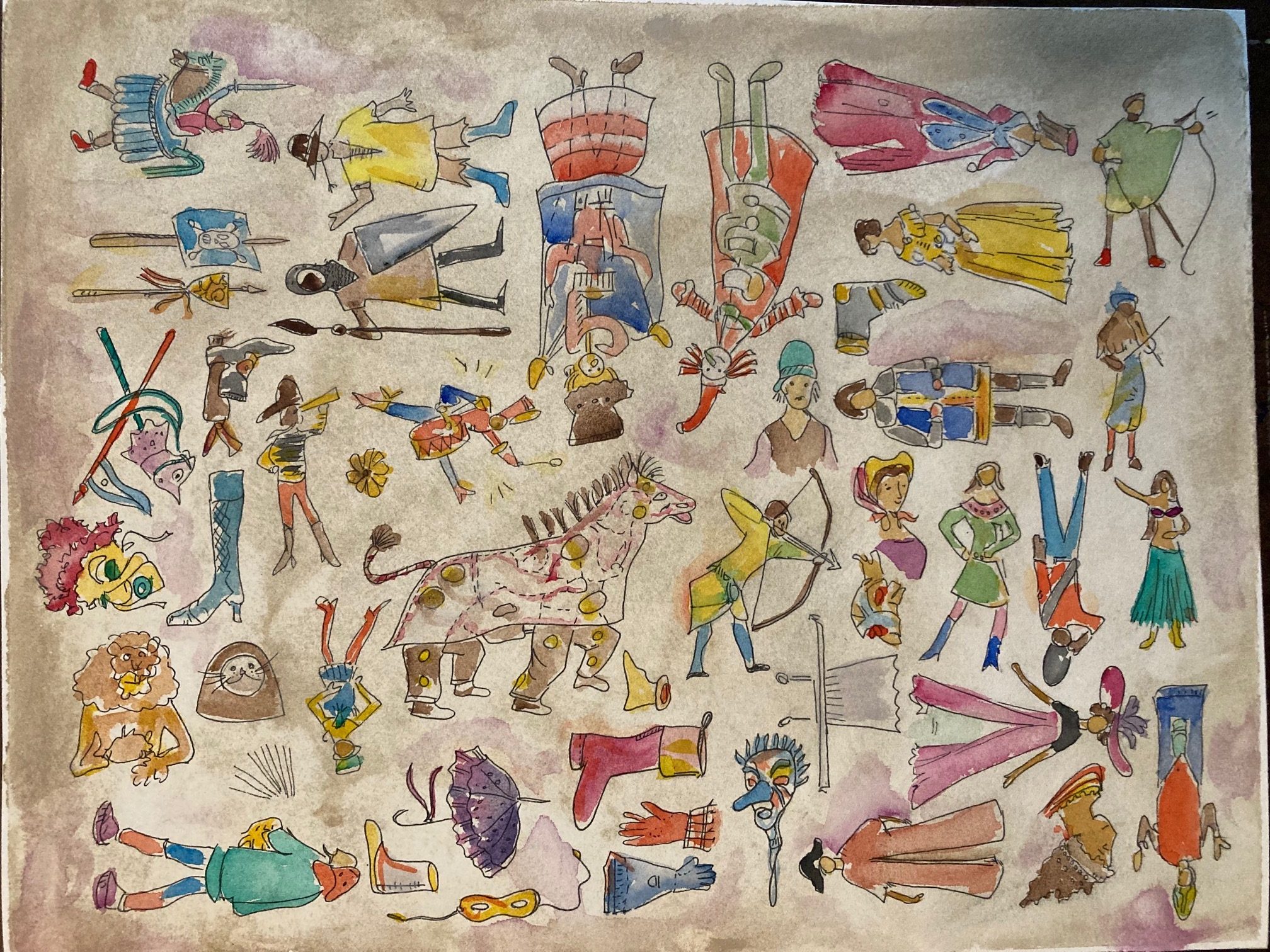 Jackie Penny
Dress up
watercolor, 11" x 14", 2022, $165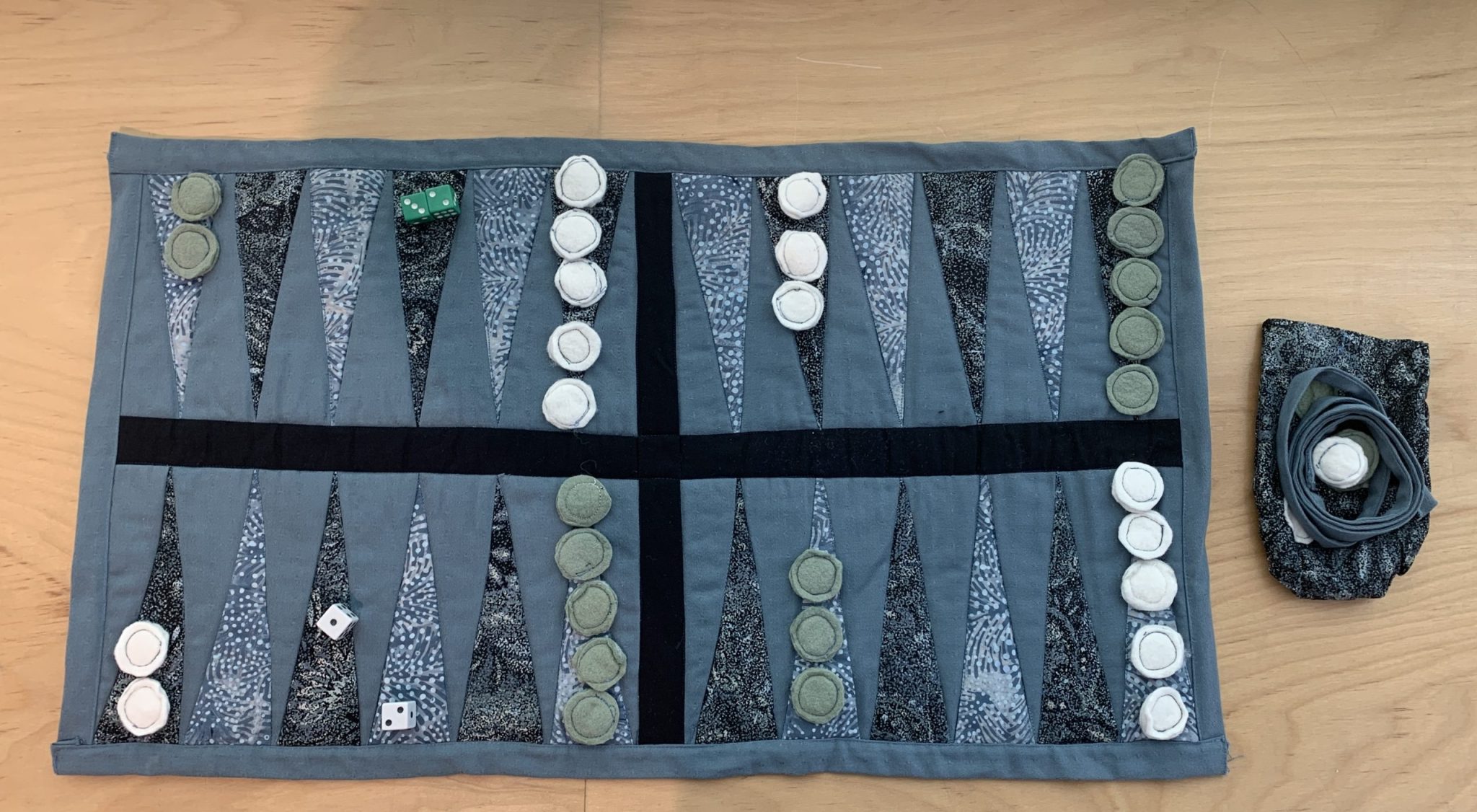 Eve Rifkah
Backgammon
Fabric, 24" x 14", 2020, $125, additional copies available by commission
I believe that the daily items we use in our lives should be beautiful and well crafted. This backgammon set can be rolled up to take little space and put into a washer to clean. Everything except the dice is handmade made.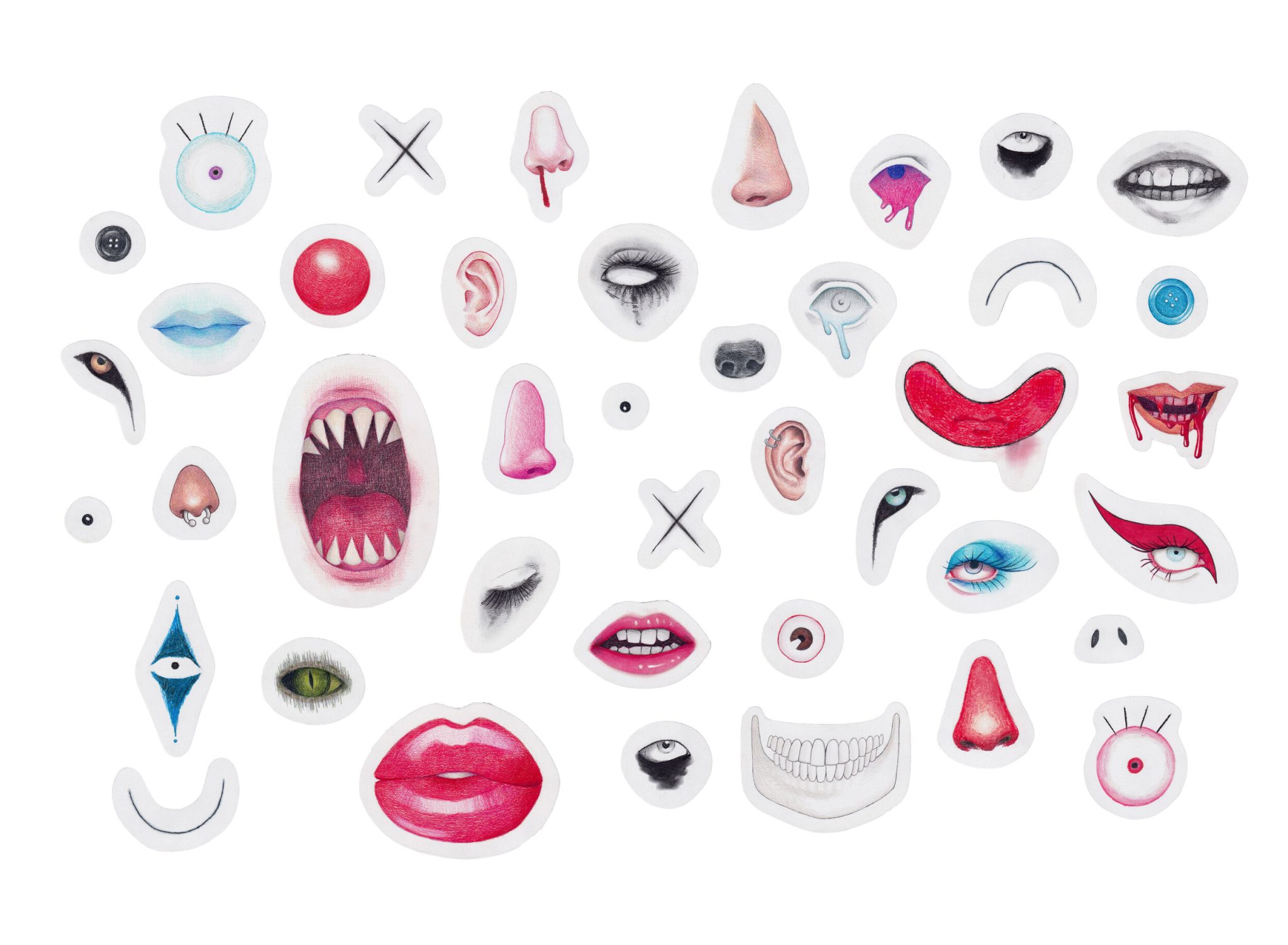 Emma Rose Roche
Untitled (Magnets)
mixed media, 24" x 36", 2020, Not For Sale
@outgrown_art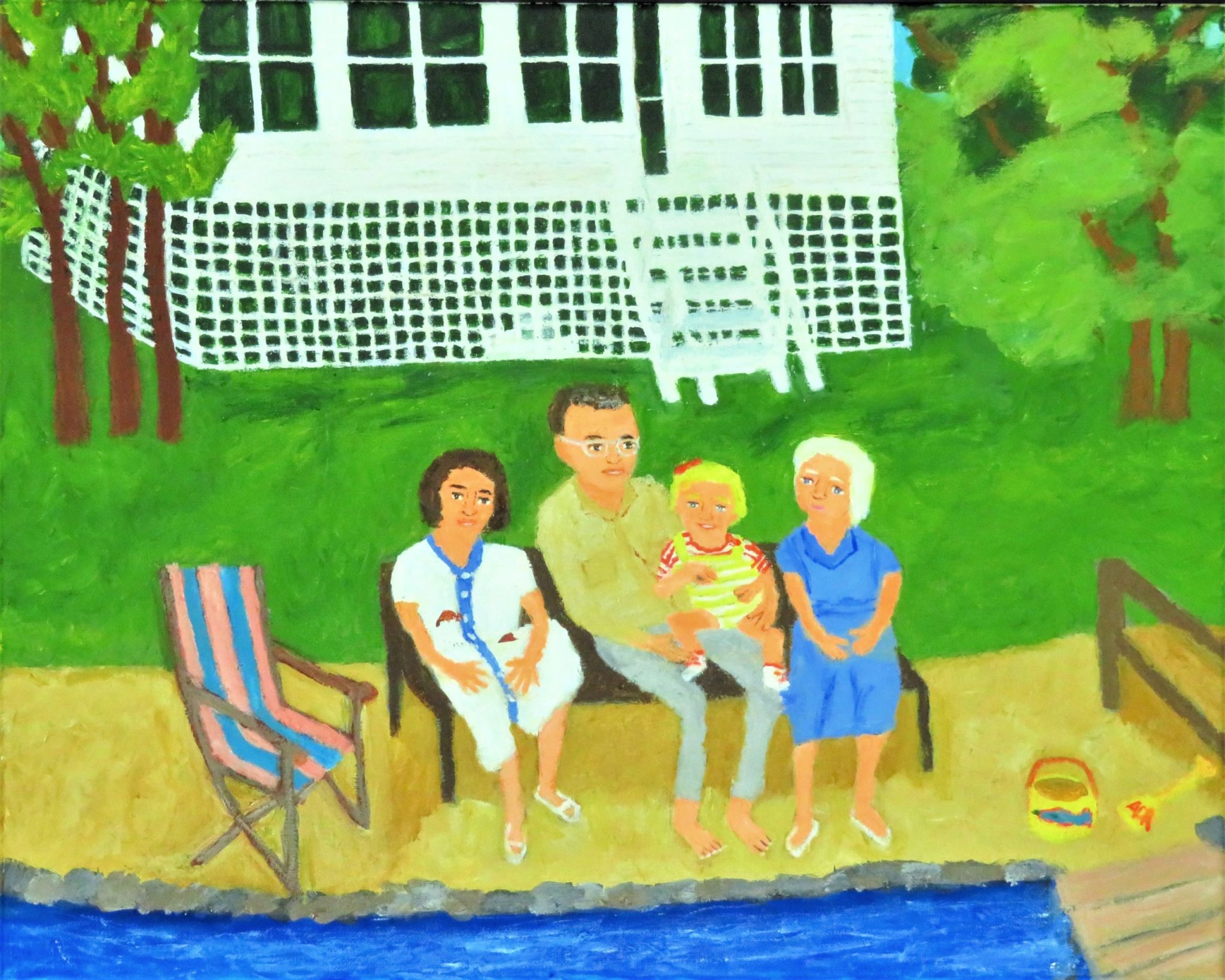 Ann Rosebrooks
Camp
acrylic on canvas, 16" x 20", 2021, $350
Created from a black and white photo with artistic additions.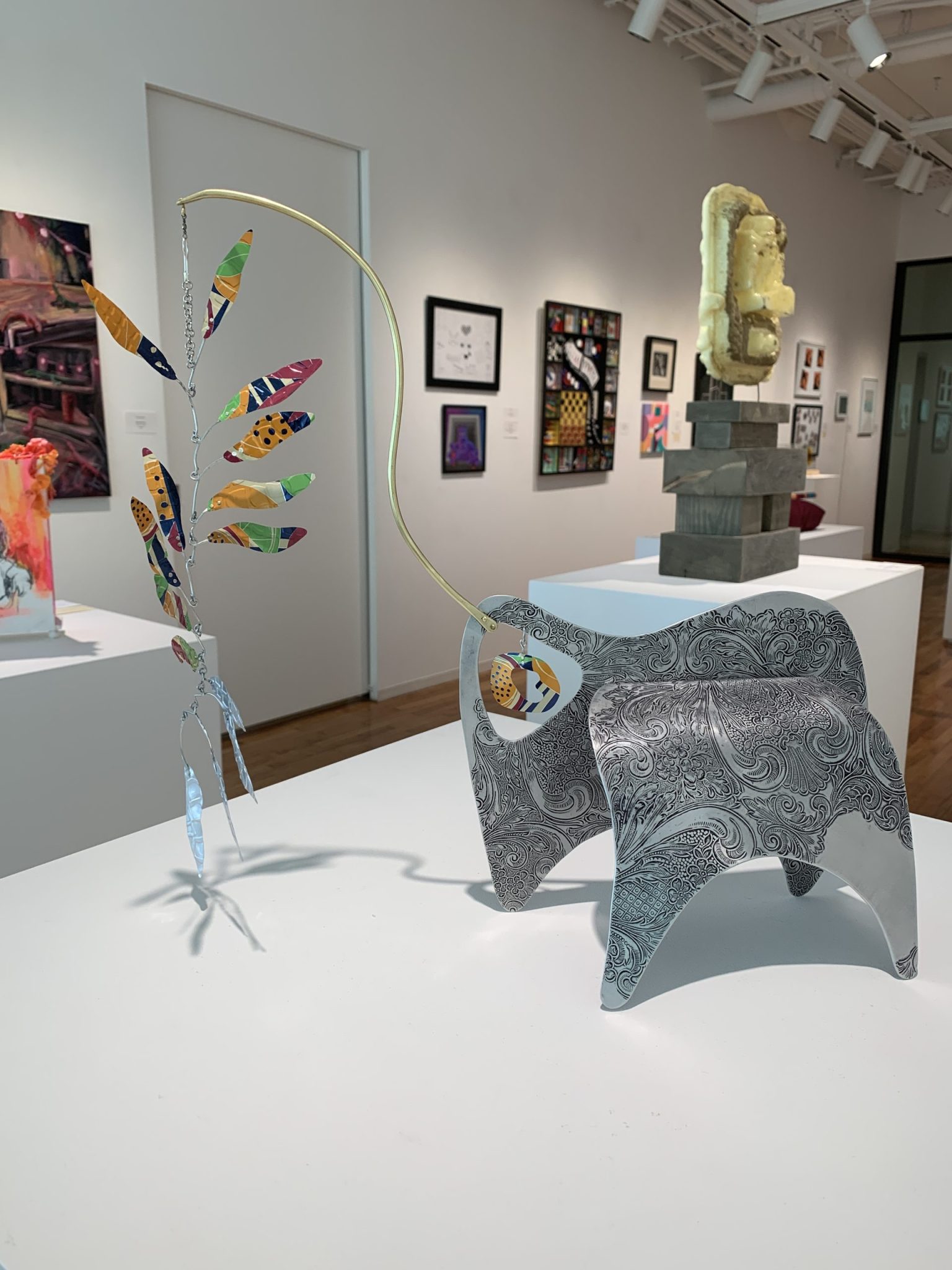 -Honorable Mention-
Donna Rudek
Tabletop Abstract Spine Mobile #1
recycled aluminum tray, beer cans, brass, galvanized steel wire, stainless steel, sterling silver, finished with hard metal wax to protect from UV damage, 18" H x 16" W x 8" D, 2022, Not For Sale
@sculptureworks
I have worked with metal for the last few years in order to incorporate it into my sculpture. I am especially concerned with recycling and often use alternative materials in my work. I have been influenced by the modernist movement, especially the mobiles and jewelry of Alexander Calder, in trying to move toward greater abstraction in my work. This piece is a first in a series. It's not for sale, because it took a great deal of time to execute. Thanks go to Pam Farren for technical advice on this piece.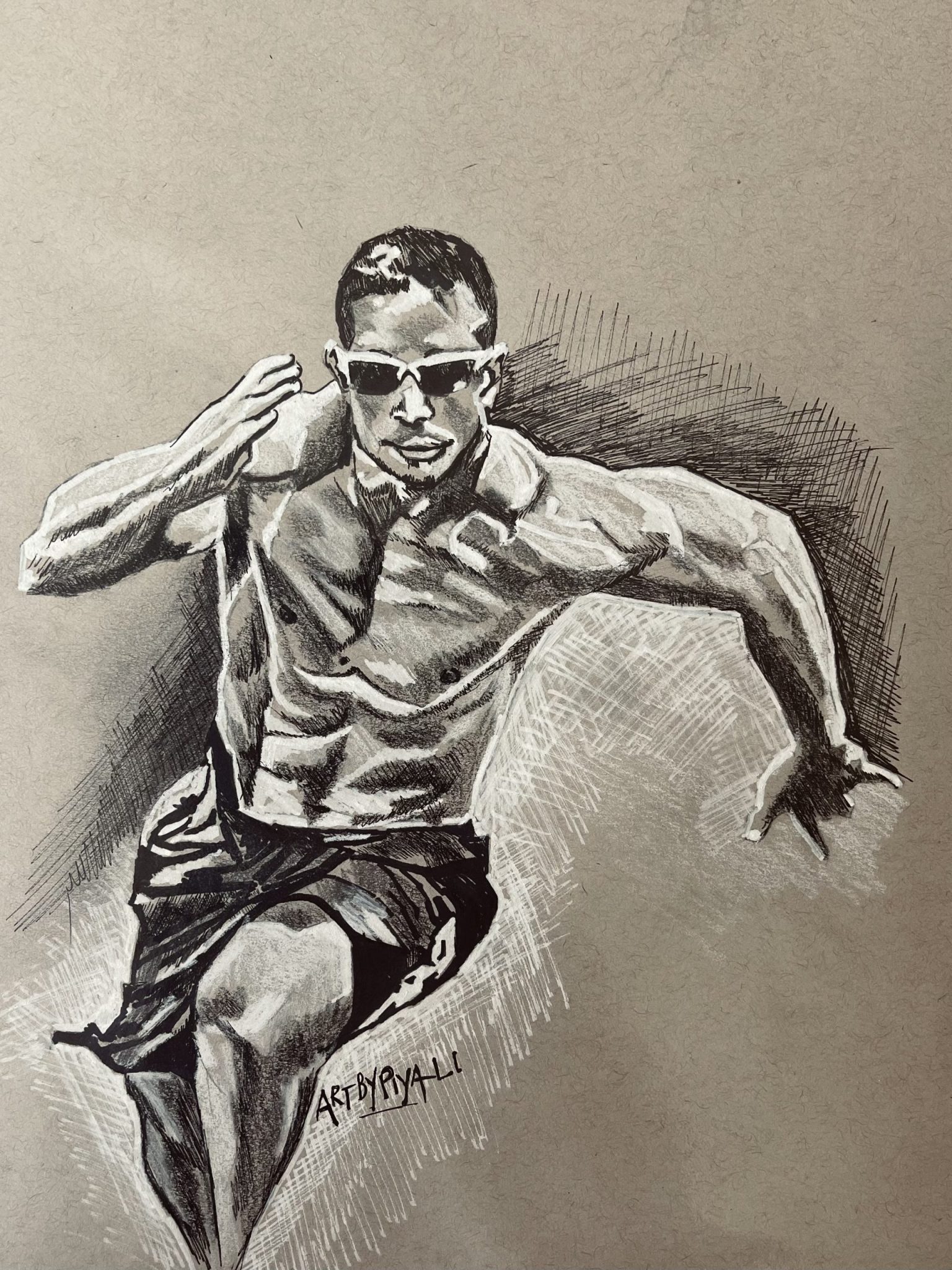 Piya Samant
Take It In Stride
ink on paper, 12" x 9", 2018, $250
@art.by.piyali
Sprint races are one of the oldest games. They were part of the original Olympic Games in the 7th century B.C. Sprint racing was also part of the first modern Olympic games which started in the late 19th century and are an important current day sport as well.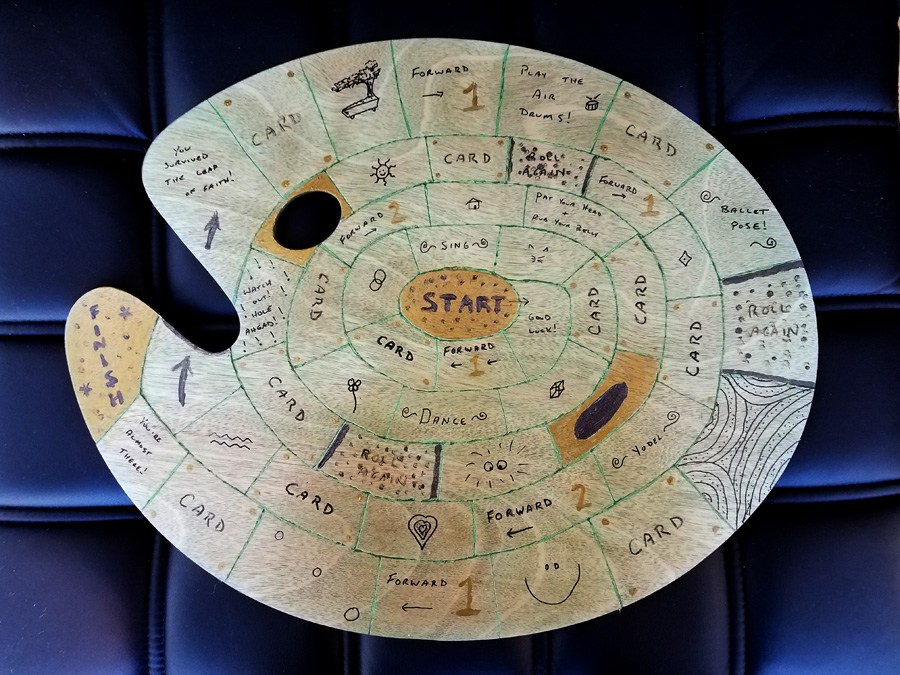 Lisa Shea
Creativity
watercolor and ink on wood, 18" x 12" x 1", 2019, $50
@lisasheama
Creativity thrives when it is nurtured and explored. This game encourages players to try something new and explore unusual directions.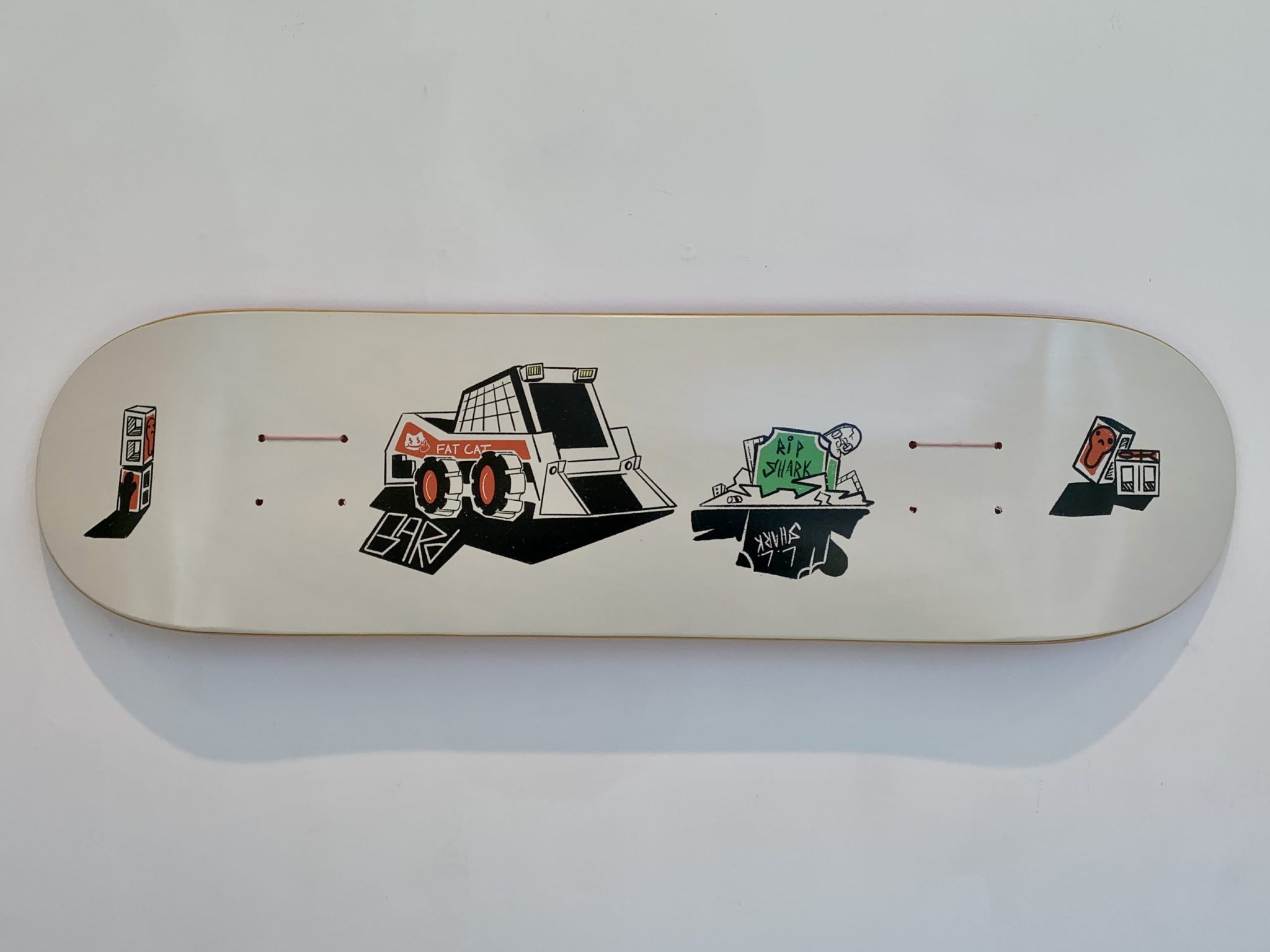 Ryan Smith
Thanks For Nothing
digital illustration heat transferred onto skateboard, 8.5" x 30", 2022, $200 (sold)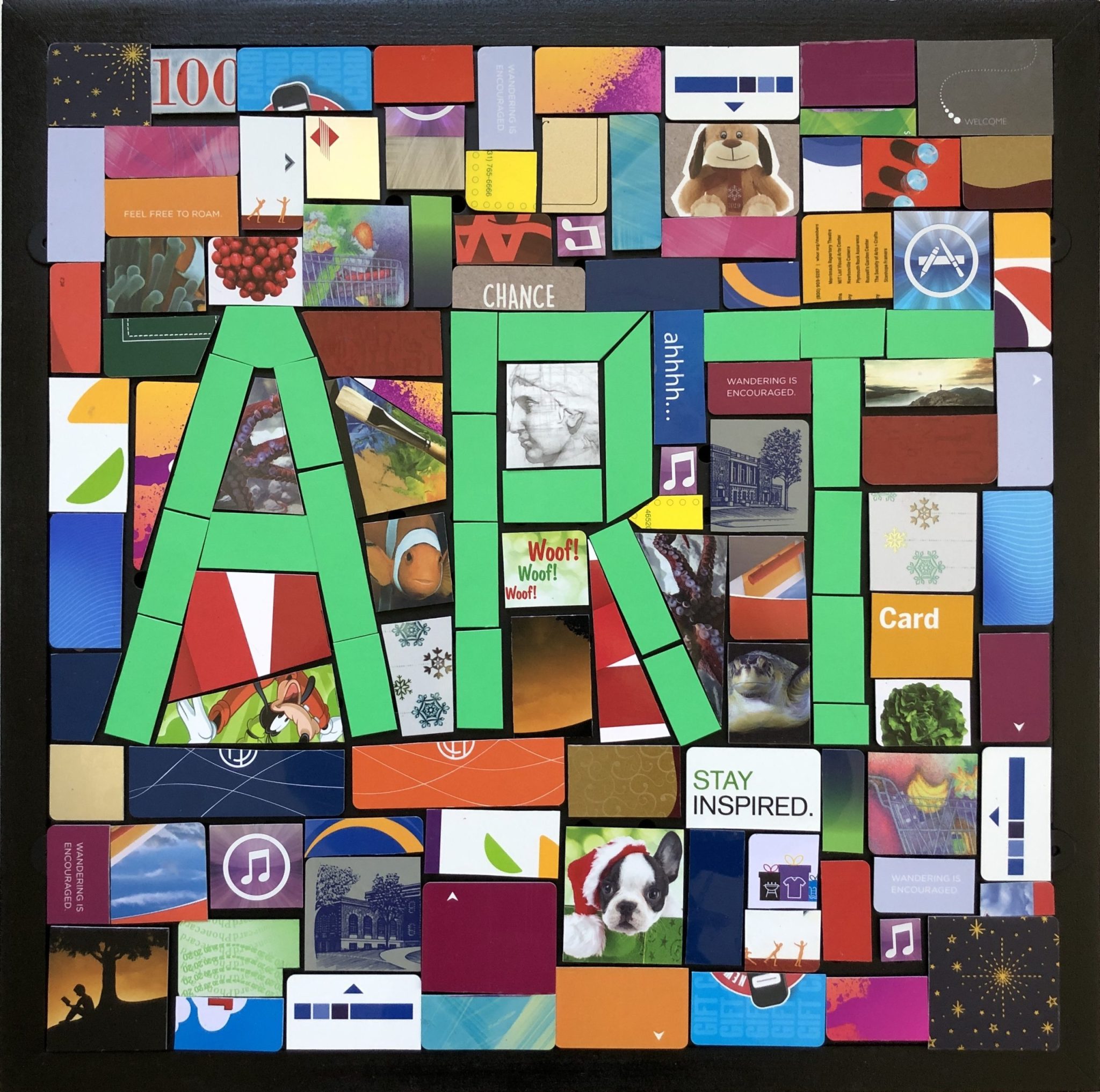 Tracy Spadafora
ART
recycled gift cards and membership cards attached to a steel pegboard with magnets, 18" x 18" x 1.5", 2022, $750
@tracyspadafora
I have been saving plastic gift cards and membership cards for many years. I use them in the studio as tools for various art processes. I realized I had collected a lot over the years and thought the colors and designs would make a nice art piece. I chose to attach the plastic card pieces to a steel support with magnets to make the work more interactive and playful, like magnets on a refrigerator. The word Art (which is also the title of the piece) was added for fun, to emphasize that anything can be up-cycled and transformed into art.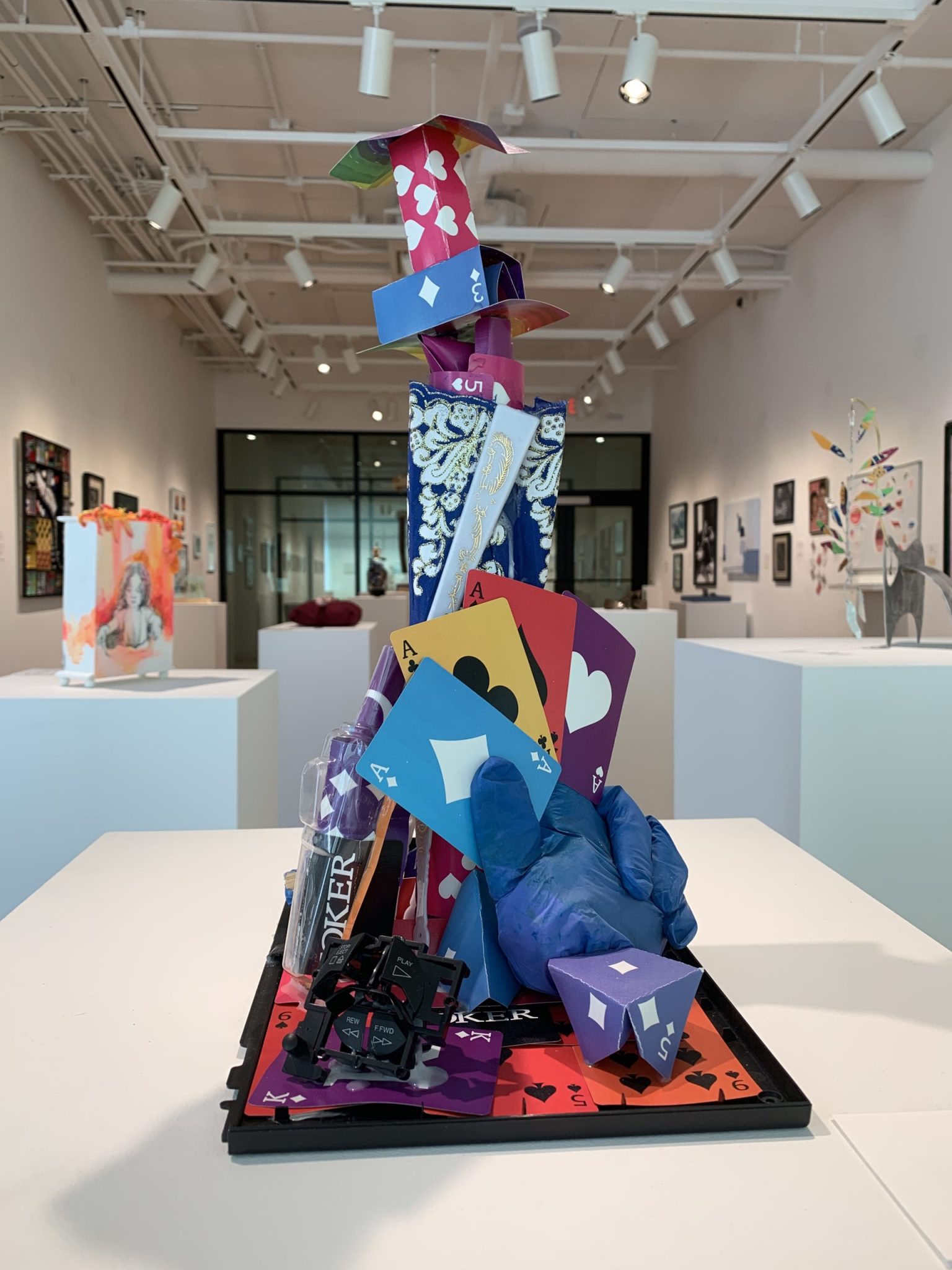 Sierra St.Onge
Temporary Thrills
recycled materials, 14" x 8" x 17", 2022, $175
Using pieces of a broken VCR, a deck of cards, and other objects found in my home, Temporary Thrills came to be. This piece is about the fun one can have while taking risks, but also shows the dark side. There is a duality to gambling. Wishing you could have a do over, but no one can rewind time. The house always wins.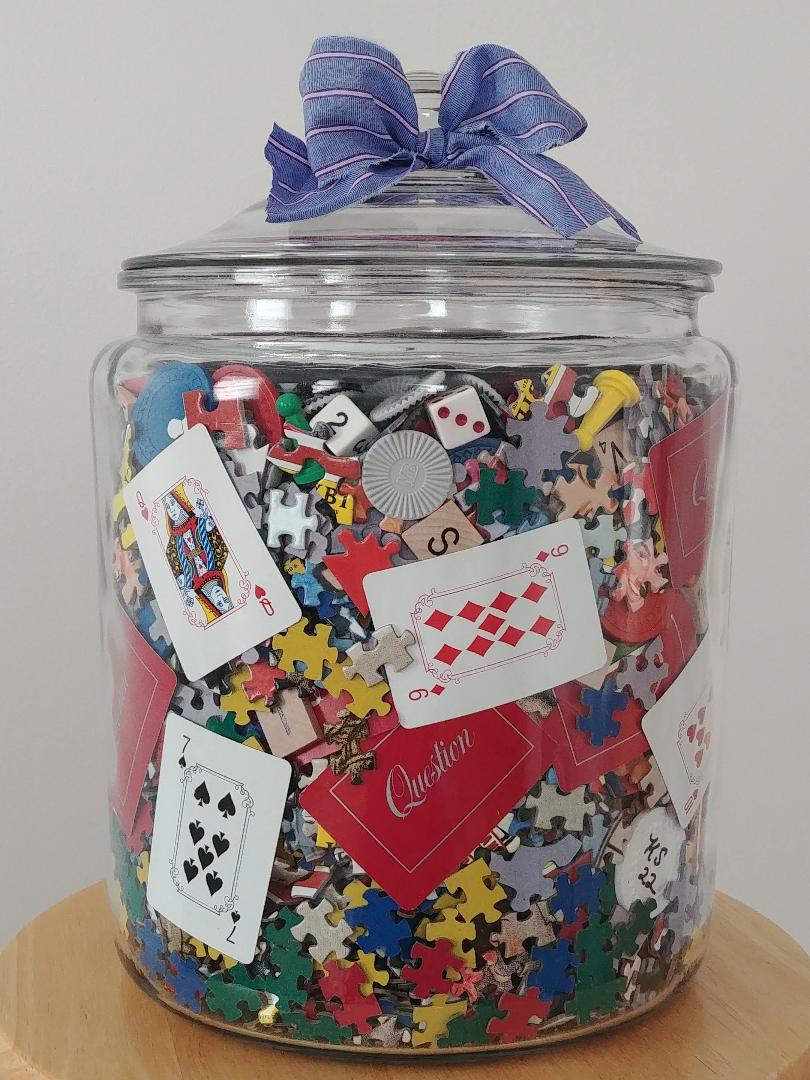 Karen Stokke
Winner Takes Art!
game and puzzle pieces with playing cards in glass jar, 14" x 10" x 10", 2022, Not For Sale
How many objects are in the jar, according to the artist's count? Submit your best guess in-gallery along with your name and email on the provided paper, fold it, and drop it in the box. If your guess is correct, or the closest to being correct, you win the art!
The competition runs the length of the exhibit, and each person may submit once. After the exhibit closes, the winner will be contacted by ArtsWorcester to arrange a time to pick up the art.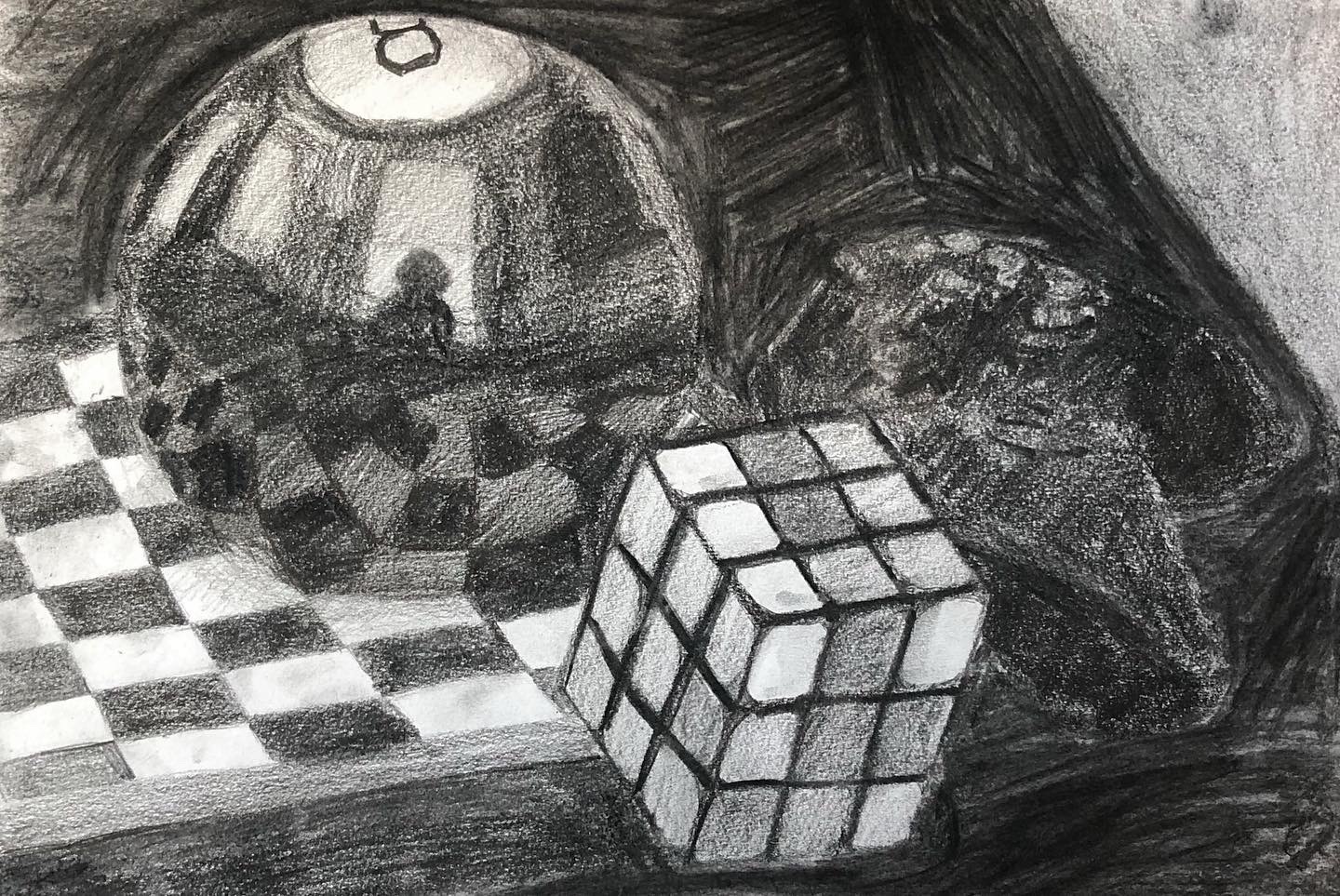 Jacob Strock
Games
graphite and charcoal on mixed-media paper, 11" x 14", 2021, $150
@jacodst.art
"Games" depicts an assortment of toys and play items, a Magic 8-ball, chess board, Rubik's cube, and an X-box controller. Each of these items come from a different area of play - chess and Rubik's cube are more cerebral, the 8-ball is more mental and mythic, and the X-box controller symbolizes how technology has influenced games and leisure. Chess has a long long history, and an X-box does not, but they each sit on my coffee table.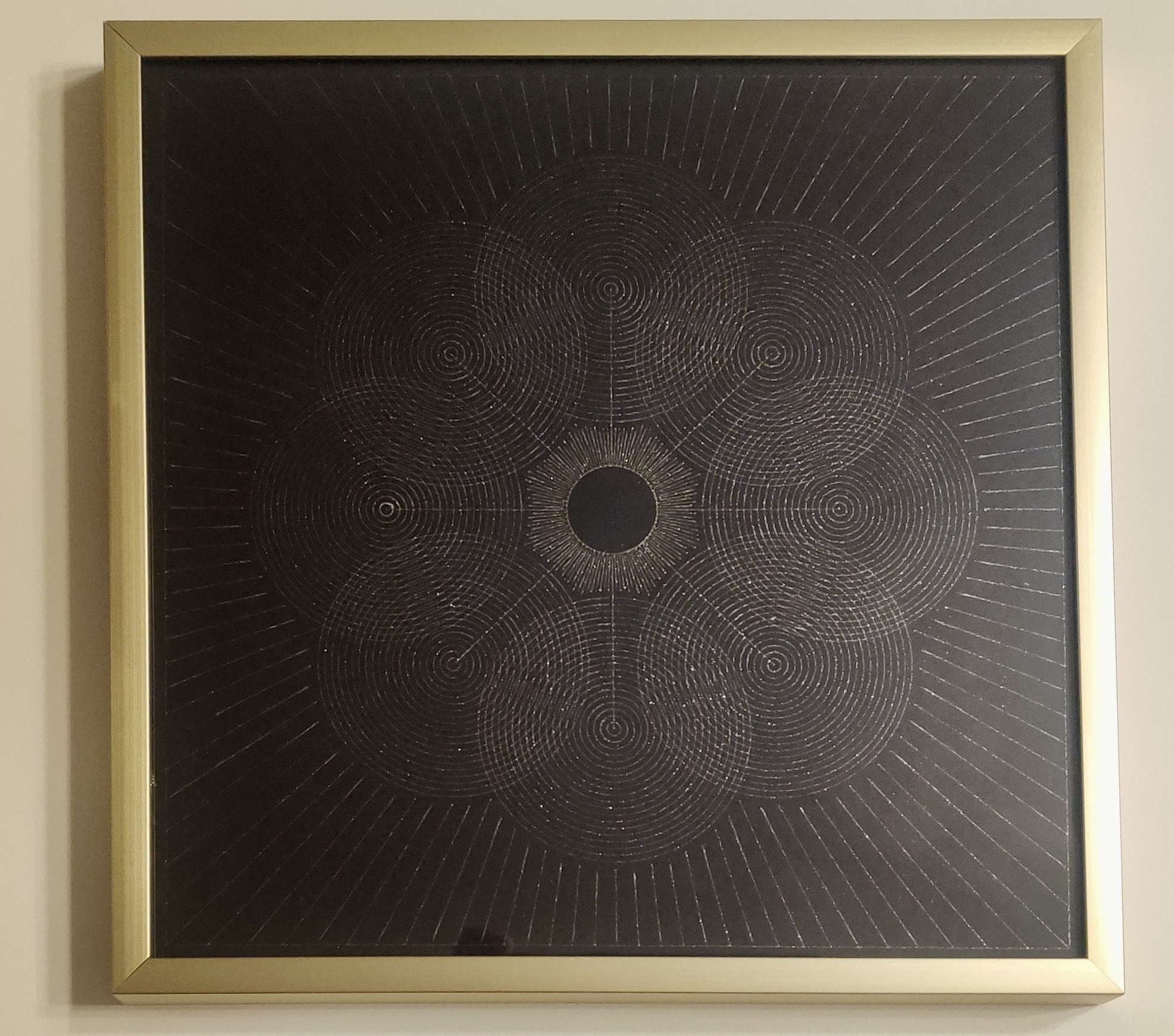 Richard Suls
Facilisi nullam vehiculA
pen and ink, 8" x 8" framed, 2022, $200
@rsuls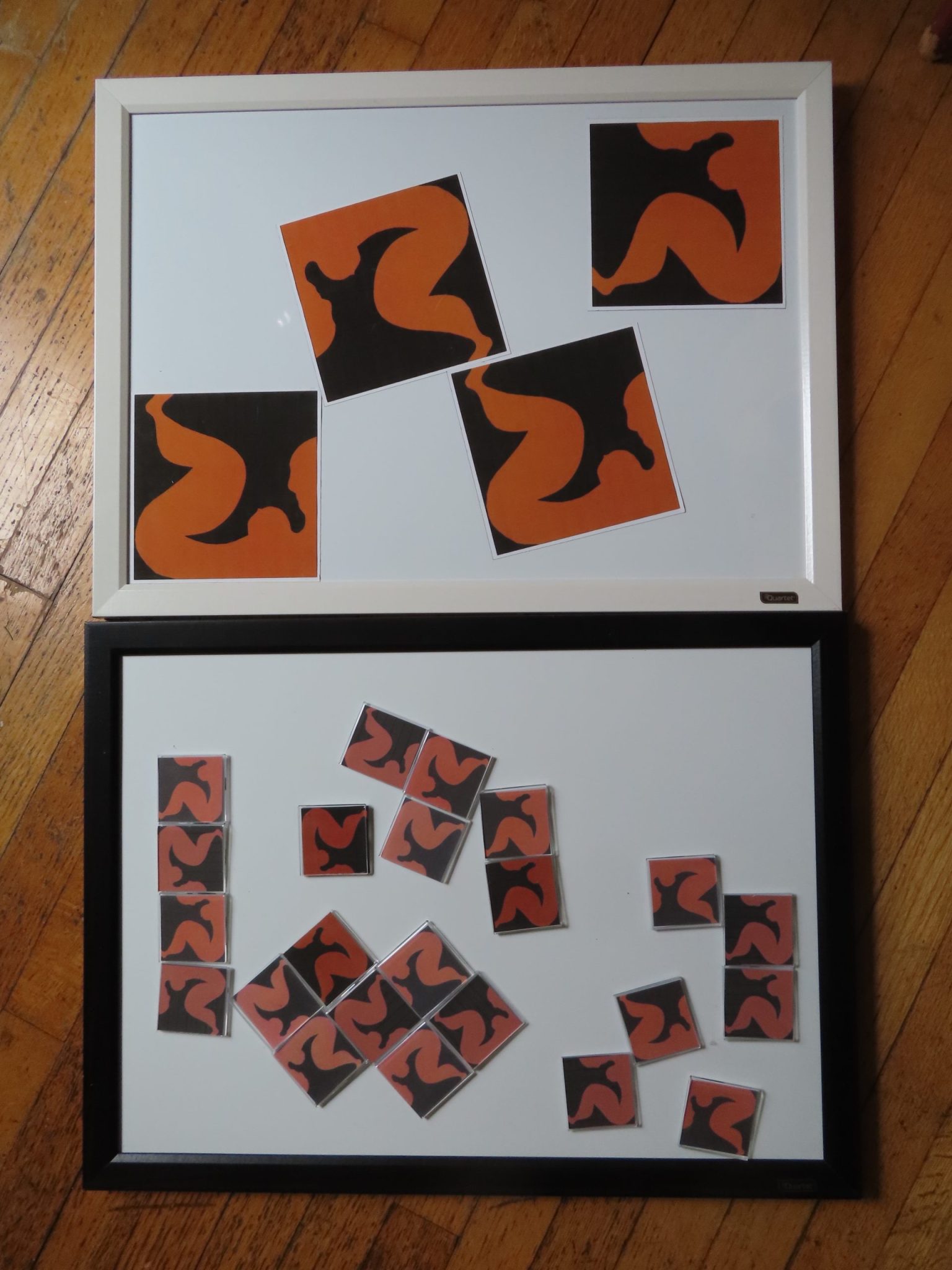 Cathy Taylor
Be Still
magnetic boards, magnets with original design, 23" x 34", 2017, Not For Sale
@cathy_weaver_taylor
Be Still!!
It is hard to be still, and over time wiggling is bound to happen.
Explore repeating shapes, reverse patterns, and negative space with this interactive piece.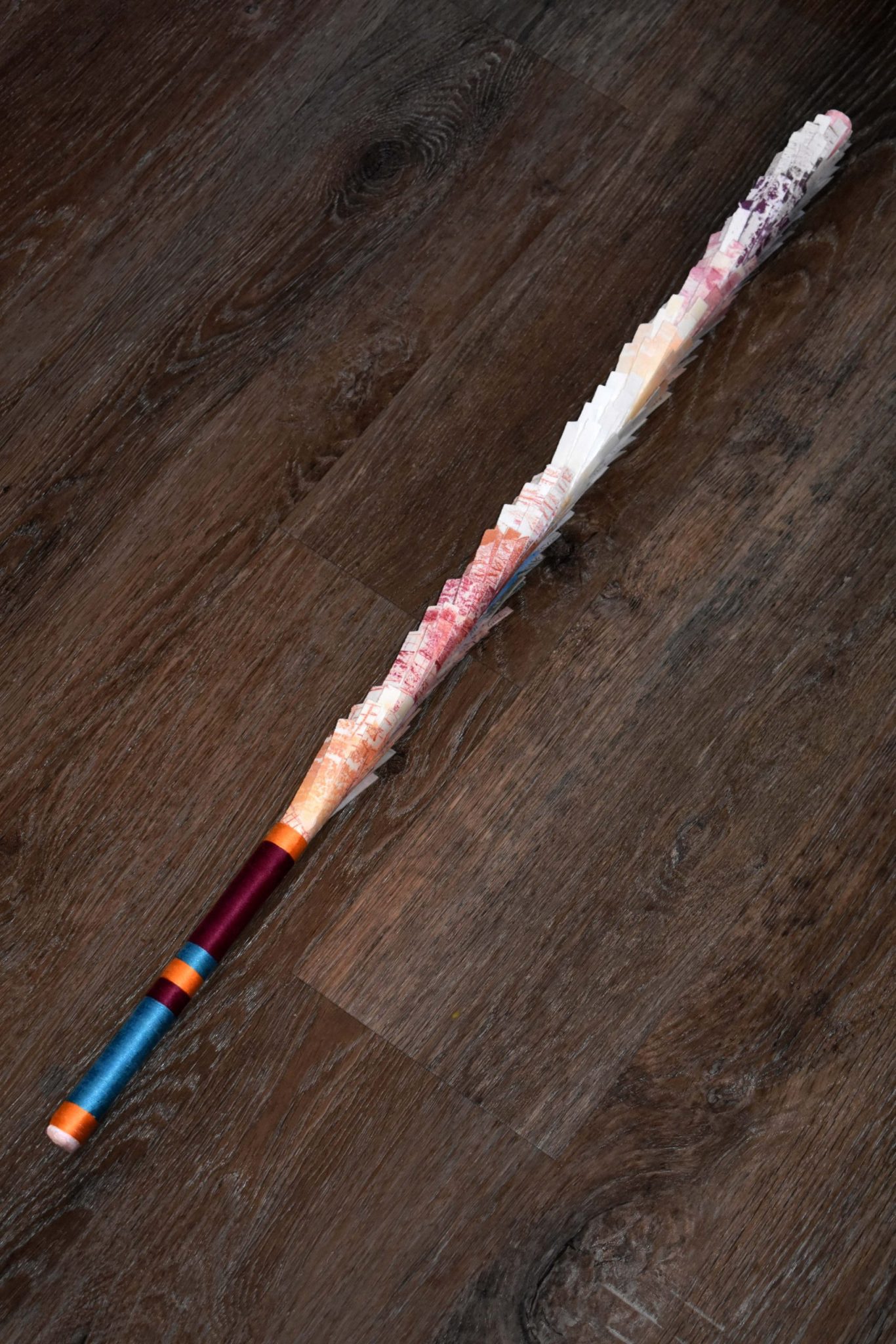 -Honorable Mention-
Simon Tozer
I Love
artist book: trace monotypes, embroidery threads, graphite, 33" x 1", 2022, $350
I suppose I have formed a personal in-studio game over the last few submissions. The rules go: run an idea through your head for a month or two. Then, make the idea work within 24 hours before deadline. It forces some fun improvisation.
I'm combining artistic interests with this unconventional artist book by using old trace monotypes made as a student at Clark, book-making energy, and lyrics to the song I was bopping to while assembling the piece.
I like to picture those holding the buster finding themselves in a position of power within the gallery environment they stand.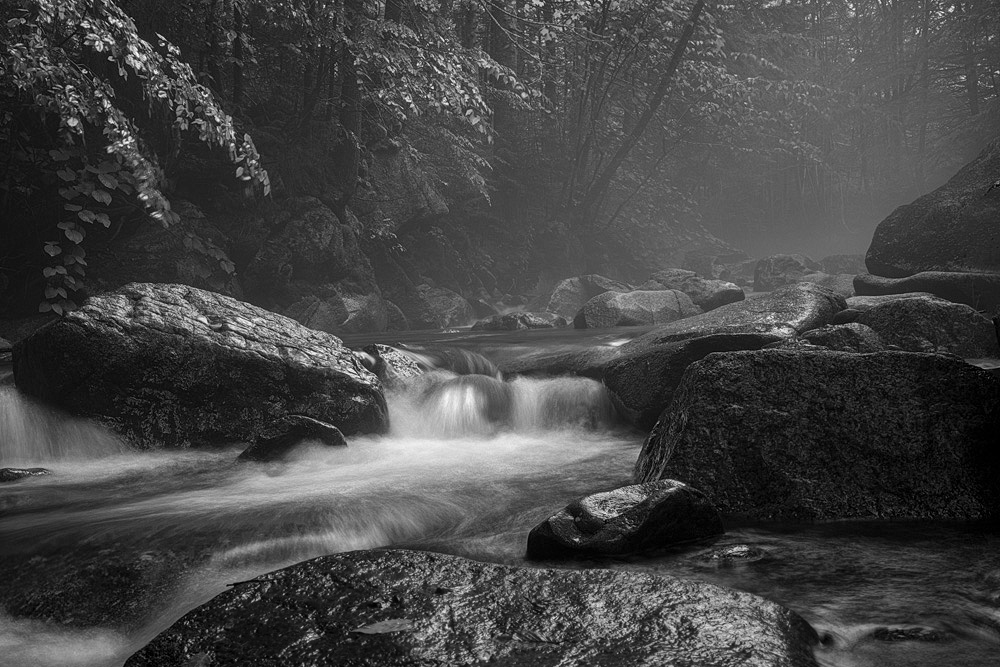 Joge Tsang
Aftermath
black and white photograph, 18" x 36", summer 2021, $850
Fleeting moments in time; I like to seek that special time and space for that special picture that only Nature provides.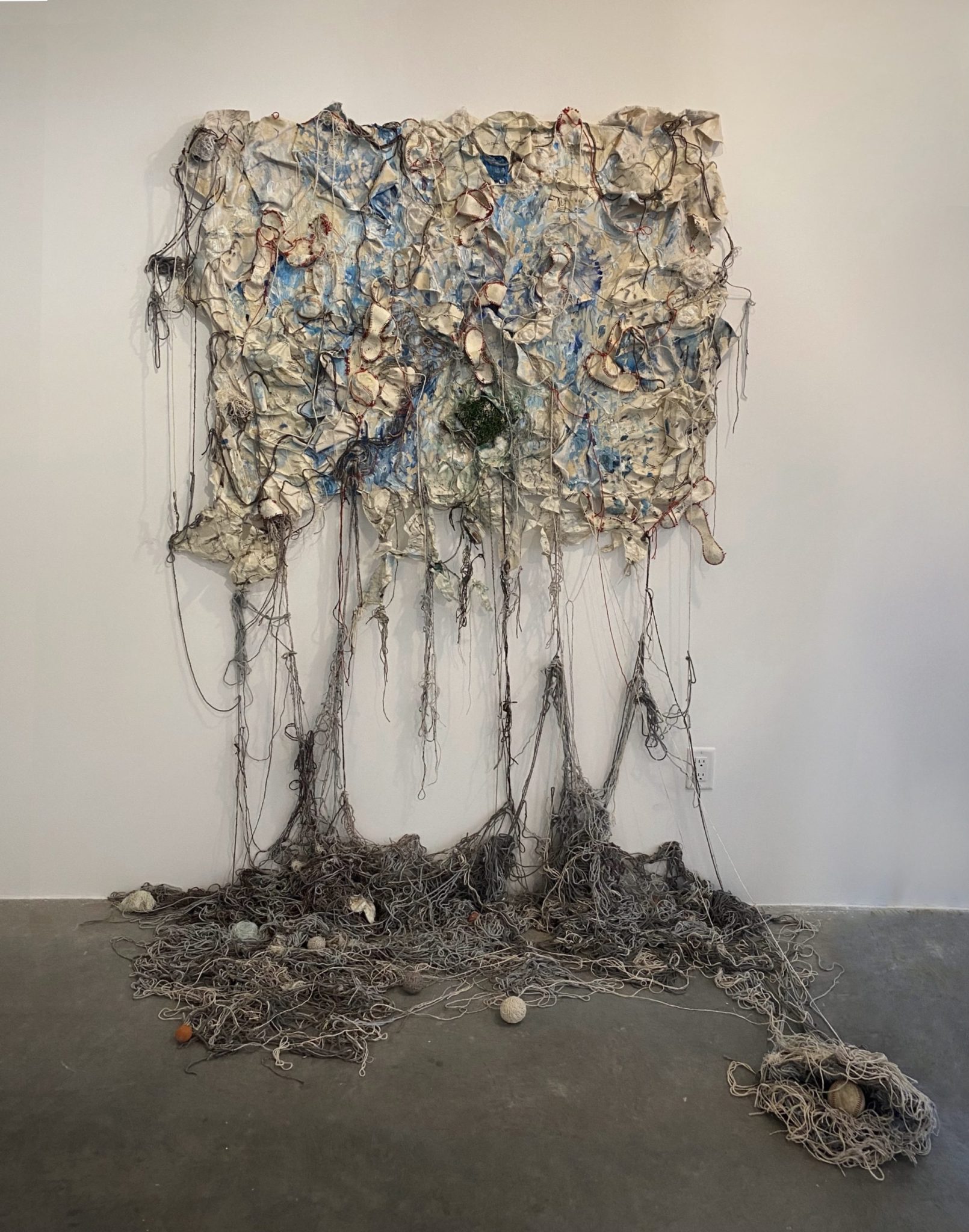 -Juror's Prize-
Jillian Vaccaro
Beneath the Seams
baseballs, acrylic, pastel, paper, graphite, 48" x 72", 2021, consult with artist for pricing
Esha Vogel
The Game
digital painting, 22" x 16", 2022, $500
Polo is one of the oldest team sports in existence - a sport which is played entirely from the backs of horses. In this piece, I wanted to capture the connection, power and motion of horse and rider.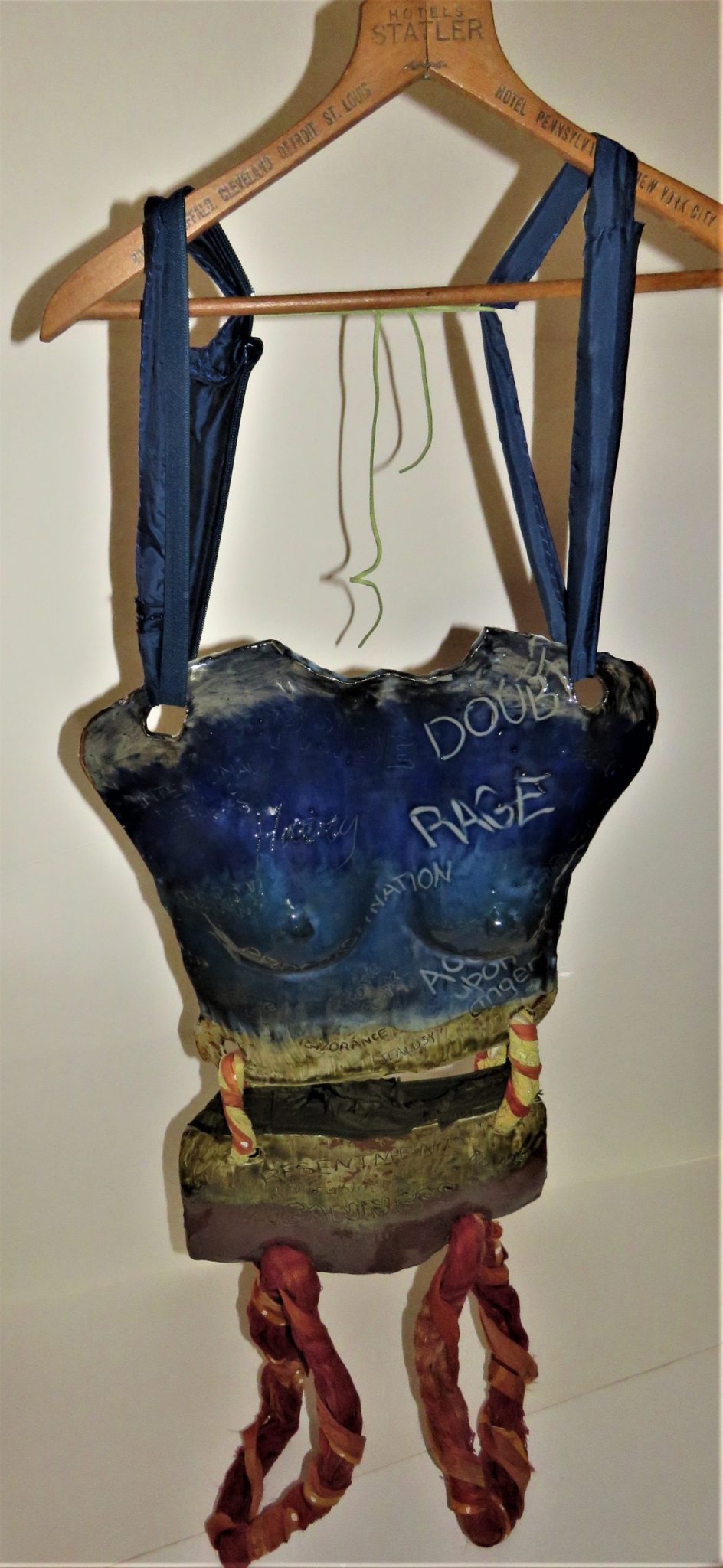 Jill Watts
Shield
cone 10 ceramics, slips, glazes, fabric, wooden coat hanger, 18" x 36" x 8", 2022, $1,500
The exterior portion of the Shield lists all of those things that I would like to repel in myself while the interior lists what I would like to foster. There were many more that I could have included on either side but in the interest of legibility and economy I came to a stopping point. In the making of it, I concluded that there is a place for all that is listed and a time for any specific feeling or state, no matter how repellant it seems to me at a given time.