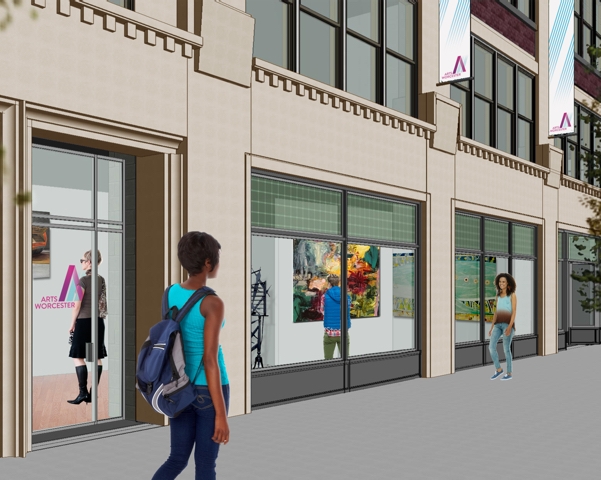 Framing The Future is ArtsWorcester's first major campaign—to return our galleries to the heart of downtown and secure our future. An extraordinary gift catalyzed this project.

To learn about how we are recognizing and thanking donors, click here.
To see who those donors are, click here.
To learn about our five-year pledge period, and all the ways to give, click here.
To learn about our matching gift opportunities, click here.
A quick sketch of the situation: ArtsWorcester's current tenancy in the Aurora has significant limitations.
• Two-thirds of the exhibition space is inaccessible to disabled visitors.
• Plumbing problems bring water regularly through ceilings, threatening artwork and records.
• The electrical wiring is inadequate for our exhibition and office needs.
• Insufficient heating and cooling make a poor environment for artwork and uncomfortable conditions in every season.
Our artists require better technical capacity for exhibitions. Contemporary art practices demand more flexible gallery spaces to
• Exhibit large-scale paintings, prints, photographs, and sculptures
• Create immersive installations, and
• Present video and conceptual art.
Audiences are hungry for high-quality professional art, with 300-500 people attending each of our openings. But removed from the downtown restaurants, cafes, theaters, and creative businesses that make a thriving urban environment, ArtsWorcester's full potential remains untapped.
Now, we have a fresh canvas.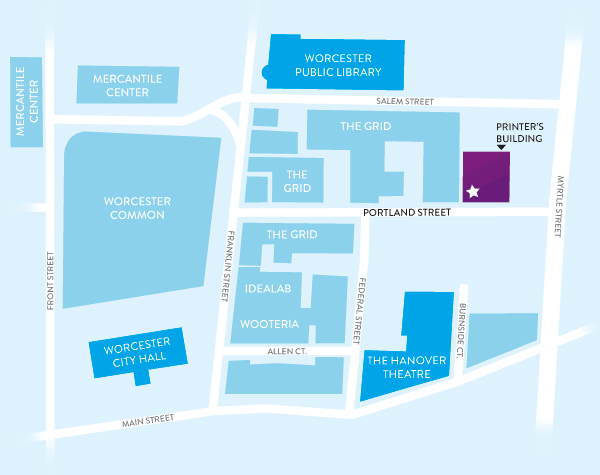 The Davis and Wade family, deeply rooted in Worcester and owners of the Printer's Building on Portland Street, has invited ArtsWorcester to establish a permanent home in downtown Worcester. This transformative opportunity includes the design, internal demolition, and "white box" preparation of new galleries, offices, and storage space on the building's first floor, without an increase in rent.
The galleries and administrative offices proposed for ArtsWorcester offer
Complete accessibility for all visitors
Up-to-date HVAC to keep crowds comfortable and artwork safe
A flexible floor plan allowing for immersive installations and video art, and increased capacity to exhibit work.
Fourteen-foot ceilings, original wooden floors, and renovated windows for a classic, inviting gallery environment.
It's part of the big picture, as well. ArtsWorcester on Portland Street will
support the Theatre District, CitySquare, the Grid, and other investment projects,
provide retail visibility and street-level activity,
bring our collegiate and young professional audiences to a new destination, helping to retain them in the city, and
increase entertainment and cultural engagement options for all who live, work, and play downtown.
The art community has passionately and loyally supported ArtsWorcester for decades. On their own, though, they can't make this move possible.
Framing The Future, a five-year, $1.25 million dollar campaign, is modest when compared to those of peer institutions. Yet it will transform ArtsWorcester, establishing the organization in a permanent home in the heart of downtown Worcester and securing our future.
This campaign aligns with the three imperatives articulated in our 2018-2020 strategic plan to improve our infrastructure, maximize impact for artists and audiences, and to increase financial sustainability:
The $250,000 gift from the Davis Family provides:
Design, demolition, and build-out of the new galleries, offices, and storage area
Heating, ventilation, and air-conditioning
Electrical infrastructure, networking, and security system installation
Kitchen work-surfaces, cabinets, and appliances
An additional $250,000 supports our relocation expenses, fixtures, furnishings, and equipment, including:
Specialized, gallery-specific, and energy-efficient LED lighting
Moveable partitions/walls, pedestals, and display cases
Audio-visual equipment
Hanging systems for two-dimensional artwork
Furniture for reception areas, artwork storage, and work stations.
$300,000 provides transitional funding to
extend gallery hours to accommodate visitors arriving after work and before theater
reach out to new and diverse audiences
explore and implement new programs and partnerships made possible by the new location.
An agency fund of $400,000 at the Greater Worcester Community Foundation will
establish a crucial baseline of financial sustainability
allow ArtsWorcester to focus on the future
protect the new capital investment
and provide a vehicle for future gifts.
Thanks to gifts and pledges made by foundations, individuals, and the Massachusetts Cultural Facilities Funds, we have already raised over one million dollars. We ask you to join us to celebrate high-quality, contemporary art in our city, and to ensure its future. Please support Framing the Future to secure ArtsWorcester as a vibrant part of our re-imagined downtown.
Learn more about how we are recognizing gifts to the campaign, and ways to give here.
We thank all who have pledged to Framing The Future so far, our board of directors, and the campaign committee:
Campaign Chair: J. Christopher Collins
Campaign Committee:
Brigita Clementi
John E. Graham
Sarah Callahan Lenis
Ann K. Molloy
Samantha McDonald
Bill Sullivan, Jr.
Erika Davis Wade