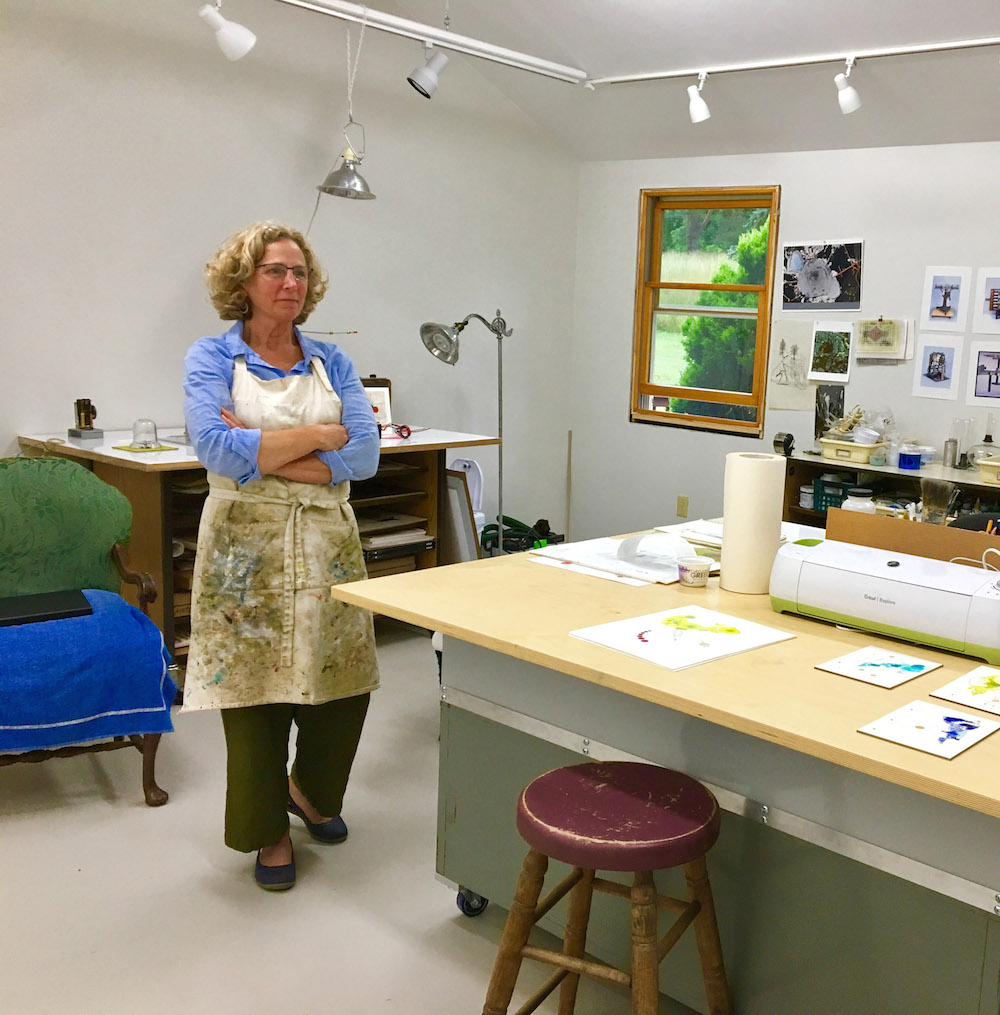 Carrie Crane
Instagram: @carrie_crane_art
---
When did art become a pursuit for you?
I have made pictures in various ways all my life, but never pursued art in my education. It was in 1990, in my mid-30s, that I quit my professional job as the admissions director for an educational organization in Worcester to "take a year off," and see about becoming an "artist." I rented a studio, got a part time job at the old Tatnuck Bookseller, and jumped in. I never jumped out.
Are you self-taught or formally educated in visual art?
I have some limited formal training, a handful of foundation classes pieced together from RISD, MassArt, and WAM, and beyond that I am self-taught. About four years ago, 30 years after graduating from college (with a BA in Geography), I decided to go back to graduate school and get my MFA (Lesley University College of Art and Design, '16).
How did you first become involved with ArtsWorcester?
I had heard about ArtsWorcester back in 1990 and, being an individual wanting to become an artist in Worcester, I was interested in the organization. At that time, the part-time program director also worked at Tatnuck Bookseller and happened to mention that she was moving away. So I applied for her job and got it. I worked there for a couple years while Lisa Barthelson was the director, and then served on the board for a while. Since then I have maintained a membership and have submitted to calls regularly.
What medium do you currently work in, and how did you choose this medium?
I am a post-media artist. I say that a bit tongue-in-cheek, but I believe that is what they call artists that are not attached to a particular medium. I work in the medium that makes sense for the idea I am trying to get across. This might include painting, graphic design, digital fabrication, building objects, animation, etc. My recent work has been more about an idea than about image making. I am interested in how scientific information is communicated, and how it tends to look authoritative when it may have actually been significantly manipulated.
What is your creative process?
I tend to commit to something, an exhibition, and then I just have to follow through. There is a huge amount of trial and error in my process, a great deal of experimentation and needing to learn new skills. I do not tend to do the same thing too many times in a row. I get a lot of joy from figuring things out, so I am constantly creating problems for myself. It's a crazy way to go through life, but I never let it get boring that way.
How do you choose your subject matter? Are there themes that recur throughout your work?
Since I was a child, maps, charts and diagrams have intrigued me, and I studied geography and cartography in college. These things have shown up in my work since I started making it 35 years ago, but only recently have I focused on them as the subject of my work. I like visual puzzles, and that is what a map or diagram is. It is a code that expresses some information, and that information is yours if you can break the code. With a map, you can apply an entire narrative to it, a story of your travels, or your family history, or something completely imaginary.
What living artists are you inspired by?
Walid Ra'ad, Roni Horn, William Kentridge, Olafur Eliasson, John O'Reily, Jorinde Voight, Joe Landry, Cesare Pietroiusti, and a bunch more that I can not come up with at the moment.
What other media or directions would you like to explore?
I would like to collaborate more particularly with scientists. Several years ago I spent an academic year as and artist in residence in the Material Physics lab at Clark University. I would like to do more of that kind of thing. Laboratory science and experimentation is fascinating and exciting to me, and it fills my brain with ideas.