Saturday, October 22
1:00 PM
ArtsWorcester
660 Main Street
Perhaps you have already heard people talking about these exhibits. Now we invite you to hear from the artists themselves. Join us for artist talks by William Scully, Joseph Ray, Madeleine Lord and Agnes Wyant and learn more about their inspirations and processes.
William Scully took his camera under a small Cape Cod pond to photograph water lillies, capturing their luminous simplicity and the gestures created by nature in the smallest of places.
Joseph Ray's oil paintings pull together layers of imagery, both abstract and recognizable, to communicate a family narrative of grief and redemption.
Madeleine Lord's sculptures begin with scrap metal and a careful process in which the negative spaces of air are assembled as thoughtfully as the metal pieces that create them, resulting in classical, graceful, and whimsical forms.
Agnes Wyant found an antique ledger account book, and drew on its pages with a dip pen and walnut ink; her series asks us to move between her mysterious figures, the organic forms surrounding them, and the original handwriting to think about memory, identity, and mortality.
This event is open and free to all. The exhibition is on display until November 3: Thursday, Friday, Saturday, 12:00 to 4:00 PM, and by appointment at other times.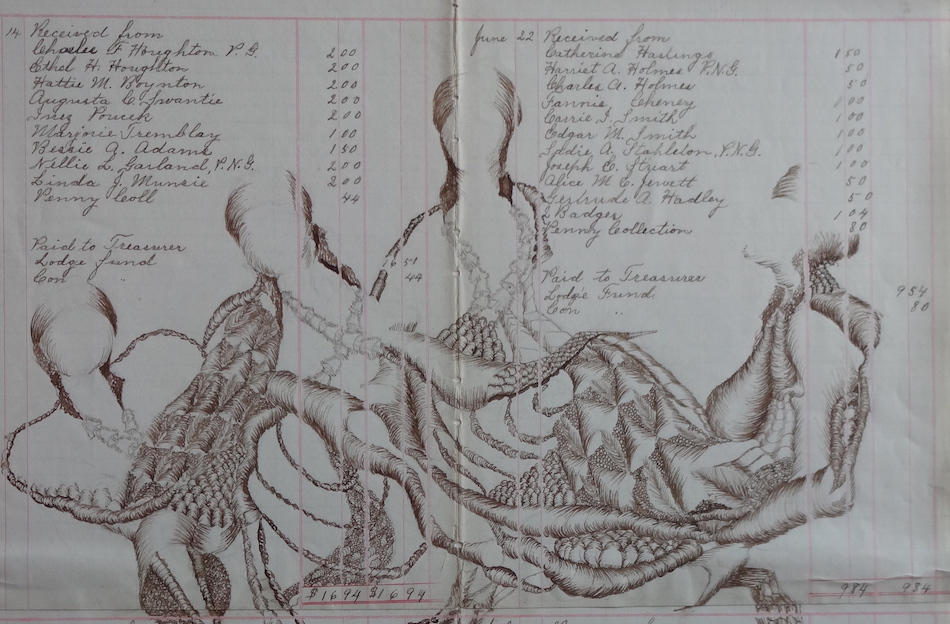 Image: 58 – 39, walnut ink with dip pen on antique linen "Odd Fellows" ledger paper, 22″ X 26″, by Agnes Wyant
Thumbnail Image: Water Lily Study No. 20, underwater digital photograph, archival pigment inkjet print, 26″ x 19″, by William Scully