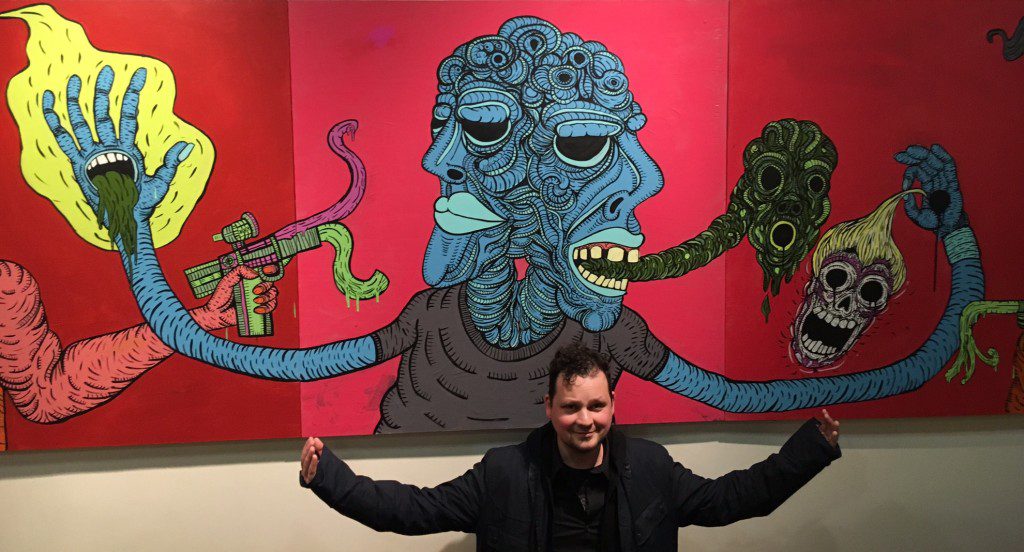 Saturday, April 16, 2016
10:00 AM
The Hadley, 657 Main Street
(across from the Aurora)
Please join us to hear Robb Sandagata discuss his latest exhibition, "Character Education," at the Hadley. This series, fourteen acrylic paintings on found wood, portray surreal, grotesque characters who resist the moral and civic training of the exhibit title. Sandagata will discuss his evolution as an artist, the historical and contemporary influences on its work, its relation to museum collections, and the process behind this series.
This event is open and free to all, and there will be an art activity for kids during the talk.
Robb Sandagata was born in New Haven, CT, and has lived in New York, Arizona, and Massachusetts. Significant influences on his art, in roughly chronological order, include comic books, "alternative music", punk rock, theater, competitive debate, mid-90s hardcore, baggy pants, and band t-shirts. After escaping from the Connecticut suburbs, he studied sculpture at Sarah Lawrence College. He later worked as a high school art teacher in Sierra Vista, AZ, before starting work in educational publishing. He lives in Lowell, MA, with his wife Emily Sandagata, some dogs, and piles of artwork.
Free parking at the Freemasons: Ionic and Beacon Street. Do not park in the gravel lot next to the Hadley.