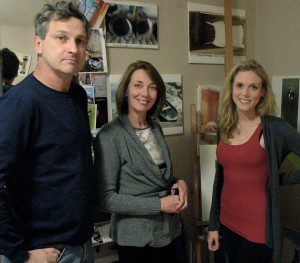 The LeBeau family–Rose and Bill LeBeau, and their daughter, Chelsea LeBeau Hueter–became part of ArtsWorcester in the organization's earliest years. Rose entered a piece in one of the first Biennials, and ended up winning first prize for photography. Two years later, she was asked to enter again in the next Biennial show. "At the time, I had a little child and was not making a lot of work," she recounts. "So I scrambled and found another photo, entered that, and won first prize too. It was crazy! After that, I always had a special place in my heart for ArtsWorcester. It was where I first started showing my work and considering myself an artist." Rose's assemblage works, with their hauntingly antique atmosphere and intense attention to crafted detail, were most recently part of the Never Lost, Always Found small-group exhibit.
Artwork by her husband, Bill, is most often seen these days in the graphics and signage that he creates through his business Airbrush Works. But in the late 1980s, Bill won an honorable mention at ArtsWorcester for a piece of airbrushed photo-realism. As a born-and-bred Worcesterite, Bill is a staunch supporter of the arts. Rose remarks, "He's a generous guy, always happy to help out art foundations and artists, because we went through it when we were young artists who had nothing."
Their daughter, Chelsea LeBeau-Hueter, is a hyper-realist painter, who has two young children and not a lot of time. Nevertheless, she won an honorable mention for painting in the 2011 ArtsWorcester Biennial and was included in 2013. A local collector made a major purchase of her work Spoons out of our summer open-member exhibit, as well. "Her paintings are out of this world," says her proud father.
As for ArtsWorcester itself, Bill and Rose are in agreement that it's a great place to meet and support other artists. "It is probably the flagship of the art community in Worcester," states Rose. "We had lots of little pop-up artist groups that come and go, but ArtsWorcester has withstood the test of time."