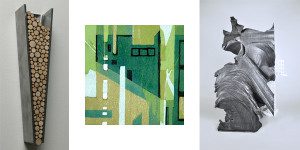 ArtsWorcester is proud to announce this year's winners of Material Needs Grants. These grants, totaling $7,500, support the supplies and equipment needed to create new art in Worcester County. The 2014-15 grantees are
Steve Belz, $1,500 for welding equipment to make new sculptures
Stephanie Chubbuck, $1,325 for glass-blowing materials and equipment rental to create large-scale, hyper-realistic glass sculptures of fruit
Eugenie Lewalski Berg, $735 for Echizen Kozo paper to make Japanese woodblock prints
Chris Markman, $1,450 for aerial photography equipment to create a video art project, This Car Survived Kelly Square
Victor Pacheco, $1,500 for epoxy and polystyrene to create a sculptural installation examining Worcester's topography, traffic, and water infrastructure
Tyler Vance, $460 for paint, for his series Tombs
Catherine Wilcox-Titus, $530 for taxidermy seconds and a roll of gold fiber silk for her photography series, Audubon's Workbench.
Congratulations to all, and thank you to the anonymous donor who supports these grants.
Another cycle of grants will be made available to ArtsWorcester members in the fall of 2014.