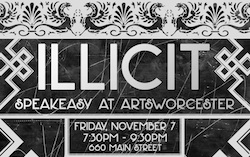 Friday, November 7
7:30 – 9:30PM
ArtsWorcester's Aurora Gallery
This event is free and 18+.
Dress in your 1920s best and join us and Airspray Worcester at Illicit, an underground speakeasy event. Spend an evening in our historic atmosphere, surrounded by art and the jazzy tunes of DJ Mr Morris.
Currently on view are two exhibits of abstract art, The Process of Intuition by Conrad Guertin, and SpaceTime by Elizabeth Harris.

Email airspraywstr@gmail.com for the secret password!
Free parking is available in the paved lots belonging to the Freemasons, at Ionic and Beacon Street. Do not park in the gravel lot directly across the street. There will be an after party at the Hotel Vernon Ship Room (Millbury Street, 21+).
Airspray Worcester is a collective that brings the LGBTQ community of Central Massachusetts together for fun and funky arts, cultural, and social events. All are welcome.