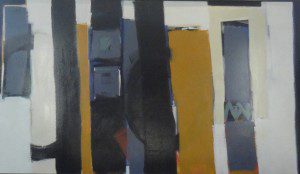 We are proud to announce the expansion of our corporate art program to the lobby of 100 Front Street.  With generous support from the building's owner, Worcester Renaissance Towers, ArtsWorcester is exhibiting a single, major work for the pleasure of its tenants and visitors. Artwork will rotate twice annually.
Inaugurating this busy site is Life's Mystery Dance, a painting by Conrad Guertin (oil on board, 4'x7′, $5,500).
ArtsWorcester members wishing to propose a similarly scaled (or larger) artwork for this site should email a jpg image of it to us. Final selections are determined by Worcester Renaissance Towers. We are grateful to Worcester Renaissance Towers for supporting local artists and for placing art in the heart of downtown.