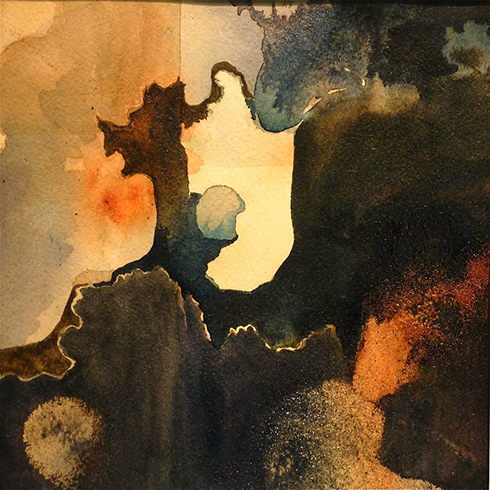 Kaitlin Switzer Walsh
painting
Born in 1988 just outside the historic fishing village of Wickford, RI, Kaitlin grew up in the cradle of an artistic community surrounded by the natural beauty of the Ocean State. This charming town full of galleries, artisan shops, and the annual Wickford Art Festival ignited and nurtured her love for art from a young age. In high school, she began taking commissions for large-scale murals at residences and businesses across the region.
She attended the University of Massachusetts Dartmouth in 2006 where she earned a dual Bachelors of Fine Arts in Painting/2D Studies and Art Education.
Kaitlin began painting nature-inspired abstract watercolors in 2009. During her first trip out West, she fell in love with the raw natural beauty and fresh color palettes and eventually moved to Missoula, Montana in June of 2011 with her partner. After spending almost three years living and teaching art in Montana, she moved back east to Vermont for a year and a half before returning to the Worcester area in the August 2015 to work in Worcester Public Schools.
Since her first exhibition in 2008, Kaitlin has displayed her work in various exhibitions and events in various parts of the country, including Surface: 64 Variations on a Theme at the Sprinkler Factory in Worcester, MA, Atmosphere: Abstract Landscapes in Watercolor by Kaitlin Switzer Walsh at Gallery 372 in Worcester, MA, 14th Annual Abstract/Avant Garde Open Juried Show at the Wickford Art Association in Wickford, RI, The Rhode Island Home Show in Providence, RI, "Flow: Abstract Landscapes in Watercolor by Kaitlin Switzer" at Bernice's Bakery in Missoula, Montana and more.
Kaitlin is currently teaching art at West Tatnuck Elementary School, Wawecus Elementary School, and Worcester Arts Magnet School in Worcester, Massachusetts and residing in the Auburn area.