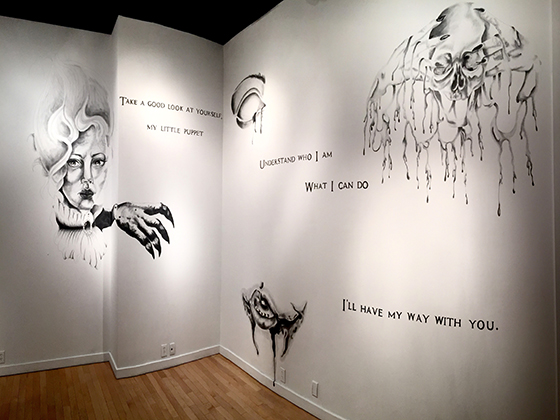 Diana Ostiguy
Drawing, painting, mixed media, sculpture, portraiture
Born and raised in Worcester, MA, I graduated from Salve Regina University with a degree in studio art with a concentration in painting. Attending from 2013-2017, I have had the opportunity to study under painter, Gerry Perrino, and illustrator, Susannah Strong. My work focuses on the evil in beauty on horror, fantasy, and portraiture. Influenced by illustrators like Dave McKean and Bernie Wrightson, fine line work with minimal use of color is the main component. I work with graphite, ink, watercolor, and mixed media.
I play with fear and the fear in others. Everyone has a part of themselves that they can't control, or memories they haven't faced, and the goal in much of my work is to bring those repressed feelings forward. I want people to think about and recognize themselves in the illustrations. To do this, I either use gruesome, unsettling, or disturbing images that people can relate with on some level, or I create beautiful women juxtaposed with dark pasts and inner conflict through the use of a backstory and environment.
Research of the relationship between images and the body, and the evolution and cultural impact of horror movies is reflected in my projects. Each one usually has multiple parts to it. New ideas often arise from these studies and experimentation of other projects.