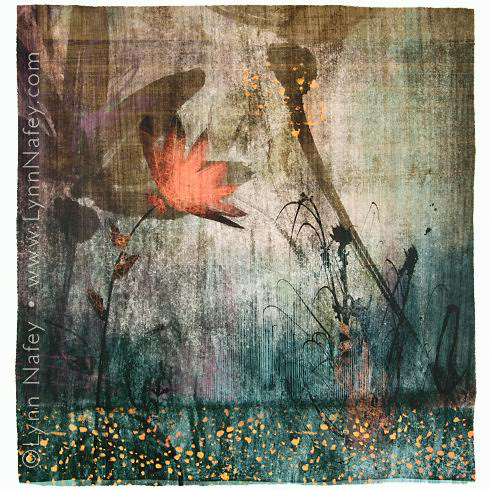 Lynn Nafey
mixed media, digital art
Always on the hunt for unusual material combinations, I embrace both traditional hand techniques and contemporary digital processes.
My approach is intuitive and exploratory. Though I incorporate recognizable elements, they are intentionally abstracted as I search for emotional resonance within the mysterious and unexpected.
Inspired by objects that are old and weathered, I attempt to bring that same sense of complexity, richness of surface, and character into my work. Like an old barn on a country road, years of forces, natural and man-made, have shaped its form and bestowed upon it a patina of color and texture.
For me, this correlates to our inner worlds and the sum of memory, perception and experience that have shaped each of us, and which I strive to convey through the intricate blending of color, texture, and pattern.
My career in the arts has been long and varied. Since graduating from Boston University with a BFA in 1983, my creative endeavors have included sculpture, puppet-making, caricatures, and silk-painting, as well as crafting my own line of painted-metal jewelry.