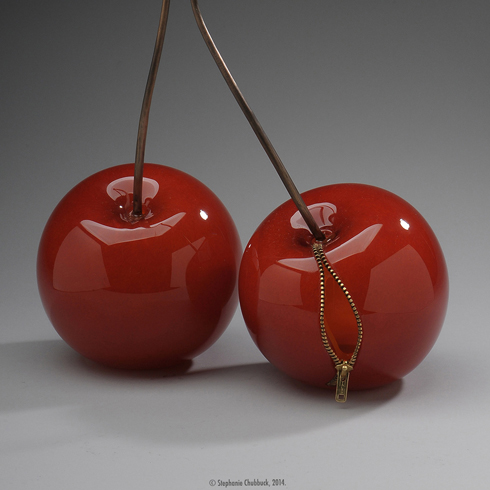 Stephanie Chubbuck
sculpture, mixed media
I work in the traditional crafts medium of glass and fine metal. My series of hyper-realistic fruit combines imagery drawn from Dutch  "vanitas" still-life paintings, surrealism and figurative sculpture. I incorporate mixed media and nontraditional sculpture materials to illustrate my fascination with the flawed edges of human nature and human physicality.
I refer to this work as figurative because, although it literally appears as pears and other fruit, it implies physical and emotional humanity.
I choose to work in glass for its sensual surface, with added industrial elements such as zippers or hardware that are utilized as an embellishment.
By visually combining the organic with the industrial, the soft with the hard, and the natural with the commercial a conceptual transformation takes place. This elicits recognition of corporeal and emotional conditions, which are compelling, provoking or a combination of both.