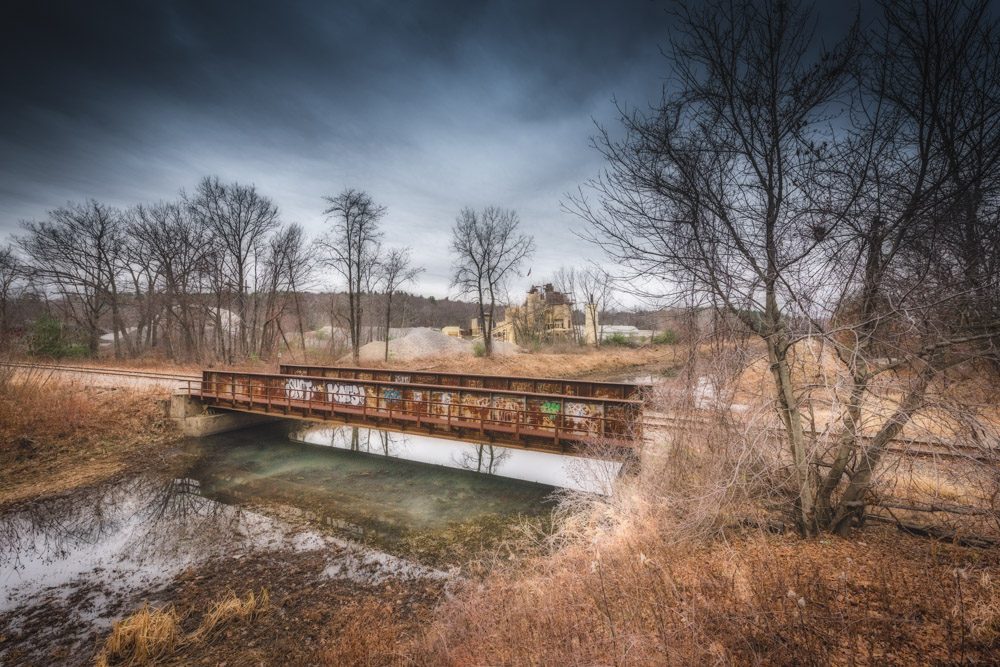 James Hunt
Under the Highway: Blackstone River Landscapes

Hanover Theatre, 2 Southbridge Street
On view June 27 through October 30, 2018
Opening Reception: Wednesday, June 27, 6:00-8:00 PM
Under the Highway: Blackstone River Landscapes is a narrative series of photographs reflecting the human and industrial impact on a three-mile stretch of the Blackstone River in Worcester and Millbury, now reclaimed as a Bikeway. For photographer James Hunt, the interplay of nature, infrastructure, and urban life yields an eerily beautiful pastoral landscape. At 6:15 PM the evening of the opening, Hunt will give an artist talk explaining his process and inspirations.
The artist's reception is open and free to all. Parking for the opening and viewing appointments is available in the City's Federal Square lot, across Main Street from the Hanover Theatre. Live music will be provided by Carlos Odria.
James Hunt has been photographing the environment for fifteen years. He has studied photography at Boston University, Maine Media College, the Griffin Museum of Photography and the International Center of Photography, both in New York. He holds a BS from MIT, MSW from Simmons College, and a DBA from Boston University. His work has been exhibited throughout New England.
After the reception, free viewings are by appointment through October 30, 2018. To make an appointment, please contact ArtsWorcester at info@artsworcester.org or 508.755.5142.
Image above: James Hunt, Railroad Bridge and Diversion Channel, archival inkjet print, 30″ x 24″
Elaine Smollin: Dawn at Acheron
Opening: Wednesday, November 14, 2018
Artist Talk: Saturday, January 12, 2019
On view October 30, 2018 through March 18, 2019