Sue Dion
Beauty and The Edge

On view now through October 28, 2017
ArtsWorcester presents Beauty and the Edge, a solo exhibit by Sue Dion opening Thursday, June 29, 2017, from 6:00 pm to 8:00 pm, at the Franklin Square Salon Gallery, Hanover Theater, 2 Southbridge Street. At 6:15 PM that evening, Dion will give a brief artist talk explaining her inspirations, abstract expressionism and plein air traditions, along with her thought process behind the artworks. The artist's reception is open and free to all.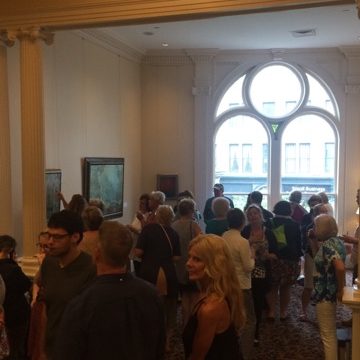 A resident of Uxbridge, Dion explores depth, realism, and beauty in these textured paintings. The daughter of a third-generation wholesale florist, she developed the enduring love for flowers and beauty seen in her painting today. Abstract expressionism and the plein air tradition inspire Dion to apply a loose mixture of colors to the canvas, and to explore the boundaries of brush-strokes, compositional forms, and color combinations.
After the reception, viewings are by appointment (also free) through October 28. To make an appointment, please email us or call 508-755-5142. Parking for the opening and viewing appointments is available in the City's Federal Square lot, across Main Street from the Hanover Theatre.
Pictured above: Thoughts of Monet's Garden, acrylic on canvas, 30″x40″.
Cliff Hunt
Still Life in Dialogue
Opening:December 6, 2017
November 14 through February 10, 2018
Karen Reid,
Mental Notes
Opening: February 15, 2018
February 15 through June 9, 2018
James Hunt
Under the Highway: Blackstone River Landscapes
Opening: June 27, 2018
June 27 through October 30, 2018