Susan Black, Lizzie Fortin, and Leonard Gerwick:
Collage Variations

Opening reception: Friday, September 8, 7:00 to 9:00 PM.
Artist Talks: Saturday, December 2, 1:00 PM.
Collage can be traced back to the invention of paper in ancient China. Throughout art history, artists as diverse as 10th century Japanese calligraphers, 19th century Victorian aristocrats, and modernist like Hannah Höch have used the technique. Collage Variations exhibits three contemporary artists who continue to use this centuries-old practice.
In her work Susan Black pieces together a balance of soft and hard edged forms, adding layers of vibrant color which gives her work motion. Lizzie Fortin uses collage as a daily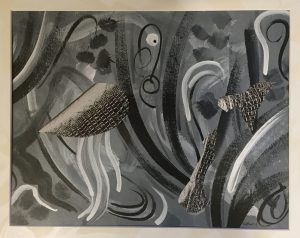 practice, covering and uncovering textures and compositions. Leonard Gerwick's approach is visual rhythm, playing with the dimensionality and height of the collage layers. Together, these artists illustrate the diversity of collage.
Artist talks take place on December 2, 1:00 PM. They are free and open to all.
Images:
Leonard Gerwick, Rhythm # 28- Translucent Monochrome, paper on mat board, 22 x 26″
Lizzie Fortin, it's not black and white, mixed media, 8 x 8″
Susan Black, Black & White 3, acrylic with collage on paper, 17 x 21″
Susan Black, Lizzie Fortin, and Leonard Gerwick
Collage Variations
Opening: September 8, 2017
September 8 through January 24, 2018
Ann Rosebrooks
Sojourns
Opening: February 2, 2018
February 2 through June 29, 2018
The Hadley